The Uttar Pradesh Government intends to implement eGovernance across all departments of the State while also making a gradual shift towards mGovernance to make this easier for the people. R K Tiwari, Principal Secretary, Department of Information Technology and Electronics of the State, during an interaction with Arpit Gupta and Manish Arora of Elets News Network (ENN), lays emphasis on the need to spread IT awareness and digital literacy to make UP a tech-savvy state
How is IT aiding the Uttar Pradesh Government in ensuring better service delivery and improving the quality of life of the citizens?
As far as eGovernance is concerned, the State Government has done a commendable job to provide effective services closer to citizens through IT-enabled services. In fact, UP stands at third position today in terms of using electronic transactions in government processes during the last five months. We have done more than 190 million transactions through eGovernance across different departments in the State. We have undertaken very ambitious projects of providing online services to all the citizens. The basic principle has been that the physical interface between the citizens and the government functionaries should be avoided wherever it is possible. The way we are moving ahead, we might be the best State in the coming times.
As one of the pioneering States in eGovernance, we have online portals in over 25 departments and more than 90 citizen-centric services are being provided in the electronic form. We have also come up with a very progressive and investorfriendly IT policy and attracted major investments at huge IT City in Lucknow. There is an investment of `1,500 crore under the PPP mode. This is likely to generate employment for over 50,000 people in the State and promote software export in a big way.
As one of the pioneering states in eGovernance, we have online portals in over 25 departments and more than 90 citizen-centric services are being provided in the electronic form
Do you have any initiatives for IT startups?
We have sanctioned five IT parks where we will be providing infrastructure and elite ecosystem for the first-generation entrepreneurs to set up their units. This is being done in a play-and-plug model where investors have to simply come with the idea and bring the technology and capital, and rest all we will take care of. In order to supplement IT, we also have a very progressive electronic manufacturing policy where we are inviting the best of the companies in the world to come and set up their facilities. The government is taking care of all their clearances.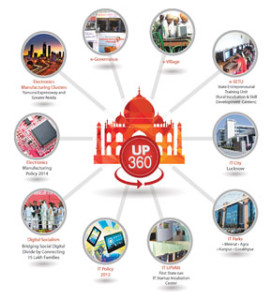 Being the most populous State, what challenges do you see in bringing digital literacy to the people?
The State Government has identified three major challenges in this regard. One of the challenges is to have an effective infrastructure, which would mean having direct connect of public with the government. For that, optical fibre network is being laid at a rapid pace. In association with the Government of India, the UP Government has decided to implement the new initiative of BharatNet. Under this programme, unlimited connectivity and bandwidth would be made available to the industries and the corporate as per their demand. We are planning this kind of network because we need to connect with every individual citizen up to the village level.
Another challenge is the fragmented services across about 100 departments. For a common man, it is very difficult to log on to each and every web portal of the government for availing different services. In fact, it is difficult to even remember as to which portal hosts what services. So, we have introduced one-stop solution under one roof. We launched uponline.up.nic.in portal, where all the services are under one umbrella. People do not need to go to different departments or their portals to avail services of municipal corporation, development authority, excise department, water supply, sanitation, health and education, etc.
Also, poor internet penetration level and connectivity is a big impediment. Although internet penetration level is rising, there are less than 20 per cent users.
What actions are being taken to cover different departments under eGovernance or mGovernance?
We are working on improving public service delivery through mGovernance, along with eGovernnace, in order to address the problems of citizens. The government is creating technology- based infrastructure in the villages and far-flung areas, in the form of Common Service Centres and Common Facility Centres, where people can come and avail the services. Since more than 80 per cent of the mobile phones available with the people are not smart phones, and the penetration of smart phones would not be more than 35 to 40 per cent in the next five years, we are planning to offer eGovernance solutions in non-smart phones also. The technical staff is already available with us. We just need to work on the technologies. Our government is also working in this direction to be able to reach out to those people who do not have a smart phone.
Follow and connect with us on Facebook, Twitter, LinkedIn, Elets video