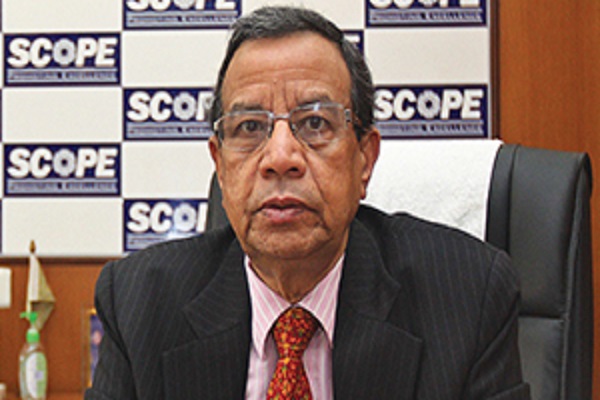 Dr U D Choubey, Director General, Standing Committee of Public Enterprises (SCOPE), is one of the champions of public sector units in the country. Earlier, he had also held the post of Chairman and Managing Director, Gas Authority of India Ltd (GAIL), besides several other important assignments. In an interview with Nabin Sinha of ENN, he talks about the achievements of PSEs in the country and highlights their role in the national economy.
Even during the economic recession, there was no production cut and pink slips in PSUs, he claims proudly. Besides, he also talks about the PSEs' social responsibility culture in the form of widespread CSR activities. Excerpts:
Among the large number of PSUs, only 182 of them are making profit. How do you react?
There are 277 Central Public Sector Units (CPSUs) and around 900 state public enterprises. It is true that not all of them are earning profit. That way, PSEs can be put under three categories – those earning profits, those working in reasonably good shape and those which are financially stressed (earlier called 'sick' units). Irrespective of this categorization, all of them have equally major role to play in nation building.
The overall profits of CPSUs have been Rs. 1.15 lakh crore. What is remarkable is that in the last few years, the number of financially stressed units has come down from 60-65 to 35-40.
There has not been addition of any PSU in the last 15-20 years. Would you like to comment?
The government is the custodian of PSUs and it is the responsibility of the government to decide on this matter. It is true that there has been no addition of any green-field project for quite some time. But there are many PSUs, which have modernized themselves and other sectors have also helped them in capacity production. I believe that with the new government in place, we will see new additions to the PSU list.
What should be the future road-map?
Globally, many countries are seeking to build 'Sovereign Fund' for effective use of their financial resources for promoting industrial development and building strong infrastructure. State-owned Assets Supervision and Administration Commission (SASAC) and Temasek Holdings, in China and Singapore, respectively, are allocating substantial resources in industrial hubs. Taking a cue from the other global organisations, India too can "Presence of Indian PSEs in the Forbes 2000 Annual list 2014 is a testimony of their rising status. In all, there are 30 PSEs among 54 Indian companies that are listed with the world's 2000 powerful firms"work towards creation of 'Sovereign Fund' for PSUs.
What is the major role of PSEs in the economy?
I would prefer not to comment on Private Sector v/s Public Sector. But PSEs' records were quite impressive even during the economic crisis and meltdown of 2009. There was no 'cut back in production and pink-slips'.
In 2012-13, the turnover of CPSEs stood at Rs. 19.46 lakh crore as against previous year's earning of Rs. 18.22 lakh crore. The total income was up by 7 percent. The total net profit earned was about Rs. 1.15 lakh crore and contributed about Rs. 1.63 lakh crore to the central exchequer.
The presence of Indian PSEs in Forbes 2000 Annual list 2014 is a testimony of their rising status. In total, there are 30 PSEs among 54 Indian companies that are listed in the world's 2000 powerful firms. Among them are 14 PSEs and 16 public sector banks. The globalisation of several PSEs could be measured from the increase of foreign exchange earnings, which showed a growth of over 8 percent last fiscal year.
What has been the role of SCOPE so far in the economic revival of the companies?
PSUs revival is directly related with bringing changes in work culture and resolving problems areas with leadership excellence. The SCOPE is known for providing assistance in bringing professionalism in organisation.
How has been the evolution story of the PSEs in the country?
It has evolved a major role in the economic development of nation. There were only 5 PSEs at the commencement of the 1st Five Year Plan, with only Rs. 29 crore. Now there are 277 (229 operating) PSEs with an investment of over Rs. 8.5 lakh crore.
Also Read: PSU Growth Mantra Go for IT!
Earlier termed the 'Temples of Modern India, PSEs have evolved with successive industrial policies. Post-liberalisation, PSEs took the challenge and transformed to global market and sustained with growing community relations beyond business – Corporate Social Responsibility. The performance in terms of economy and productivity has been excellent. The PSEs have helped in creating 'Brand India' image abroad.
"Presence of Indian PSEs in the Forbes 2000 Annual list 2014 is a testimony of their rising status. In all, there are 30 PSEs among 54 Indian companies that are listed with the world's 2000 powerful firms"
What are the major challenges before PSUs? There are reports of several vacant key posts?
The government of India owns PSEs and it works under the parliamentary accountability, MoU system and performance review by the administrative ministry. Besides, we work under the Public Accounts Committee, CAG, CVC, CIC, RTI etc. Such complex situation has sometimes delayed the decision making process.
The succession plan and constitution of effective board requires immediate attention and responsibility of the concerned ministry and other departments. There is a need to reform the process of selection of Directors and CEOs through robust transparent system. There is also need for larger capacity building and strengthening skills of executives to achieve sustainable results. The selection of Independent Directors should also be on professional merit rather than any other consideration.
Have you analysed some of the basic reasons for companies facing huge losses?
There are many reasons. But the most important one for companies like HMT, MTNL, BSNL, etc., are that they failed to bring required changes and modernisation in time. For example, HMT's Janata watches were quite popular. But they did not modernise and lost the market share. An effective and rational work culture and excellence would still work out in these companies' favour.
What about Corporate Social Responsibility?
PSEs helped create economic growth with balanced social responsibility, in line with commitment. Much before the CSR guide lines were made mandatory, it was included in their agenda. We worked on three areas- providing health, bringing education to doorstep and getting basic amenities to people in the working area. The SCOPE has brought out a compendium on CSR contribution by PSEs, which was released recently.