"On the one hand, pressure for increase in coal production and on the other side, continuous environmental objections, these two cannot go together," says A K Debnath. In conversation with Kartik Sharma & Souvik Goswami
Please give us an overview of the organization.
CMPDI is a subsidiary of Coal India Limited (CIL). This company was formed to provide technical assistance to all the coal producing subsidiary companies of CIL. We started providing technical assistance in the field of drilling and exploration, preparation of project report, environmental impact report, master plan and many other services. But gradually we expanded like anything. We now have a Coal Bed Methane (CBM) cell, Shale Gas department. Also, we have opened up a remote sensing unit. It helps us in survey, through satellite, data about the presence of water bodies, identification of locations for power plant, and various other kinds of surveys. We are now also equipped with Terrestrial Laser Mapper (LTM).
It has helped us in surveying large areas in a short period of time with the help of a scanner. So, one can say that CMPDI is into concept to commissioning. Apart from these, we also provide various technical supports in other subsidiary companies. CMPDI is headquartered in Ranchi, Jharkhand. We have seven coal producing companies and with each of these, we have one regional institute. They are basically doing drilling, preparation of project reports and other things, and provide other door-step services to various producing companies. We have also got a very good blasting department in Ranchi. We use explosives for producing coal- kind of explosive, design and related services are being researched in this department.I would like to inform you that, CMPDI also act as a nodal agency for all kinds of R & D activity related to coal projects.
It is understandable that CMPDI's core competency is technology. Please share with us your achievements over the years in this regard.
In 1975, CIL's production was very less. This year, CIL will be producing around 482 MT and next year 507 MT coal. So, whatever additional projects have come we are doing it, in terms of drilling to preparation of project report to environmental report, and the kind of technology investment is required which will be done by CMPDI. Apart from this, we are also into unconventional projects like CBM and CMM (Coal Mine Methane). Recently, we have floated tender for Underground Coal Gasification (UCG). It is a new technology. Two blocks have been identified for this and investor will come for investment in these blocks on profitsharing basis. This technology has been tried in many parts of the world. It has been successful in some places and not that successful in other places. So, we are going for turnkey projects. It means it will be entirely financed by the bidder who can share maximum revenue.
There are lots of environmental concerns regarding the coal industry in the country. What is your view on that? I don't understand why these objections?
I think, Coal India is actually creating additional environmental resource-forest and water. I will explain this. When the land is used and we do mining, after that we do plantation of trees and as on today, we have planted about 76 million trees. It means if we have damaged 1 hectare of forest, we have created 2.5 hectares. This is what we have got through satellite images, and even environmental ministry also knows this. It is there in public domain, but yes we have to publicize it more.
On the other hand, we are using mining water. Apart from that, we pay Rs 8 to 9 lakh per hectare against the forest land acquisition, and till date Coal India has paid around `1,600 crores. We also pay double for aforestation cost. These are all statutory provisions.
I agree that dust is a problem and we are taking care of dust problem to avoid environmental hazards. You have to understand that there are no chemical activities in the coal mines. So there is no problem of poisonous gas or chemicals coming out these mines. Problem is of land. If we want to do mining, we have to do it in land as there is no other option. Our coal industry is scattered, population density is very high, and I think for that there is big hue and cry about land. I told in number of occasions in various workshops or seminars that if you think we are damaging environment, then just stop mining. On the one hand, government is always talking about increase in coal production and on the other hand, there are environmental issues these two cannot go together. Another thing that I would like to mention is that we have already started discussions with various agencies on how that reclaimed land can be converted as a source of income for the local people.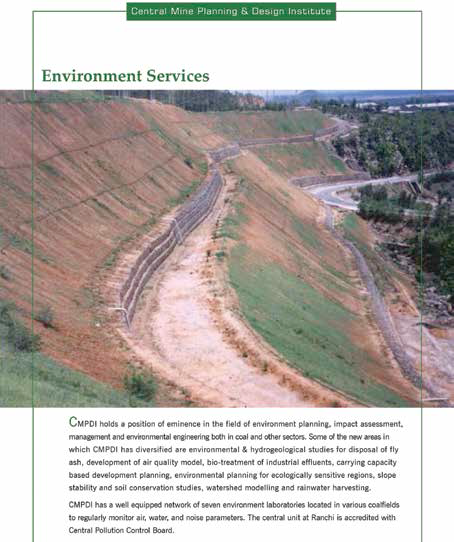 How do you plan to tackle challenges concerning land? Land is a state subject.
If a particular state government asks for money for the land, we will pay. If I am able to pay, give me the land and if it is not viable for us, we will not go for that particular land. That's it. Matter ends there.
What kind of technology is used by the coal industry in India compared to the technologies used in other parts of the world?
We have tried all kinds of technologies practiced or deployed all over the world. Technologies used in countries like Russia, Poland, France, Canada, UK, Australia and China are also being used in India's coal industry. But we have to keep in mind that geo-mining conditions are not the same everywhere.
As far as open-cast mining is concerned, we are using highly mechanized equipments. In the area of application of technology concern, we have tried all kinds of technologies.
Follow and connect with us on Facebook, Twitter, LinkedIn, Elets video