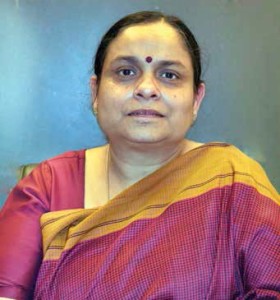 Keshni Anand Arora
Deputy Director General
Unique Identification Authority of India (UIDAI)

Keshni Anand Arora is an IAS officer of the 1983 batch. Currently serving as Deputy Director General, UIDAI, she holds the rank of Additional Secretary in Government of India. As DDG, she is the in charge of Punjab, Haryana, UT Chandigarh, Himachal Pradesh and Jammu & Kashmir. She has earlier been the Managing Director of HARTRON and Principal Secretary, Tourism, Transport, Forest, etc.
Please provide us with an overview of the UIDAI project in Chandigarh, Haryana and Punjab. What is the status of the Aadhaar enrollment these states?
The UIDAI project is progressing at a healthy pace in this region. We have covered about 95-96 percent of the population in Chandigarh. Out of these, about 85 percent have already been given the Aadhaar numbers. This means that the enrollment in Chandigarh is now close to the saturation level. In Punjab we have done about 90 percent coverage, and the Aadhaar numbers have been allotted to 77 percent of the population. In Himachal Pradesh there is 98.9 percent coverage, with the Aadhaar number being given to 91 percent of the population. When it comes to Haryana, the UIDAI Project was stated in early 2011 and it was coupled with state PDS project. By now we have coverage of around 77 percent of the population in the State.
The Aadhaar numbers have been generated for 57 percent of the population. In some districts like Sonipat and Ambala we have covered close to 95 percent of the population. In Panchkula, we have covered round 89 percent. So I would say that the overall coverage of the population in Haryana is quite good. In fact, the coverage and the rollout of Aadhaar through voluntary compliance is now almost near completion, a small section of the population is left, this we plan to cover in the next few months.
What steps are you taking to ensure that people who are yet to be covered under Aadhaar also come forward and get themselves enrolled?
Currently we are taking out advertisements in different forms of media to make people aware of the advantages that accrue to them once they enrol with Aadhaar. People are being informed Better Governance Through UIDAI Keshni Anand Arora Deputy Director General Unique Identification Authority of India (UIDAI) Planning Commission, Government of India of various ways by which their lives can become easier when they have their Aadhaar number. In fact, Direct Benefit Transfer (DBT), based on Aadhaar, is already being used to provide scholarships to students in this region. All four areas – Chandigarh, Himachal Pradesh, Punjab and Haryana – are doing lot of good work in the area of Aadhaar based DBT. In Haryana, the DBT scheme was launched in February this year. The Aadhaar enabled DBT is helpful in providing end to end traceability and availability of funds transferred. DBT helps in providing de-duplicated database to the Government while
 RO-Chandigarh Outreach Activity

 Name of Event

    Held at 

Date 

 IEC Activities

 Camp for jail inmates

 Chandigarh

 4th February

 Aadhaar enrolment camp

 Camp for blind people

 Gurgaon

 13th March

 Aadhaar enrolment camp

 Women's day

 Shimla

 8th March, 2013

 

Aadhaar enrolment centre, free-e-Aadhaar
download, Aadhaar quiz

 Camp for Leprosy patients

 Yamunanagar

 18 March

 Aadhaar enrolment camp

 Old Age Home Janak Sewa Samiti, 1162, Sector-19, Faridabad

 Faridabad

 18-19th march 2013

 Aadhaar enrolment camp

 Blind Residents , Jyoti Kendra,Hamara Road, Near Kitchlu Nagar

 Ludhiana

 15th April

 Aadhaar enrolment camp

 Mother Teresa Home

  Chandigarh

 28th April

 Aadhaar enrolment camp

 Regional Institute for Mentally Handicapped(RIMH) Children

  Chandigarh

 29th April-4thMay , 2013

 Aadhaar enrolment camp

 Mother Teresa Home

 Ambala

 2nd May ,2013

 Aadhaar enrolment camp

 Samarth –Residential Day Carecentre for differently able residents.

  Chandigarh

 8th August

 Aadhaar enrolment center
for individual beneficiaries it facilitates cash withdrawal from Business Correspondents or micro-ATMs across India. In Chandigarh we have conducted experiments to show that when we facilitate social welfare pension, disability pension and widow pension through DBT and Aadhaar based authentication, we are able to save substantial sums of money. Similarly in Jawaharlal Nehru National Urban Renewal Mission (JNNURM) we have used the Aadhaar to bring more transparency in the allotments of flats. Earlier what used to happen was that people would take a flat under JNNURM and sell it off, only to come back again under a different identity to claim entitlement over another flat. Now with the usage of Aadhaar we are able to identify the beneficiaries in a foolproof manner, so there is no scope for miscreants to claim another flat under JNNURM.
Even the large private sector companies are suffering from people who enrol with fake or duplicate identities. Do you see Aadhaar being used by the private sector for employee management?
Aadhaar is useful because it is the country's largest online biometric database. There is lot of enthusiasm in private sector about Aadhaar. You see large companies often outsource the employment and management of their contract staff. So when any particular individual, who is employed on a contractual basis, is removed from job due to any reason, he can go to some other agency and enrol under a different identity. He might be back in the same organisation from where he was removed under a different identity. Once private companies start using Aadhaar linked bank accounts to disburse salaries and pensions, the problem of fake employees will be removed.
The Government of India has launched the DBTL scheme under which subsidies are paid directly into the Aadhaar linked bank account of consumers. Please give us your views on this scheme.
The importance of Aadhaar can be understood if you look at the Direct Benefit Transfer for LPG consumer (DBTL) scheme. It has been launched with the aim of ensuring that the consumer entitlement of LPG subsidy is not siphoned away. At the time of purchasing the cylinder the consumer has to pay for the full price of the cylinder, the subsidy money subsequently gets transferred to his Aadhaar linked bank account. After the success of DBTL scheme in 20 pilot districts, Government of India has decided to extend the DBTL scheme to 289 districts by January 2014 in phases depending on Aadhaar penetration.
Now the Aadhaar penetration in all districts of Haryana, Punjab, Chandigarh and Himachal Pradesh is quite good, so we will have no problem in ensuring that there is efficient rollout of the scheme from 1 January 2014. In order to create awareness amongst people about the DBTL scheme, , banks, LPG companies and the distributors are conducting camps for providing adequate information to the public. The response from these camps is very good. We are now also thinking of coming up with a system toenable Aadhaar seeding and bank account seeding in the premises of the LPG distributor itself.
At times people are unable to access the benefits of Aadhaar as they don't get their Aadhaar number on time. What steps are you taking to handle grievances of the citizens?
Well, in the region that I am looking after – Haryana, Punjab, Chandigarh and Himachal Pradesh – we have been able to achieve very good Aadhaar penetration. A large majority of the people are already enrolled in Aadhaar, so the instance of people not being able to access benefits that they are entitled to due to any lack of Aadhaar number is minimal. As I already said, we are taking several proactive steps to ensure that the small percentage of the population that is remaining should also get enrolled in the coming weeks.
The field level workers and the sarpanchs in every district have been told to ensure that the remaining people in their area get covered soon. We are very prompt in grievance handling. People can contact us through email or toll free numbers and tell us about any issue that they are having when it comes to Aadhaar. We do our best to ensure that all the grievances are resolved in a timely manner. The e-Aadhaar facility is available on the UIDAI website. Those who are yet to receive the physical copy of their Aadhaar, can download e-Aadhaar.
Aadhaar has already become quite popular in the country. In your opinion, what kind of applications can be developed from it?
The main advantage of UIDAI is that it works with the efficiency that you mostly expect from the private sector. The general communication is conducted through email system, which is designed in such a way that everyone is informed of what is happening in the organisation at any particular point of time. When there is so much efficiency in the organisation, you can expect many new useful applications to get developed for Aadhaar. The applications will be developed by different government departments, state governments and even the private sector. What Aadhaar does is provide a platform and it is for other entities to leverage this platform and make best use of it. The best thing about UIDAI is that it is a learning organisation, we learn constantly from the experiences that we have from the work that we are doing and then we endeavour to bring further improvement in the functioning and service delivery of the organisation.
It has been suggested in the past that the finger print based biometrics might not be entirely accurate. In rare instances, the finger prints of the people engaged in manual labour can become distorted or unreadable. What is your view on this?
When you do the normal biometrics, you only take the prints of two fingers. But in case of Aadhaar we capture of the data of all ten fingers and also the iris. The authentication is usually based on your best finger, and in our experience, it does not fail. When we take the biometrics of people who are engaged in manual labour, it takes more time. This is because the system wants to gather the best fingerprints possible. However, we are also having the iris scan, which is quite foolproof.
In the area of Financial Inclusion, Aadhaar is expected to provide lot of benefits. What is your view of using Aadhaar as a tool for enhancing the scope of Financial Inclusion in the country?
Banks have started using Aadhaar as one of the systems for identification of its account holders. Many banks are currently engaged in providing social welfare pension, disability and widow pension through Aadhaar linked bank accounts. Today banks are having facility in their branches through which they can authenticate the identity of a person by using Aadhaar. This brings more security to the banking system. Many of the benefits offered by UIDAI, like online biometric authentication and facilitation of Government payments, will continue to be leveraged by banks and service providers across time for servicing the residents. But there are certain benefits, like elimination of the customer acquisition cost or rapid scale build-up, which can be fully leveraged only if the bank accounts are opened leveraging the Aadhaar enrolment process.
Social Inclusion Activities – UIDAI enrolment at Samarth
 

BThe UIDAI RO, Chandigarh, facilitated special Aadhaar Enrolment camp at Samarth- Residential Day Care centre for differently abled residents, in association with Registrar-Union Bank of India.

The camp was inaugurated by Keshni Anand Arora, Deputy Director General, UIDAI. At the camp, 25 differently-abled inmates were enrolled for Aadhaar.

Since inmates at Samarth are person with special needs, it is difficult for them to access the other regular Aadhaar enrolment centres which other persons easily can. Hence for the facility of the inmates of Samarth, the enrolment camp was planned in the centre itself.
Some privacy related concerns are being raised about Aadhaar. What steps are being taken to ensure that the privacy of the citizens is protected?
You see, Aadhaar is a tool for giving every section of society in the country a legal identity so that everyone is able to access the range of services that the government is providing. During Aadhaar enrolment only the basic data is collected. The information gets encrypted the moment it is captured at the point of collection itself. Even if someone needs to revise the information the moment after it has been collected, the operator cannot help in that case. The information has already been uploaded into the system and is secured behind firewalls. Your approval is required to authenticate your identity and while revealing who you are, the system just gives a yes or no response. Privacy is safeguarded at every stage in the system developed by UIDAI.
Follow and connect with us on Facebook, Twitter, LinkedIn, Elets video