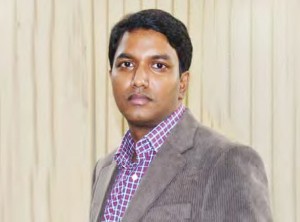 G S Naveen Kumar
Special Secretary, Information Technology & Electronics Managing Director, Uttar Pradesh Electronics Corporation Limited
"Today e-Governance is being recognised as the best way of governance because it makes it possible for government departments to reach out to the people in a more efficient and transparent manner," says G S Naveen Kumar
That is your view of using Information Technology for bringing improvement in the quality of services that are being made available to the citizens?
At the end of the day, governance is all about effective service delivery to the citizens. Today e-Governance is being recognised as the best way of governance because it makes it possible for government departments to reach out to the people in a more efficient and transparent manner. Today e-Governance is being used in Uttar Pradesh and rest of the country to develop initiatives that give foremost priority to the users. There is the well-known cliché – customer is king. Similarly in e-Governance, the citizens are the king. The initiatives in e-Governance are designed after keeping basic interests of the citizens, or the aam admi, in the focus. So when you go out to design a new e-Governance project, you should have a thorough knowledge of what the needs of the citizens are. For instance, if I have to issue a caste certificate then I have to understand the fact that the person who is supposed to get the caste certificate is the kind, but at present this is not happening. At times, the citizen has to run from pillar to post to get the caste certificate. The change is coming through IT. IT is making it possible for us to devise systems of governance that have citizens at the centre.
Services being provided to 
the citizens through e-Suvidha Kendras
Electricity Bill Payment Service

 Payment of Water Tax for Jal Sansthan

 Payment of House Tax for Nagar Nigam

 Payment of House Installments for LDA

 Railway Ticketing Service

 BSNL Bill Payments/Cellone Services
Earlier you were serving as the DM in Banda district of Uttar Pradesh. During that time the e-Setu project was launched in the district. Please tell us about it.
At times it has been found that e-Governance projects fail to deliver because of lack of capacity building amongst government officials. So the district administration in Banda decided to set up a computer training centre, under the name e-Setu, for providing free computer training to government employees and officials. Under this innovative project, the provided not only the basic computer education to employees but they also apprised them about the internet facility and its usage in daily life. Several employees, including lekhpal, pradhans, employment volunteers, officials of rural development department, gram panchayat officers, teachers and shiksha mitra, workers and volunteers from children development department and employees of health department and farmer volunteers from agriculture department had been selected to undergo the computer training.
Main objectives of Uttar 
Pradesh Electronics Corporation Limited
To Promote and develop Information Technology and Electronics industries in the state of 

Uttar Pradesh
 To implement and operate the Projects relating to development of IT and Electronics 

Industries in Uttar Pradesh as per instructions of the State Government and to establish 

electronic industrial enterprises etc. To undertake setting up of new electronic industrial 

units and/ or expansion of existing units in part or in full
To Promote research and development in electronics 

To provide support to the entrepreneurs, desirous to set up Information Technology & 

Electronics industries and to act as an Industrial Management and Financial Consultant 

for them
To prepare Market Survey Report, Project Profiles, Project Study related to electronic 

products etc. to support electronic industries in different fields
To provide facilities of Testing, Calibration and Standardization
Development and Training to entrepreneurs and Technical Man power

Success of e-Governance is directly linked to the development of Information Technology systems that are efficient and lean
How was the training centre for e-Setu set up?
For setting up the training centre we received inputs from the e-Governance Society, the Projector Director, Rural Development and Lokwani and few other government departments. Project Director, Rural Development, served as the nodal officer of the project. The e-Setu project is serving as a bridge between the government employees and the modern technology. Once the employees get fully trained, they become capable of maintaining transparency in their records. Such programmes are being undertaken in all parts of the state. In essence, e-Setu is a bridge to address delay, time consuming and costly public service delivery using technology or online platform.
One major e-Governance initiative that the Government of Uttar Pradesh has undertaken is the e-Suvidha. What kinds of services are being provided under this initiative?
The e-Suvidha has been developed to serve as a one stop interface for citizens to interact with many different government departments. Instead of commuting from one office to another, the citizen can get all his tasks done through a Single Window Clearances from e-Suvidha Kendras. The project was started in 2006 in Lucknow on a pilot basis. Today there are 31 such centres in Lucknow, all of which operate from 8 AM to 8 PM on all working days, including Sundays and holidays. Citizens can avail any service from any of the e-Suvidha Service Centres across any counter without any jurisdictional limit. All e-Suvidha Service centres accept all forms forms of payments including credit cards. We also have the system of electronic queues at certain centres to avoid rush.
You are currently serving as the Managing Director of Uttar Pradesh Electronics Corporation Limited. What is the mandate of this organisation?
Uttar Pradesh Electronics Corporation Limited is wholly owned undertaking of the Uttar Pradesh Government. The mandate of the corporation is to promote Information Technology and Electronics industries in the State of Uttar Pradesh. Presently the corporation is engaged in procuring and supplying Computer Hardware, Development of Computer Software and providing Computer Training to the employees of different Government Departments, Corporations and Institutions in Uttar Pradesh.
Activities of Uttar Pradesh Electronics Corporation Limited
• Software Development, Electronic Data Processing System, Data Communication System, Hardware, Software, Networking, Internet, e-Commerce related business work and activities
• Business work in the field of Information Technology and its allied services, such as Value Added Information Technology
Services, Software Product, e- Business etc
• e- Governance to meet out the target of 'Smart State' of the State Government
• To provide I.T. consultancy for successful execution of IT related Projects of different Government Departments
• Nodal Agency for e-Procurement
• To provide Computer Training to the officers and employees of different Government Departments
I think you will agree that e-Governance today is mostly about having efficient Government to Citizen (G2C) systems. Do you think we are having enough focus on developing such systems in Uttar Pradesh? Success of e-Governance is directly linked to the development of IT systems that are efficient and lean. If the IT systems that have been developed are too complicated then they will not be effective. They have to be designed in such a way that even the people who are not conversant with digital technologies are able to access the services. The focus has to be on developing systems that enable common citizens to access the much needed services from the government in an efficient and transparent manner..
Follow and connect with us on Facebook, Twitter, LinkedIn, Elets video