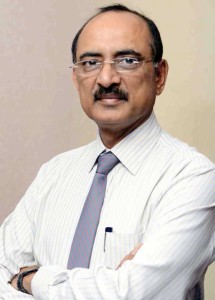 V P Jain General Manager, Financial Inclusion Division Punjab National Bank "Punjab National Bank's financial inclusion initiatives are aimed at financial empowerment and participation of rural masses in the growth process," says V P Jain. In conversation with Nayana Singh  
Today large section of Indian society does not have access to banking and other financial services. So the government has come up with the Financial Inclusion initiative to bring the entire country into the banking system. Tell us about the work that Punjab National Bank is doing in this area. Financial Inclusion is very essential for the progress of country. The agenda in this case is essentially economic. Access to financial services facilitates making and receiving financial payments and reduces transaction costs. Improved access to financial services contributes to productivity and social protection, as the financial sector – through savings, credit and insurance – serves as means of crisis mitigation. Once people in rural areas have access to banking and other financial services, their economic situation will improve and they will be able to contribute to the nation's economy in a better way. Punjab National Bank has always been in the forefront in providing banking services to the unbanked population in the country and believes that the poor are bankable. The Bank has already made significant contribution in extending banking services to the unbanked population through its Financial Inclusion Plan. Punjab National Bank's financial inclusion initiatives are aimed at financial empowerment and participation of rural masses in the growth process.
What kind of strategies is the Punjab National Bank using to provide financial services to the urban and rural poor?
Punjab National Bank has come up with its own unique strategy for financial inclusion. It has changed its entire system of last mile delivery. We have developed the system in which the all the transactions can be done in the online mode. One fundamental difference between our approach to financial inclusion and that of other banks is that we follow a reverse flow system. This system allows our customer who is enrolled at the BC location to also become a customer of the mainstream banking side. Simultaneously customer of mainstream is allowed to have an additional outlet through BC locations. The bank has come up with products like Biometric Smart Cards, which enable an illiterate to withdraw money from his account. The system identifies the individuals on the basis of fingerprints. I would also like to tell you about the PNB Kalyani Cards, which are given to women in rural areas for their general needs and upliftment. Then there is the PNB Krishak Sathi, which is a loan scheme for farmers to liberate them from indebtedness at the hands of the moneylenders.
JAN Mitra Rickshaw Project
Dr K C Chakrabarty, the then CMD of Punjab National Bank launched "Jan Mitra Rickshaw Project" on pilot basis in Varanasi on February 2, 2008 in association with Centre for Rural Development (CRD), NGO. Simultaneously health and medical insurance cover will also be provided. Rickshaw pullers are organized in a group of five and located at a common garage, to manage their savings, repair the rickshaw and update the business records. Rickshaw puller has to open a "No Frills" Account with PNB. Subsequently, PNB will continue its links with the Rickshaw puller so as to fulfill his requirements for second product or services, thus becoming "one-stop shop" for the borrower and his family's entire needs like small loans for the household like renovation of house, buying cooking gadgets, etc. and allied activities like education loan, housing loan, personal loan, etc.
In your opinion what kind of impact are the Financial Inclusion initiatives of Punjab National Bank having on the ground level?
Nearly 65 percent of households in India borrow money from non-institutional sources. The lower the asset class or income of the people, the higher is their degree of exclusion. For instance, there is Swabhimaan, Government of India's path-breaking initiative to bridge economic gap between rural and urban India. This campaign is a big step towards socio-economic equality by bringing the underprivileged segments of Indian population into the formal banking fold for the first time. The vision for this programme is social application of modern technology. Punjab National Bank is participating in Swabhimann initiative in a major way. We use modern technology solutions like smart cards, hand held terminals, biometric devices and simple ICT tools like laptops, webcams and battery backup devices to provide for easy enrolment of new customers. 'No frills' (zero balance) accounts are being opened for customers with relaxed Know Your Customer norms. We are providing our customers with PNB Mitra ATM cards, which have daily withdrawal limit of `5,000.
What are your views of Direct Benefits Transfer? Do you think it is commercially viable for public sector banks to comply with DBT norms?
DBT is an ambitious programme of the Government of India to transfer the benefits directly into the bank accounts of the beneficiaries. Once this system is fully implemented, the role played by the intermediaries will be eliminated and there will be much more transparency and efficiency in the disbursement of benefits. We are part of the DBT scheme. It is part of our social corporate responsibility. I am of the opinion that in future DBT will start generating revenues. Once the customer gets the experience of how well his finances can be managed if he becomes a bank customer, it will become possible for us to target him for other banking related services and products. All you need to do is provide me with the bank details of the customer, and within 24 hours the money can be transferred to his or her account.
Financial literacy of people living in the rural areas has been an area of concern. What initiatives is the Punjab National Bank taking to ensure that people are sufficiently financially literate?
In realising the objective of achieving "financially inclusive growth", the biggest challenge is improving financial literacy so that borrowers could take informed decisions. Bank's extensive financial literacy programmes overcome this problem by reaching thousands of customers and small entrepreneurs. As per the RBI guidelines, each Lead Bank is expected to open a Financial Literacy and Credit Counselling Centre (FLCCCs) in every district where it has lead responsibility. We have opened FLCCCs in many districts for providing financial education/credit counselling free of charge. In addition to this, Bank has opened one FLCCC at New Delhi, for addressing urban financial literacy need. During the year 2010-11, almost 86,645 persons made enquiries at FLCCCs and 73,856 persons attended the seminars conducted by FLCCCs. Financial counselling through face-to-face interaction with interested individuals is provided at these centres. Financial education imparted includes importance of responsible borrowing, financial planning and information about various financial products and services. Besides, debt counselling is provided for amelioration of debt-related distress of any individual.
Follow and connect with us on Facebook, Twitter, LinkedIn, Elets video