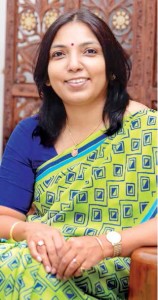 Nidhi Khare,
Adviser, Planning Commission, Government of India
"The main purpose of Direct Benefits Transfer is to ensure that benefits go to individuals' bank account electronically, minimising tiers involved in fund flow and thereby reducing delay in payment, ensuring accurate targeting of the beneficiary and curbing pilferage and duplication," says Nidhi Khare. In conversation with Nayana Singh
How is the Direct Benefits Transfer (DBT) Scheme of Government of India progressing in the country?
Direct Benefits Transfer is an ambitious project launched by the Government of India. This project will lead to seminal improvements in the way subsidies and benefits are distributed in the country. The project was launched on 1 January 2013 in a few select schemes and a few select districts. The primary aim of this Direct Benefit Transfer project is to bring transparency and terminate pilferage from distribution of funds sponsored by Central Government of India. In DBT, benefit or subsidy will be directly transferred to the beneficiaries living below poverty line. Earlier the funds used to pass through several tiers of governance, before it finally reached the beneficiaries, and this at times lead to delays and even pilferage. Proper implementation of DBT will abolish this hierarchy in the system and will help in delivering these services efficiently and effectively. It will also enable us to gather an accurate data of the beneficiaries, and root out the duplicate, fraudulent entries. There will be less scope for corruption and the ultimate beneficiaries will be the common people of the country.
DBT involves transfer of funds from one source to other. These days we are having lot of cyber attacks from malicious entities on online financial systems. The strengthening of the online systems can lead to escalation of costs. In view of these factors how do you ensure that the DBT scheme remains financially viable?
The DBT scheme has been formulated with the idea of using latest and fool proof technology to identify the beneficiaries, and then ensure that they are able to get their entitlements in a timely, safe and efficient manner. We want to ensure that the government funds do not stagnate at certain tiers of governance; it should pass through the system and reach the intended beneficiary quickly. This in turn adds to the savings of the government. The banks can foresee a future opportunity in aligning their system with DBT. However, those who carry it out efficiently will eventually manage to grow their business particularly in rural areas.
The number of bank accounts in the country is quite low. In face of this fact how will DBT succeed?
It is true that Financial Inclusion in the country is not adequate. Therefore, DBThas been rolled out only in case of a handful identified schemes, and in few selected districts. The districts have been selected keeping in mind parameters such as density of banking facilities and presence of sufficient number of bank branches to cater to the needs of the beneficiaries. As of now we have not included MGNREGA under the DBT scheme as many of the labouring class does not have the bank accounts, which are a must for DBT. To circumvent the problems related to financial inclusion, the government has massive plans to include the postal offices in the core banking system. Once this task is accomplished, the beneficiaries will get an account which will be interoperable across the country. Thus even when beneficiaries are migrating from one place to other, they will remain connected to the financial system.
Many analysts are now seeing Aadhaar as a basic tool for DBT. What are your views on this issue?
There is no doubt that financial Inclusion and Aadhaar are the basic twin pillars for DBT. Districts with the highest number of Aadhaar enrolments had been selected for the first phase of the launch of DBT. Aadhaar is of great help in identifying the beneficiaries most accurately. It helps in removing the duplicate names and fraudulent entities from the list of beneficiaries. The district collectors are ensuring that maximum number of Aadhaar enrolment camps can be organized, so that the beneficiaries get enrolled on priority basis, and that their data bases can be uploaded for generation of Aadhaar numbers on priority.
What is your idea regarding the technology that is being used in DBT? Is there scope for improvement?
There is always scope for improvement of technology. The UIDAI has been providing technological support for Aadhaar enrolment and generation and is constantly updating the same against multiple enrolments, speedy, accurate and unique no. generation. People have the tendency to enrol multiple times.They make their enrolment in one area, and when they move to another town, they go for another enrolment. It is only through technology that we are able to detect these duplicate entries in the system. Every entry is run through a de-duplication cycle, matching the new data with the existing ones. Thus, there is no room left for repetition.However the technology used behind DBT is state-of-the-art; it helps in identification of beneficiaries to the most accurate possible degree. There are 12 variables to identify in an individual in this system. You also need to take account of the fact that this kind of exercise has not been attempted anywhere in the world. I mean we are using technology to identify almost 120 crore people. After that the benefits being released to the beneficiaries will also be managed through online systems. This technology which is being used in DBT is being provided by the Department of Electronics and IT (DeiTY) ,National Informatics Centre (NIC) and the Central Plan Scheme Monitoring System (CPSMS). This is a robust and a vibrant platform. The architecture of DBT is so flexible and robust that it can be compared to a train. One can board it from anywhere and still reach the intended destination.
The mandate of the DBT mission directorate

is to facilitate the development of end-to-end 

architecture for the rollout of DBT
As you said, this kind of exercise has not been attempted anywhere else in the world. Please provide us with an overview of the challenges that are there in speedy implementation of DBT.
As DBT is a mammoth exercise depending on the twin pillars of Financial Inclusion and Aadhaar, there are a number of challenges that we have to face. The biggest challenge is that the central ministries that are involved in DBT, to begin with, did not have a centralised database of beneficiaries. Even for schemes for providing scholarships to students, some of which are running for more than several decades, don't have a centralised database. Some Central Ministries/ states already had some end to end IT systems. However to address the issue of preparing a common workable system across the country, Department of Electronics and Information Technology (DeitY) and National Informatics Centre (NIC) have got involved in designing an IT platform that can be used for DBT. We also faced challenges in Aadhaar generation. Earlier we were sending Aadhaar cards by post, many of the cards failed to reach the destination in time or never reached at all. To address this, e-Aadhaar facility was created where Aadhar could be downloaded by the people themselves. Most of the beneficiaries belong to the under privileged sections of the society. Opening bank accounts of such large number of people is a challenge. The bank accounts become dormant as the beneficiaries sometimes withdraw the entire money. So now they have specific directions to keep accounts with zero balance open for long periods of time. Seeding of the bank accounts with Aadhar is also a challenge that is being addressed.
Mobile banking is a trend which is fast catching up in countries such as Kenya. In India also there are more people with mobile phones as compared to those with bank accounts. What is your view of integrating mobile technology with DBT?
It will take some more time for such technological integration to happen in the DBT system. Adoption of mobile banking is limited mainly to urban areas, which already have numerous bank branches. As most of the beneficiaries in benefits schemes of the government are in rural areas and from the under privileged sections of the society, mobile banking will be successful in the DBT system that has beneficiaries in urban areas. Technologies have to be incorporated keeping in mind the comfort level of the intended beneficiaries. It will be our constant endeavour to bring in such Technology that makes the users feel that their money is safe and can be accessed at any point of time, anywhere.
In your opinion how do you see the role that your department is playing in the speedy launch of DBT across the country?
The mandate of the DBT mission directorate is to facilitate the development of end-to-end architecture for the rollout of DBT. The architecture has to be such that it works with seamless efficiency even though multiple agencies have to be involved for the execution. The system has to be foolproof and accurate. My ambition is to take this system forward and turn it into an efficient delivery mechanism. We have started delivering subsidies in LPG through DBT in certain districts. In times to come we intend to have an architecture in place for DBT rollout in the areas of food and fertiliser subsidy.

Follow and connect with us on Facebook, Twitter, LinkedIn, Elets video