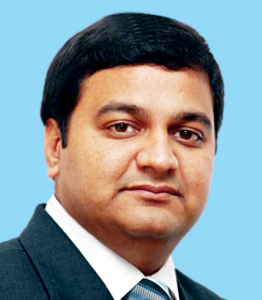 Anand Naik
Managing Director, Symantec India
"Whether cyber-criminals are attacking computers, mobile phones or social networks, their ultimate goal is to obtain personal information including banking details, phone numbers and email addresses of friends and business associates, and even steal the target's identity," says Anand Naik
During the last few years, the Government of India has undertaken several key initiatives in improving the cyber security in the nation. Please give us an overview of the cyber security related projects in which Symantec has participated in the country.
Symantec, as you already know, is the world's leader in management of information security. Symantec works with many governments around the world, including the Government of India, for developing systems that can lead to better online security. In India, we are working with various arms of the Home Ministry and Department of Electronics and IT for developing new security solutions for the government. We are also engaged with the various State Governments in India for developing solutions for State Wide Area Networks (SWAN) and other areas.
Detection of new security threats is a critical part of the overall security infrastructure. Tell us about the work that Symantec is doing in this area.
Symantec is the key member in a subcommittee set up under the 12th Five Year Plan on e-security. We participate in defining the parameters of national e-security in the committee. Symantec is an active member of DSCI (Data Security Council of India), and of National Association of Software and Services Companies (NASSCOM). We are contributing to the formulation process of IT amendments and cyber policies. We actively participate with CERT-In to proactively detect threats that the country faces, and also identify the source of those threats. The sources of threat can be individuals, groups or states. We are using our own global intelligence network to identify these malicious sources and sharing this data with the concerned government departments.
Recently Symantec came up with a report that India is seeing a marked increase in bot infections. Tell us about it.
Our Internet Security Threat Report has revealed that India has seen a 280 percent increase in bot infections, which are now spreading across many emerging cities. The truth is that the country accounts for nearly 15 percent of global bot-net spam, responsible for disseminating an estimated 280 million spam messages per day worldwide. In addition, the report highlights a 42 percent surge during 2012 in global targeted attacks, as compared to the prior year. Designed to steal intellectual property, these targeted cyber espionage attacks are increasingly hitting small businesses, which are the target of 31 percent of these attacks across the world. Small businesses are attractive targets themselves and a stepping stone to ultimately breach into the infrastructure of the larger companies. Our investigation also shows that the global average number of targeted attacks per day in 2012 was 116, compared with 82 in 2011 and 77 in 2010. So what we are witnessing is a phenomenal 42 percent increase in targeted attacks. Targeted attacks such as Disttrack in 2012 are commonly used for the purposes of industrial espionage to gain access to the confidential information or intellectual property.
There have been many instances of government websites being hacked by malicious elements. Do you think that new security steps should be initiated in order to protect the official data from being hacked?
There have been major changes in the way the threat environment operates in the world. Earlier, major threats and cyber attacks were being launched in order to create nuisance in the world. But the modern cyber attacks have become more organised and are often being done with the intent of stealing information. The cyber attacks can lead to identity theft, breaching of individual security and stealing of IP addresses. Symantec believes that whether cyber-criminals are attacking computers, mobile phones or social networks, their ultimate goal is to obtain personal information including banking details, phone numbers and email addresses of friends and business associates, and even steal the target's identity. Strong action needs to be taken for thwarting the aims of these cyber-criminals.
How do you identify the government installations that need the kind of cutting edge security that Symantec is in a position to provide?
We cover the entire spectrum of safety solutions. Today we are participating with the government and private companies to define the critical infrastructures that our country needs. We first need to create awareness, identify important core information and then create a process that will solve the related issues. Symantec is working to create solutions that can counter the spate of cyber crimes and threats that are emerging around us.
People who need to implement solutions are not very well trained. Tell us about the initiatives Symantec is undertaking to enhance capacity building and boost cyber security?
Recently we partnered with Government of Meghalaya to create a training curriculum for all their government employees in the area of security. I would like to tell you that this initiative has been a huge success. Now other states in North East are also being encouraged to replicate the initiative in their respective states. We are also undertaking awareness programme that we bring to table for the government and enterprises is sharing of the knowledge and intelligence on threats through our Global Intelligence Network.
---
"Government is aware of the cyber threats, and a lot of steps are being taken to enhance cyber security"
---
Please brief us on some of the landmark projects that Symantec has undertaken in India?
Symantec in India is fully engaged in developing a model for better security. We are in the Indian market to bring value and awareness for the government and people. There is lot of R&D work that Symantec is doing in India. In fact, the products that Symantec develops in India are being used all over the world. We have operation centres in three major cities of India – Pune, Chennai, and Bangalore. We are fully geared to provide global solutions with localized flavour so that they can be implemented more effectively and seamlessly.
Follow and connect with us on Facebook, Twitter, LinkedIn, Elets video