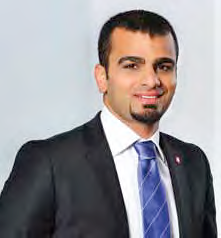 Aiham Al-Akhras
Head of Maintenance Business – Emerging Markets, Fujitsu
"We plan to be aggressive in the area of HPC (high performance computing) in the Indian market," says Aiham Al-Akhras. Inconversation with Ankush Kumar
Please provide us with an overview of the work that Fujitsu is doing in India? Please tell us about Palm Secure System?
All our Global solutions are available for the Indian market. The focus is mostly on SAP solutions and also on server consolidation and virtualisation. Fujitsu's products, like Ultrabook, are available in the Indian market. Earlier identity identification required fingerprint or retina scan, but these can be copied. But veins and circulation of blood can't be copied and it also ensures physical presence of the person. Our product, Palm Secure takes print of vessels and veins and hence is very secure. It has been installed in Japan and has banks as customers. Banking industry and ATM machines in Brazil also make use of this product. It can be very usefull for Financial Inclusion and Data Management in India.
What are your strategies for the emerging markets? Where do you place India among some of your focused markets for investment?
Fujitsu's focus is on growing markets such as India. We are making concrete investments for developing capable solutions. Emerging markets are important to Fujitsu and India is one of the selected countries for strategic growth. We offer broad portfolio of products. We provide solutions and offer products and services on top of it. We have brought our wholesome global portfolio to India to complement the business requirements of customers.
Tell us about the work that you are doing for the automotive sector and other sectors in the country?
Our major focus is on Automotive Sector, where we have advantage due to our Japanese origin. We work with some of the largest automakers in India. In Media Segment we work with some of the major English newspapers. They have been our customers for last six to seven years. Enterprise customers currently need to move on cloud; however, cloud requires consolidation, virtualisation and convergence of technologies.
What kind of projects you are doing in the government sector? What are your key focus areas in this sector?
Fujitsu's surveillance servers are installed in all major airports and railways. More than 60 percent of airport surveillance is done on Fujitsu's servers. In railways, Fujitsu has 60-70 percent of market share in surveillance. Centre of scientific and industrial research (CSIR) has 42 labs in different locations, which are served by Fujitsu systems. We are also focusing on IITs and other Research Institutes. JLN Centre for Advance Scientific Research also uses Fujitsu's solutions.
In your opinion how will HPC (high performance computing) add value to the modern day computing? Tell us about the kind of technologies that you would like to bring to Indian market.
We plan to be aggressive in the area of HPC (high performance computing) in the Indian market, but our overall major focus area will be on SAP. We have huge capability in terms of development, implementation, and support, as we provide unique value proposition to the existing customers. We bring best practices in India and get deeply involved with the customers, so that they keep coming back to us. Different parameters require different computing power to solve the problem which needs to be analyzed. For e.g., weather forecasting requires huge amount of computing power. We also have a significant amount of experience in super computers. It is noteworthy that Fujitsu has 10000 patents.
How do you look at the competition in Indian market? What are the challenges for Fujitsu?
Fujitsu is a relatively late entrant in the Indian market where competitors have already taken the lead – this is the only challenge that we face. We have right portfolio and business culture in place. We have maintained our true identity while keeping high quality and cutting costs. We will take bigger steps to compete and we will be able to catch the league. Very soon the users of different providers will realise the competitive advantage that Fujitsu offer.
Follow and connect with us on Facebook, Twitter, LinkedIn, Elets video