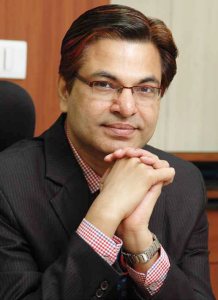 Dr Rajendra Kumar
Joint Secretary, Department of Electronics & Information Technology (DeitY), Ministry of Communications & Information Technology, Government of India
---
"Given the fact that most of the Indian citizens reside in rural areas, mobile devices can serve as a very convenient and easy tool for accessing a wide range of government services"
---
What is your vision for Mobile Governance? Please shed some light on the possibilities that lie in this new way of providing government services to the people.
Mobile Governance, also known as m-Governance, is the name given to the strategy of leveraging the available wireless and new media technology platforms and mobile phone devices, tablets and applications for delivery of public information and services to citizens and businesses. We are working with the aim of making India a world leader in using the potential of mobile governance for inclusive development. Our aim is to build a system through which public services can be provided electronically to all sections of society, especially those who reside in the rural and the far-flung areas, through mobile phones and tablets. People living in any part of the country will be able to access government services and information on an anywhere, anytime basis.
You have launched a system of governance called Mobile Seva. Why is it required for better governance?
As you may be aware, hundreds of millions of Indian citizens currently do not have access to computers or the Internet. Millions of less-privileged individuals without access to the Internet have no realistic chance of accessing public services. They are unable to take full advantage of the new e-Governance initiatives that have been launched. In the last decade, the mobile phone scenario has changed completely across the world. Almost everyone owns a mobile now. Mobile Seva is basically a system through which people who do not have access to computers and Internet can be provided e-Governance services. Mobile Seva has been conceptualized and developed by the Department of Electronics and Information Technology (DeitY) and is being implemented by the Centre for Development of Advanced Computing (C-DAC).
Given the fact that many Indian citizens reside in rural and far-flung areas, mobile devices can serve as a very convenient and easy tool for accessing a host of citizen-centric government services. The success of the proposed initiative on m-Governance will greatly depend upon the ability of the Government Departments and Agencies to provide frequently needed public services to the citizens through the mobile interface. For this, we need to create infrastructure for anytime anywhere mobile-based services, adopt appropriate open standards, develop suitable technology platforms, make the cost of services affordable, and create awareness, especially for people in underserved areas. DeitY has already created such a system under the Mobile Seva Project, which is currently being used by over 500 Government Departments and Agencies across the country in all the states. Over 20 lakh PUSH SMS based transactions per day are being delivered through this platform. The Mobile Seva portal is available at: http://mgov.gov.in/home.jsp.
Today majority of the people in the country don't have smartphones. They are using mobiles for basically voice based communications and text messages. So how does m-Gov become possible through mobiles?
Mobiles have the potential to be the most potent tool for bringing government services closer to the people. Currently, the e-governance service delivery platform consists of the core ICT infrastructure consisting of State Data Centres (SDCs), State Wide Area Networks (SWANs) and the middleware comprising the NSDG/SSDG (National/State e-Governance Services Delivery Gateway). The current architecture of NSDG/ SSDG or the domain gateways have to be supplemented with framework for mobile governance. A separate infrastructure is required to facilitate seamless integration with backend department through existing NSDG/SSDG eGov exchange infrastructure. It will provide common interface for mobile based services, such as SMS (Short Message, Service), USSD (Unstructured Supplementary Service Data), IVRS (Interactive Voice Response System), CBS (Cell Broadcasting Service), LBS (Location Based Services) and mobile applications. Mobile devices are constrained environments, so to enable m-Governance we need to develop more flexible solutions.
Please tell us about Mobile Service Delivery Gateway (MSDG).
As I said, Mobile Seva, a countrywide initiative on mobile governance, has been conceptualized and developed by DeitY to provide public services to the citizens through mobile phones and handheld devices. Basically Mobile Service Delivery Gateway (MSDG) is the centralised platform created by DeitY through its implementing agency, Centre for Development of Advance Computing (C-DAC). MSDG has been developed around open standards and cloud-based solutions. The key implementation strategies under the Framework for Mobile Governance have been notified in February 2012. For the realisation of the ambitious goal of providing government services to citizens through mobiles using SMS, USSD, IVRS, CBS, LBS, and mobile applications installed on the mobile phones, the MSDG makes use of a state of the art integrated platform. MSDG is the core infrastructure developed by C-DAC for the enablement of m-Governance services. It uses interoperability protocols so that a multitude of participants can work together.
Government of India has laid down following measures to progressively adopt and deploy m-Governance in a time bound manner:
• Web sites of all Government Departments and Agencies shall be made mobile compliant, using the "One Web" approach.
• Open standards shall be adopted for mobile applications for ensuring the interoperability of applications across various operating systems and devices as per the Government Policy on Open Standards for e-Governance.
• Uniform/ single pre-designated numbers (long and short codes) shall be used for mobile based services to ensure convenience.
• All Government Departments and Agencies shall develop and deploy mobile applications for providing all their public services through mobile devices to the extent feasible on the mobile platform. They shall also specify the service levels for such servic
Today the use of mobile applications has become quite popular. Please tell us about the mobile application store that you are developing. Also tell us about the eSMS Service?
The mobile application store has already been launched and currently, hosts 161 live and fully integrated mobile applications for a range of government services. These can be downloaded and used by citizens free of cost. We are engaged in developing more mobile applications on behalf of various Government Departments and Agencies. It is already integrated with the MSDG and provides seamless and fully integrated services to the citizens. The store is based on cloud based technologies and uses open standards. The open platform works across all network operators. The M-AppStore can be accessed at: http://apps. mgov.gov.in/home.jsp. eSMS is a web portal for the Government Departments, where they can login and access the various mobile-based services of Moble Seva. It is available at: http:// services.mgov.gov.in/.
e-Governance cannot be fully successful until there is adequate amount of capacity building in ICT in various government departments. For m-Governance too such training would be required. What initiatives are you taking to ensure that officials have access to such training?
Capacity building is a continuous process. We have been providing training to officials in various departments at regular intervals. We are continuously engaged in creating the right level of awareness about this initiative amongst all the stakeholders, particularly amongst the various Government Departments and Agencies both at the central and state levels and the citizens.

Follow and connect with us on Facebook, Twitter, LinkedIn, Elets video