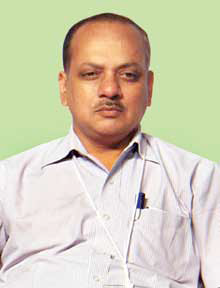 Jiwesh Nandan
Principal Secretary, Information Technology & Electronics,
Mining & Additional Sources of Energy, Government of Uttar Pradesh
"By distributing free laptops to students, we are ensuring that the next generation gets good experience of computers and computing, and they are in a position to take IT forward in the state," says Jiwesh Nandan
Uttar Pradesh has taken many initiatives for improving the infrastructure in the area of Information Technology. What is your vision for a digitally empowered Uttar Pradesh?
State of the art IT infrastructure is a prerequisite for improvement in governance. There are basically two prominent aspects of governance. One is citizen centricity and the other is the internal functionality, which is not connected with the citizens. But the most prominent area that we need to focus upon is the quality of services. We have launched e-Procurement to bring transparency in the procurement process in the entire state of Uttar Pradesh. As far as IT is concerned, we have underlined three main focus areas. One of the most popular initiatives that we have is concerned with the distribution of laptops to the students. By distributing free laptops to students, we are ensuring that the next generation gets good experience of computers and computing, and they are in a position to take IT forward in the state. We have created a stable policy environment, and now we are attempting to involve major government departments into the umbrella of e-Governance. We have launched 98 lakh digitally signed certificates, which are being used in major government and financial institutions.
Today many states are taking initiatives to use ICT solutions for improving security. Projects like CCTNS are being implemented. What kind of work is being done in Uttar Pradesh in this area?
CCTNS is a mission mode project, for which lot of work has already been done in Uttar Pradesh. We are currently having a pilot for CCTNS in three districts. All the police stations of the state have been computerized and are being connected under the project. All the stations register are being digitized and being placed online. Once the CCTNS project has been fully implemented in these three districts, it will start getting implemented in rest of the districts of the state. It will take about one year for the pilot project in these three districts to be completed, after which it will take about two or three years to expand the project to rest of the state.
What steps could be taken to make the Common Service Centres more financially viable?
We have established the institution called Lokvani Kendra, which is responsible for delivering e-services to the common people. At present we have 3300 lokvanis, 15,800 common service centres, and 100 E-suvidha kendras. We also created 885 SWANs in the entire state. But these services can be provided only with the help of effective and skilled IT professionals. Many other kinds of businesses can also be conducted by the CSCs and the Lokvani Kendras. Such freedom is being allowed only to ensure that these centres can become financially viable.
What are the challenges faced in terms of implementation of various e-Governance initiatives?
Human resource is a major challenge. Uttar Pradesh is facing major constraint of IT professionals in government departments and PSEs. We are trying to update such departments according to the latest technological developments. To solve these issues we have set up Centre for e-Governance under The National e-Governance Plan. The centre is responsible in bringing the entire spectrum of IT talent in various government agencies under one body. We see it as an important part of government infrastructure. We have succeeded in utilizing only 30 percent of State Data Centre. We are facing difficulty in bringing various state departments into our State data centre, as these departments have their own private data centres. There is a lot of duplication where every department is doing projects with other agencies. We are in a position where we require only services. We don't want to own infrastructure if there is any mechanism which could provide us with their infrastructure.
Follow and connect with us on Facebook, Twitter, LinkedIn, Elets video