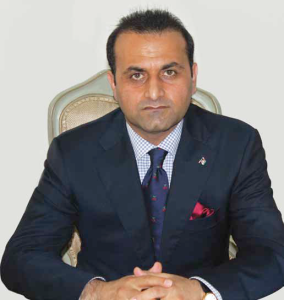 Shaida Mohammad Abdali
Ambassador of the Islamic Republic of Afghanistan to India
"India is playing a highly constructive role in Afghanistan. Other countries in the neighbourhood should look at the kind of relationship that exists between India and Afghanistan and learn a lesson from it," says Shaida Mohammad Abdali. In conversation with Mohd Ujaley
Despite many challenges, education sector in Afghanistan is gradually improving. How satisfied are you with the achievements made so far?
Education in Afghanistan is making exemplary progress. Rather, we should say achievements in education are beyond our imagination. In last eleven years, a revolution in education has taken place. Large pools of students are moving for education within Afghanistan and beyond. For example, over seven thousand students are currently studying in India and there are 10.5 million children who are attending school in Afghanistan. But, I understand that we need to strike more to make further progress in terms of quality and quantity. You also have to take into account the fact that no country has gone through – the kind of trouble, we faced. We have started from scratch and I am proud to say that by now we have made substantial progress. We are a country of 30 million people; about 75 percent of population is below 25 years of age and that means we have the youthful energy to take the country far ahead.
---
"75 percent of our population is below the age of 25 years and over seven thousand students from Afghanistan are studying in India"
---
When you meet the Afghan people what kind of enthusiasm do you see in them for education?
Let me tell you a real story, when I was the Deputy National Security Advisor and Special Assistant to the President of Afghanistan, I met a man from rural part of Afghanistan who was totally under the influence of radical groups. I asked him how he and his children were doing and where their children went to school. I was quite surprised to know that despite all the problems of the security, he was sending his kids to school. And, when I asked him – aren't you afraid? He said, he wants his son to be dead rather than uneducated, that is the kind of mood about education in Afghanistan and this is leading to increased enrolment.
Channelizing the energy of young people in right direction is also a challenge. What initiatives are you taking to ensure that the development happens with equity, inclusion and quality?
I agree, equity, inclusion and quality are big challenge for the developing countries of the world. In Afghanistan, we are in the process of making seminal improvements. Every year we are making new progress; there is improvement in quality, capacity and lot of new infrastructure is getting created. Equity and inclusion are directly related to availability of venue for education for each and every individual. We are coming up with new schools and creating institutions for higher education. As far as, quality is concerned, we are focusing on teachers training. Earlier, we did not have enough qualified teachers but now the trends are changing. Our teachers are being trained in Afghanistan and elsewhere. For me the most important thing is that these initiatives have raised the interest of the people in bringing their children to schools.
The proportion of girl's enrollment in Afghanistan has risen from zero to 42 percent. Most interestingly around 35 percent of teachers are women. What are the reasons for this achievement?
It is the inspiration of the people that has led to this achievement. Young population of Afghanistan has during the last few years witnessed the consequence of a lack of education. Due to lack of education, they did not progress, didn't have own voice and did not have the potential to shoulder the responsibility for developing their country. After the bitter experience of last two decades, they want our people to be fully equipped with education.
---
"Equity, inclusion and quality are big challenge for the developing countries of the world"
---
India is playing an important role in re-building of Afghanistan. How do you look at Indo-Afghan relationship?
I am very pleased with what India has done in Afghanistan during the last 12 years. India has contributed immensely. I am thankful to India and Indians for the way they are sharing their own bread and butter with the Afghan people. We are grateful to India for helping in developing new infrastructure in Afghanistan. India is building the Parliament, Salma Dam and other important infrastructure projects. I think, in the long run, the biggest impact of the help that comes from India will be in the area of education.
Currently we have around seven thousand students studying in India. They are very bright, very happy and highly motivated. We would like to have more scholarships especially in medical, engineering and professional education.
It is highly probable that after the withdrawal of NATO forces from Afghanistan the dynamics of the region will change. What kind of changes do you see in happening in the foreign policy of Afghanistan?
If you look at the past history of Afghanistan you will realise that this is a nation whose foreign policy has never been dictated from outside. Those who try to influence Afghanistan's foreign policy are always defeated. My advice is to learn from the past, whether it is Pakistan or any other country. Afghanistan is not going to succumb to any pressure from any country. We have a mutually beneficial strategic partnership with India, and that we hope will continue for all times to come. Afghanistan wants to have a good relationship with all its neighbours and with every other nation. Other countries in the neighbourhood should look at the kind of relationship that exists between India and Afghanistan and learn a lesson from it.
Is there any plan to develop a deeper collaboration between universities in India and Afghanistan?
I am glad, you asked this question. We are keen to develop relationship between the universities of India and Afghanistan. Recently, I met the chancellor of Global Open University, Dr. P R Trivedi. We discussed in detail about the ways by which we can revive the relationship in the area of education. We need more exchange programmes for students and professors. We are planning to open Global Open University in Kabul; eventually more such institutions will be opened across Afghanistan. We also had a very productive meeting with Dr Shashi Tharoor, Minister of State for Human Resource Development. During the meeting we decided that a consultive body must be created to improve collaboration between the two nations in higher and school education. We are also in discussion with many other countries including USA for improving the quality of education in our country.
Follow and connect with us on Facebook, Twitter, LinkedIn, Elets video