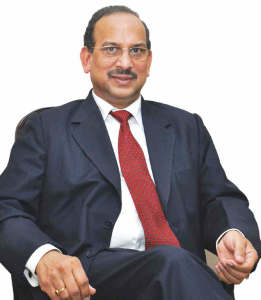 Arun Kaul
Chairman & Managing Director,
UCO Bank
"UCO UTTHAN has had a profound impact among the BPL dominated villages being serviced by UCO branches. It has brought the hitherto unreached poor villagers within the banking fold and provided them with a sense of identity and belonging," says Arun Kaul
UCO Bank is one of the oldest commercial banks in the country. In your opinion what is the most important contribution that UCO Bank has made to the banking industry in the country during so many years of its operations?
Banking being a public service, the primary responsibility of the banks is to make basic banking facilities available to all members of the society irrespective of their location, social standing, gender, literacy or financial status. While achieving business milestones, UCO Bank has never lost sight of its responsibilities towards society, more particularly to its vulnerable sections. The Bank meets its social commitments through the network of rural and semi urban branches (comprising nearly two thirds of its total nationwide branches). Small and marginal farmers, artisans, self-employed persons, particularly those belonging to the weaker sections are the main beneficiaries of the Bank's social initiatives.
In this connection one recent initiative of UCO Bank that has wide socio-economic ramifications is the "UCO UTTHAN SCHEME". Going beyond the traditional role of suppliers of credit, UCO Bank thought it fit to introduce this social-cum-financial upliftment scheme for villages with large concentration of people living Below Poverty Line (BPL). Under the scheme, villages, in underdeveloped districts of the country, having a large number of BPL families are adopted by the Bank through its nearest branch to bring the BPL families out of the clutches of poverty and bring about a holistic change in the villages. Hence the name "UCO UTTHAN". Under the scheme, a holistic development plan of the villagers is drawn up and followed for covering areas like education, financing for rural housing, formation of SHG and micro-financing, development of handicrafts and rural artisans, agri-clinics and agribusiness centre, farm mechanisation, extending finance under DRI scheme, providing insurance coverage.
---
Banks in India are adequately capitalised, have huge customer base and wide outreach
---
What kind of impact has UCO UTTHAN had on the grassroots level?
UCO UTTHAN has had a profound impact among the BPL-dominated villages being serviced by UCO branches. It has brought the hitherto unreached poor villagers within the banking fold and provided them with a sense of identity and belonging. It has made them realize that a large Bank like UCO is dedicated to their cause. Periodical visits to the villages by Bank Officials also create a sense of bonding between the Bank and the villagers.
Financial Inclusion
UCO bank has been a pioneer in providing banking services to unbanked villages under its Financial Inclusion Plan. The Bank has adopted 3-way Approach to implement the Financial Inclusion Programme which constitutes of the following:
• Opening of Brick & Mortar branches in unbanked villages
• Launching of UCO Bank on Wheels (Mobile Van)
• Implementation of ICT based BC Model
What kind of growth rate have you been seeing in the last few years? What kind of growth rates are you expecting in future?
During Mar'10 to Mar'13, Bank's business has grown at a CAGR of 14 percent to reach `3.05 lakh crore as on Mar'13. During current Financial Year, we expect our business to grow in line with the RBI's projection for the banking system. So the growth will in the range of 13-14 percent in both deposits and credits.
Financial Inclusion Product s
UCO Bank offers following customised product under Financial Inclusion

UCO JEEVIKA
 To mitigate the hardship of the rural people and to meet their immediate consumption & medical requirement etc, Bank has offered "UCO JEEVIKA" scheme under its Financial Inclusion initiatives.
 This is an embedded overdraft facility in the Basing Savings Bank Deposit (BSBD) accounts opened under Bank's Financial Inclusion initiative.
 This is a clean overdraft facility upto a limit of `500/- with simplest documentation.
 Customers can avail this facility any number of times within the limit of `500/-

Savings-cum-OD facility for Non-Farm Sector Families (NFS) living in Rural /Semi urban/ Urban Areas.
 Bank has also devised a product for providing Savings-cum-OD account to landless Non- Farm Sector Families (NFS) living in Rural / Semi urban/Urban Areas under its Financial Inclusion Initiatives.
 To be eligible under the scheme, the annual income of the family should not exceed `18,000/- per annum for Rural/Semi urban areas and `24,000/- per annum for Urban/ Metro areas.
 The OD facility in the account ranges from `2500/- to `10000/-
 It is meant for meeting the consumption needs of Non-Farm Sector Families (NFS)

The Bank is also in the process of introducing the following micro insurance products of LIC for FI customers
 Jeevan Dhara
 Jeevan Mangal
 Jeevan Deep

Tell us some innovative initiatives that UCO Bank has launched to promote financial inclusion?
Seeking to bring more and more people residing in remote corners of the country into the banking fold, UCO Bank has conceptualized and introduced CBS-enabled "UCO Bank on Wheels". The idea is to provide basic Banking services at their door steps (with the help of world class technology) so as to save them the trouble of wasting a whole day in travelling to and fro the nearest brick-and-mortar branch that entails loss of daily-wage and expenditure in travel etc. It is an attempt to bring the unbanked population within the formal banking network so that their hard-earned money can be deposited safely with the bank and they can come out of the clutches of usurious money-lenders. It is an iconic and revolutionary concept that has been widely appreciated. UCO Mobile Bank van is a single mobile infrastructure. Each Mobile Bank is linked to a CBS-enabled base branch. For close monitoring of the UCO Mobile Van vehicles, the Global Positioning System (GPS) has been implemented. All the vehicles have GPS equipment on board that enable fleet tracking from central locations. The Bank has launched 24 such mobile vans that cover 240 villages.
---
UCO Bank has introduced CBS-enabled Bank on Wheels for providing banking services on doorsteps
---
How do you see the role of Direct Benefit Transfer in bringing efficiency into the distribution of subsidies?
To meet the socio-developmental objectives of poverty elimination and inclusive growth, a number of Government sponsored programmes and schemes have been introduced. However optimal efficiency and effectiveness have not been achieved by any of the programs and schemes. Rampant leakages and corruption have made many schemes dysfunctional. Direct Benefit Transfer (DBT) has been aimed to mitigate these malaises. As per decision taken in the meeting of the National Committee on Direct Cash Transfers held by the Prime Minister, Direct Benefit Transfers is being rolled out from 1 January 2013 in 43 identified districts. The purpose of Direct Benefits Transfer is to ensure that benefits/grant/ subsidy provided by the government under its various welfare schemes go to individual's bank accounts electronically, cutting down delays and diversions.
It is well known that the international financial system is going through a period of crisis. What is your view of the banking industry in the country?
The global financial crisis, the eurozone sovereign debt crisis, as well as the currency market volatility over the last few months have had negative influences on our domestic macroeconomic situation. Indian economy is currently faced with the twin deficits of CAD and fiscal deficit, sticky consumer price inflation, risk of exchange rate depreciation feeding into inflation, slowing growth and deteriorating asset quality. Banks in India are adequately capitalised, have huge customer base and wide outreach. Above all they enjoy the trust of common citizens. During the crisis of 2008, it was observed that people transferred more money into bank deposits.
When the growth in the economy is slow, banks should concentrate on consolidation of balance sheets while concentrating on core areas. Focus should be on retaining existing and acquiring new customers (by offering appropriate products, enhancing service quality and improving customer experience) so as to have access to stable low-cost retail deposit. In this subdued economic environment though the rising NPAs in the banking sector is a cause for concern, most Indian banks are resilient to handle the situation. The need of the hour is rebalancing the credit portfolio by focusing on less risky sectors and practicing more stringent due diligence. Rural and retail sectors will offer enough opportunities for acquiring good quality assets while macro level issues in the domestic and global economies will put some pressure on the performance of the existing corporate borrowers. This again calls for better risk management and strict credit monitoring.
Currently the bank is also operating some branches in other countries in Asia. What are your plans for growth outside India?
Overseas markets are becoming difficult. Many of the countries have become saturated markets and they do not even have a very attractive GDP. In many countries the regulatory requirements are very rigid and Indian banks with relatively smaller capital base face difficulties when it comes to overseas expansions. The Bank is closely watching the unfolding economic scenario and will take appropriate decision at appropriate time on expanding business abroad. At present, UCO Bank has branches overseas at two of the world's most important business hubs: Singapore and Hong Kong (two branches each). In addition, the Bank has Correspondents/ Agency arrangements all over the world. Overseas business is around ten percent of Bank's total business. Further, Bank is also dealing with Indo-Iran bilateral trade through Rupee payment mechanism, duly approved by RBI and Government of India. Meanwhile, the Bank is in the process of making arrangements with financial institutions of Gulf Countries for Rupee remittance to India from NRIs abroad.
Follow and connect with us on Facebook, Twitter, LinkedIn, Elets video