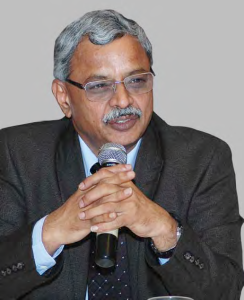 J Satyanarayana
Secretary, Department of Electronics and Information Technology (DeitY),
Ministry of Communications & Information Technology, Government of India
---
"Major initiatives have been taken in two major areas, one is e-Governance and the second is development of electronic manufacturing in the country," says J Satyanarayana
---
Please share with us your thoughts on the achievements in terms of new initiatives and policies which the DeitY has undertaken during the last one year.
The main priority of the department is to ensure that the e-Governance projects get completed in time and start delivering good results for the public. Major initiatives have been taken in two major areas, one is e-Governance and the second is development of electronic manufacturing in the country. Now we have started giving more emphasis to the electronics side, because this is a new sector and it needs a lot of planning and policy level thinking. As a result we have been able to put in the place the New Electronics Policy of 2012, which came into being in October 2012. We have undertaken large number of initiatives and schemes under the new electronic policy. EMC scheme for the clusters or MSIPS (Modified special incentive) Schemes and the first few results are already flowing.
Please tell us more about the MSIPS scheme.
MSIPS Scheme applications require a total investment of about of `5000 crore. Out of which `961 crore has already been sanctioned. We are also undertaking a marketing and brand building activity in order to make investors aware of the opportunity that is available in the sector. We have notified 15 products in the electronic sector for compulsory registration for compliance with the standards EMC and Safety standards. You see one of the important objectives of the New Electronics Policy of 2012 is to achieve a turnover of about USD 400 Billion by 2020 involving investment of about USD 100 Billion and employment to around 28 million by 2020. This includes achieving a turnover of USD 55 Billion of chip design and embedded software industry, USD 80 Billion of exports in the sector. Moreover, the policy also proposes setting up of over 200 Electronic Manufacturing Clusters.
Another important objective of the policy is to significantly upscale high-end human resource creation to 2500 PhDs annually by 2020 in the sector. We have number of networks, data centers, applications, website etc and our intention is to ensure that all these facilities result in benefit to the citizen.
You have launched a project called e-Taal. What are its benefits?
e-Taal is a web portal for dissemination of e-Transactions statistics of National and State level e-Governance Projects, including Mission Mode Projects.It receives transaction statistics from web based applications periodically on near real time basis. e-Taal presents quick analysis of transaction counts in tabular and graphical form to give quick view of transactions done by various e-Governance projects.
The good thing is that now we are about to touch a benefit rate of up to 5.48 to 5.49 percent, as we have placed infrastructural development and enhanced capacity network on top priority. So we are requesting all the ministries and state government to look at the role of NeGP for this perspective and many e-Governance projects.
The e-District project holds lot of promises for the people living in small towns and villages. What kind of progress is being made under this project?
e-District is our flagship project. Last year we launched this project in almost 102 districts in the country. We are also going to add 200 more districts in the near future. We anticipate that once e-District gets stabilised and optimised, the number of citizens getting e-Governance services will be enhanced significantly. We are also trying to create enabling environment to achieve rapid rate of success.
It is a good thing that e-Governance is now turning into m-Governance as majority of the country now has access to mobile devices. What kind of advances are you making in the area of m-Governance?
Recently we have launched e-Gov app store. Through these apps many essential services have been lined. We plan to add 100 more applications to the app store. We are also analysing futuristic and latest technology like cloud computing which could be started in various government departments. We have launched mobile service gateway in Phase-I where almost 15 crore transactions have already occurred. In order to make e-Governance more inclusive, we have launched Push SMS Transactions, which can be handled from any phone.
Recently various government departments have adopted cloud computing solutions. Please tell us your views on adopting cloud computing? We are trying to explore cloud computing. We have come with a policy paper on cloud computing in government departments. We have already sanctioned `99 crore for the implementation of the first phase of the policy paper on cloud computing. National Data Centre (Delhi) would be responsible for implementing cloud computing, which will be operational by September 2013. There are lots of opportunities for the utilisation of infrastructure.
Tell us about some of the key initiatives which Government of India is taking to enhance ICT in the country?
There is also a need to put more thrust on state level Mission Mode Projects (MMP). The progress must be encouraging in this regard.There is lot need to be done in some of the states to enhance the IT base. We are committed to develop a robust IT infrastructure throughout the country. We are focusing on various mechanisms like to strengthen the NIC, capacity building and training, provide window opportunity to recruit certain capabilities which are not available in government. Government of India has also set up an expert committee under Sam Pitroda; the committee has recommended various steps to ensure that mission mode projects actually run in that mode. Also it laid stress on time bound completion of milestones and accountability in implementing all such projects. We are in a process to adopt all such recommendations in various governance projects to enhance our service delivery system. We are hoping to gain more impactful results. We should also be able to assess the impact which this project is creating in various geographical divisions in the country. We are planning to initiate next generation infrastructures with the mission of creating demand in infrastructure.
---
"Once e-District gets stabilised and opti mised, the number of citizens getting e-Governance services will be enhanced significantly"
---
What are the objectives that the government is focusing on to implement these projects in near future?
We are hopeful that various MMPs in health and education would be soon implemented. There are certain areas which we are thinking to add certain maturities in social justice and development. We are thinking of adding more socially inclusive kind of services in the area of e-Governance. Aadhaar is one of the key parameter. We are also advising government and various departments to link Aadhaar into the NPR. There is a need to have deeper integration of Aadhaar into older and newer projects. As Aadhaar gets further enhanced with NPR, it will help to create scope for even more services to be provided to the citizens.
Follow and connect with us on Facebook, Twitter, LinkedIn, Elets video