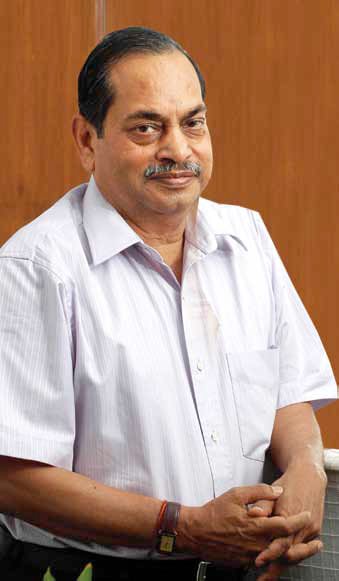 Sunil Kumar
Managing Director, Centre for Railway
Information Systems (CRIS)
"CRIS works with Indian Railways to conceive prudent IT strategies through which better transportation related services can be provided to the country's citizens," says Sunil Kumar
Please tell us about your vision regarding Centre for Railway Information Systems (CRIS).
We want to make CRIS an organisation where all kinds of innovative ideas in IT are conceptualised. Our vision is to generate resources and to turn CRIS into a technology provider for all types of information systems for Indian Railways. We want to become a one-stop centre for conceptualisation of systems, designing them, developing them, implementing them and maintaining them. For this we have to create the requisite capacity within the organisation. We already have a pool of competent IT professionals, complemented by domain specialists from the Railways. We have undertaken large projects in ticketing and train operations. The vision is to take up and implement information systems for all areas of Railways, such as maintenance of assets, material management, financial management, etc. We want to keep infrastructure ahead of demand, so creation of capacity is a very important part of the vision.
What new innovations can we expect from CRIS?
We are trying to launch a new generation of e-ticketing services with the help of IRCTC (Indian Railways Catering and Tourism Corporation). We have also put on trial cash-based Automatic Ticket Vending Machines (ATVMs) that would accept cash instead of smart cards for payment. We are working to provide unreserved tickets on mobile phones. We have tried out a pilot system by which trains are tracked in real time using GPS. We already have the National Train Enquiry System through which a passenger can get information on passenger train movement. With real-time train tracking the passenger will be able to get more accurate information. Other innovations are tracking of railway wagons using RFID (radio frequency identification), and setting up a geo-spatial database for the entire Indian Railways. We are also planning to introduce Aadhaar into our ticketing system, which would take the entire concept into a new level. One of the important steps that I took is the creation of a unique id for Railway personnel. This Railway ID was created by collecting the salary details of each and every Railway staff. All information related to safety inspections is available in a central dashboard. It is now possible to immediately locate an accident site on a GIS map.
Various committees have been formed to look into the issues of the overall modernisation of Indian Railways. What has been the impact on CRIS work?
All the committees have recommended different steps to modernise all aspects of Indian Railways. But my area of concern is the funds needed to initiate those steps. We have to generate these funds from internal resources. In CRIS, we are in the process of simplifying our funding mechanism so that project execution becomes faster and more effective.
Recently Indian Railways signed a Memorandum of Understanding (MoU) with Deutsche Bahn. Please tell us about it.
The memorandum was signed during the second intergovernmental consultations between Germany and India. It was signed between CRIS and DB Systel, our counterpart organisation in the Deutsche Bahn (German Railways). We would be working closely with DB Systel to understand the technological aspects of IT on which we can cooperate and collaborate.
CRIS has been responsible for developing a lot of new infrastructure for Indian Railways. Please tell us about some of these initiatives.
Over the years, CRIS has helped Railways to build up many computing facilities. As far back as 1985, we had built datacentres for the Passenger Reservation System. I was myself responsible for the one in Chennai, that was built in a record time of three months. We have put in place along with Railways two large networks, one for ticketing systems (Passenger Reservation System and Unreserved Ticketing System) and the other for the operations related systems such as FOIS. Many large systems are hosted in CRIS. We would build a state-of-theart data centre in Secunderabad as well for Disaster Recovery (DR).
How do CRIS and IRCTC work in conjunction?
Reservation is facilitated by the Passenger Reservation System (PRS). PRS provides reservation services to 1.5 to 2.2 million passengers every day on over 2500 trains running throughout the country. It is the world's largest online reservation application. PRS tickets are sold in two ways –one is through the ticket counters and the other is through the Web. Tickets sold directly through ticket counters are transacted on the CRIS servers. On the other hand, IRCTC is responsible for the sale of tickets through the Web. CRIS and IRCTC work very closely with each other. We are focused on the overall experience of the consumers and are analysing the problems related to Tatkal booking for example. We have categorised the entire process into two major components, i.e. journey planning and the payment gateway, apart from the ticket booking itself. We want to see if delinking the two can speed up the process for customers. We want to bring the main software and hardware to CRIS, while the web servers and sale of the tickets remains with IRCTC, which is something that they do very well. For the users, there would be no change, the website address would remain unchanged.
In implementing all these new ideas, there must have been some challenges that CRIS would be facing. Please tell us about them.
India is a country of vast geographical extents. The size of the country and the Railways is a challenge for any IT application. The second challenge is sustainability. Even if an application is developed and implemented, it needs to be kept running. For this resources and funds are required. Training of our people to keep up with the rapid changes in technology is another challenge that has to be met with practical strategies.
Tell us about some cyber security initiatives undertaken by CRIS.
None of the systems developed by CRIS store any sensitive information about the citizens. We also have a dedicated IT Security group to monitor the external security environment and ensure that systems are regularly audited for security, and any IT security related incidents are corrected and prevented. Security requires continuous effort to maintain. We can never say that we are completely secure now, let us relax our efforts.
Major CRIS Initiatives
Freight Operations Information System (FOIS)
The Freight Operations Information System (FOIS) was the first project which CRIS embarked upon. In fact, the creation of CRIS is a by product of this effort in the mid eighties. FOIS began as an application to track and monitor the movement of wagons, locomotives and unit trains. Now it is a complete management module for freight trains handlingthe billing and revenue collections as well. It has played a major role in the  improved wagon productivity on Indian Railways and the objective is to use the information to further improve productivity, customer service and thus meet the needs of a rapidly growing economy.
ICMS – Integrated Coach Management System
By efficiently deploying the fleet, the Indian Railways is able to run more services for the benefit of their passengers, while minimising any chances of disruption and disappointment. IR also must ensure that these assets receive timely servicing and maintenance. Depending upon the need, the system can deliver historical records from past years in printed reports, or up-to-theminute information on an official's cell phone. The Integrated Coach Management System does exactly all this and more. There are three modules that give a comprehensive view to the managers and facilitate quick identification of available resources and their allocation as per the requirements.
SATSaNG – Software Aided Train Scheduling
Creating a time table for trains on a busy network like the Indian Railways is an extremely challenging task. Planners on the Zonal Railways work independently and then collaboratively with other Zonal level planners to design the All India time table. Introducing new train services and augmenting older ones is an art. Indian Railways decided to provide software tools to aid the planning process. The Software Aided Train Scheduling and Network Governance (SATSaNG) project is entrustedwith the task of building such a tool. The entire resource allocation process will be aided by the tool leading to more efficient allocations and robust time tables.
Follow and connect with us on Facebook, Twitter, LinkedIn, Elets video