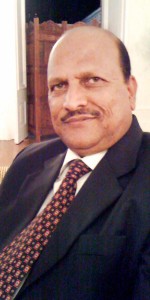 "The four pillars of financial inclusion are financial literacy, banking access, product available and operational viability", says Kishore Kharat. In conversation with Rachita Jha
Kishore Kharat
General Manager-Financial Inclusion, Bank of Baroda
How has the approach towards financial inclusion changed over the years?
Over the years, successive economic policies of the government have failed to improve the economic situation of the poor. Today, with financial inclusion we are trying to eliminate all those drawbacks. Currently, most of the country has low level of financial inclusion comprising of close to 80 crore population and includes states such as West Bengal, Rajasthan, Himachal Pradesh, Uttar Pradesh and North East states among others. First and foremost drawback was the approach of banks expectations of the beneficiary to come and register for an inclusion scheme. In the remote villages and geographically challenging environment it is bound to result in low turnout as availing banking facility was not of any interest to these people. Lack of adequate technology to handle volume of potential business was also a reason of failure. Now our approach has changed completely, and we are taking a customer-centric strategy by taking banking to their doorsteps. As we believe, the essence of financial inclusion is to ensure that financial services are available at doorstep to every individual at affordable cost.
The second major intervention has been with the product portfolio that is offered within financial inclusion. Earlier most of the banking products that were being offered were slightly on a higher cost range and not suitable for rural mass. Our assumption that rural India is devoid of wealth is false. There is significant wealth available; however, there is absence of any reliable source of savings for the rural population. With the arrival of reliable and customized schemes under financial inclusion, and banks going to their doorsteps, the concept of savings account in banks is fast catching pace in rural hinterland. We are also trying to introduce a credit system for them. In this regard, we have to create the eligibility for borrowing and then only, we bankers will be able to lend money. We are trying to eliminate intermediary and improve efficiency of existing benefit transfers. In all the schemes intermediaries are there.
And if banks come in as an alternate option, they have to make themselves available 24×7. These channels are of business correspondence channels, mobile vans correspondence channel and village-level entrepreneur kiosk models. We are also opening small brick and mortar branches with a skeleton structure, which are very cost effective. We are opening ultra-small branches, wherein the officer of the bank visit once in a week, along with the business correspondence agent and there he actually sits with the villagers, give them the confidence, clearing loan applications, discussing their loan requirements, giving them advice.
Tell us some of the customized products that you offer under financial inclusion?
We have different schemes like production credits, investment credits, and consumption credits. These are the basic three requirements of rural segments. People need loans for land leveling, well digging, so those are the investment credits; whereas production credit means, they want to grow crops there. So crop loans are production credits. Irrigation schemes, fertilizer schemes, which are actually required for production, those schemes were there. Then there is consumption credits, where consumption needs are there, like somebody needs it for house repair, for purchasing vehicles, children's education, marriages in the family these are all consumption needs for which banks are having loans but people are not aware of it. So our  fficers are going  there and are advising them on all these schemes. This is what is actually a key area under financial inclusion. The approach is not to pull them into the banking system. The approach is to push them the banking services to them.
Tell us some innovative initiatives by Bank of Baroda?
The four pillars of financial inclusion are financial literacy, banking access, product available and operational viability. Today in every nook and corner of the country mobile phones have reached including the poorest and remotest of areas. The advantage of high mobile penetration is being used for banking as well. When we are going to villages our POS machines are connected through mobile technology and these deliver the transaction to real time basis directly in our core banking system. So it has become an extension of banking counter. Our bank has also launched mobile vans in the village areas to extend our banking services at their doorsteps. The services include account opening, as according to a study, 66 percent of the people in India still do not have bank accounts. Other include cash deposits, cash withdrawals, loan, term deposit, recurring deposit, we have developed micro-deposit products. The NREGA payments, we are now giving through the banks. We have also started micro insurance for them.
What is the role of Direct Benefit Transfer and its impact in the banking sector?
The purpose of direct benefit transfer is to ensure that benefits go to individual bank accounts electronically, cutting down delays and pilferages if any. The benefit covers 34 schemes such as scholarships, pensions, subsidies, MNREGA wages etc. Our bank has to ensure the following steps are undertaken in each district for smooth implementation of DBT, these include to ensure each beneficiary living in the service area of the branch has a bank account. Wherever our bank has lead responsibilities, lead bank managers should obtain from the respective district collectors scheme-wise list of beneficiaries along with the bank account details and distribute to all the banks in their district. Wherever the beneficiary already has Adhaar, details should also be collected and seeded into the bank core banking system (CBS).
The major benefits of the DBT Adhaar number are UIDAI has been issuing unique identification number called Adhaar number to every citizen, since the identity would be unique, government of India has planned to use said number for distribution of government benefits to ensure it reaches to proper person. DBT will propel speedy implementation of financial inclusion. Direct credit to beneficiaries' accounts avoiding delays and pilferages. The saving potential of beneficiaries would improve, as intermediaries would be eliminated. The increased earning would facilitate improved living conditions of the poor. Forge or ghost entries would be eliminated thereby saving government expenditure. This would lead to reducing fiscal deficit and strengthen government allocation of resources. Our bank is fully prepared technologically for Adhaar based payments, UIDAI linkages, village code updation etc. Now its time to reap the benefits of infrastructure and make FI successful in India.