N Nawin Sona, Collector and District Magistrate, Wardha District, shares his experience of rolling out DBT and other Aadhaar-linked services in his district. In conversation with Nikita Apraj, ENN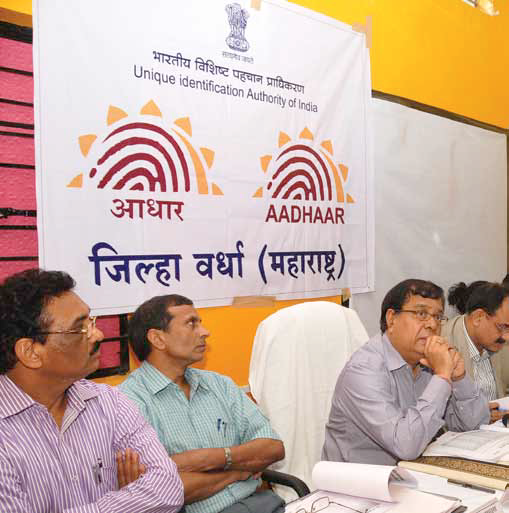 Wardha district is the pioneer in rolling out Aadhaarlinked DBT (Direct Beneficiary Transfer) even before all-India DBT roll-out. Tell us about your experience of rolling out DBT.
Wardha district came to the forefront of the DB due to three factors:
• Wardha's Aadhaar enrolment was more than 87 percent when the name was included in the list of districts in DBT.
• Wardha is also one of the leading districts in Financial Inclusion scheme of the RBI and Ministry of Finance, Govt. Of India, out of almost 13 lakh population, the district right now has more than 10.5 lakh bank accounts.
• It is also a district with good connectivity and innovative spirit. All put together the district is an ideal one for DBT.
In fact Seloo taluka of Wardha is the bed of innovation, here the UID enrolment is more than 90 percent. Seeding of various databases was started there. Firstly with Sanjay Gandhi Niradhar Yojana (NSAP), Seloo logged the first end to end transactions of Aadhaar Enabled Payment to beneficiary through Banking Correspondents. The inorganic seeding software specially developed by the district administration and its Setu society technical partner, enabled large number of beneficiaries to be linked with Aadhaar numbers. Right now Wardha has launched DBT as per the Planning Commission list of 8 Scholarship schemes, Janani Suraksha Yojana and is in the launch pad of MFMS ( Mobile Fertilizer Monitoring system ) of Dept of Fertilizer, Agriculture Ministry, MGNREGA wage payments, LPG DBT subsidy , Kerosene Subsidy and NSAP benefits. With this Wardha would be addressing the entire spectrum of Direct Benefit transfer from cash entitlements to subsidies on goods. Our vision was to reach the common man with technology and innovation, remove the middleman, simplify the transaction process, reduce the transfer time, and induce some radical Business Process Reengineering and to ensure that the benefits reach the right person.
What challenges are you facing in fulfilling this vision and how did you overcome them?
Challenges were many folds. First the digitization of databases was taken up on large scale. Conversion to Marathi language was an issue, so Unicode was employed. Data cleaning, validation and rechecking were done to ensure fidelity of the database. Systems had to be created where none exists. Secondly, seeding of the databases was taken up using local innovation followed by old school of field verification. Large success followed. Thirdly, opening of the bank accounts was a big challenge. With the guidance of Divisional Commissioner, Nagpur Shri B.V.Gopalareddy the bankers were brought on board. ANMs, Anganwadi sewikas were given additional incentives from DIT and UIDAI for opening of new no-frill accounts. More than 45000 accounts were opened within a month.
Next was the capture of UID Aadhaar number into the beneficiary database, the UIDAI DDG Western Region Shri.A.B.Pandey and Secretary DIT, Shri. Rajesh Aggarwal extended all support including access to CIDR and the fledging SRDH for bulk seeding and validation. Next step was seeding the Bank Accounts itself – Wardha's suggestion included the reopening of UID fields in e-scholarship software, making mass online seeding directly by the beneficiary a reality before the RASF launch. Bank account seeding was continually monitored with all banks. Chief Secretary of Maharashtra , Shri. J.K.Banthia convened a special meeting of the CMD and EDs of various banks to speed up the efforts. In all more than 7 lakhs of beneficiaries of all services including LPG, fertilizers and kerosene exist, which makes a whopping 53 % of entire district population. Lastly, with all the ingredients in place Wardha started making actual DBT payments.
What is the current status of UID enrolments and financial inclusion in the district?
As on end of April 2013, out of 12.96 lakh estimated population 11.84 lakh enrolments have taken place, i.e 91 percent. And as for FI 10.5 lakh bank accounts have been opened. The last mile in the enrolment process is underway. Wardha launched Janani Suraksha Yojana through DBT, much ahead of the national roll-out of the scheme. Please tell us about your experience of it. Yes, Wardha was the first in the country to make an end to end payment to JSY beneficiary using CPSMS. Smt.Farzana Pathan became the proud recipient of the first JSY DBT payment. The entire seeding of the bank account with Aadhaar being in place, after the day of the delivery the new mother was given the benefit in a remarkable way. In the morning the CPSMS transaction was done, where in the Health department officials cleared the e-file for payment by afternoon of the same day and the amount was directly transferred to the beneficiary account. And then not just stopping at that, with the help of the BC, the Aadhaar Authenticated payment was made through an Aadhaar enabled Micro ATM- where the beneficiary puts her finger, the identity is checked via sim card connectivity to the CIDR server in Bangalore, the identity is authenticated, the Aadhaar Enabled Bank Account ( AEBA ) is made available for transaction, and the benefit of JSY money was paid through the BC directly to the mother. The experience was electrifying to all involved, because, to see a new mother having financial control over her benefits and her entitlements, barely a day after delivery and getting money straight in her hands was to say the least, very fulfilling to see. Women's empowerment in the district where Mahatma Gandhi himself stayed I think is what we achieved in a small but significant way through this effort.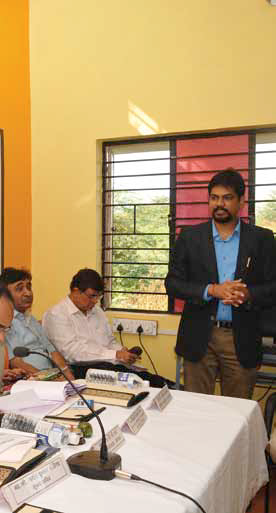 You have used CPSMS to upload beneficiary data and make payments. Please tell us more about CPSMS; in what ways will it help in improving the scope of financial inclusion?
The Central Plan Scheme Monitoring System ( CPSMS ) of the Comptroller General of Accounts ( CGA ) was endorsed by the Planning Commission and the Ministry of Finance for making the DBT. In fact Wardha was the first in Maharashtra to use CPSMS for DBT ( its earlier avatar was a financial fund distribution MIS ) . CPSMS has since been dovetailed with APB Aadhaar Payment Bridge and NPCI  National Payment Corporation of India.
CPSMS gives a front end for the transactions and is supported by good interface, transaction logs, security and also is simple to use and integrate with existing systems. I think CPSMS in the long run will be as powerful a game changer as CBS was for banks ; combined with the BDS for budget distribution, online treasury, and CBSand AEBA, we are going to see a revolution. With all these the government authorities are going to do instantaneous and paper free and yet secure fund distribution and payments without delay. Yet there is going to be excellent audit trail.
What are the other applications of Aadhaar that you are working on?
Right now we are preparing for roll out of MGNREGA, LPG DBT, Kerosene, and MFms as well as scaling up of NSAP. The DBT is a misunderstood term in my opinion – direct cash transfer is being done in one way or the other, NEFT etc. But what makes DBT a revolution is the authentication through Aadhaar- beneficiary identification and AEBA. On one hand the beneficiary list is going to get cleaned, no ghosts, no duplicates and no ineligible candidates. On the other hand, the challenge is to reach the correct beneficiary through the shortest means – no middlemen, no delay. The dream is to make Banking for all a reality- number of BCs are going to be increased, and true DBT will be when Banking goes to the doorstep of the beneficiary. We are also keenly working on RSAF like uses where Aadhaar data would open new avenues in district level. Like the SRDH, I propose to set up a DRDH, a district level massive data warehouse of cross linked benefits and beneficiary . Linked with a larger tool like GIS on which we are also working on, it would be also a tool for planning and not only execution.
Follow and connect with us on Facebook, Twitter, LinkedIn, Elets video