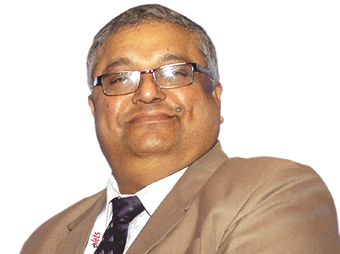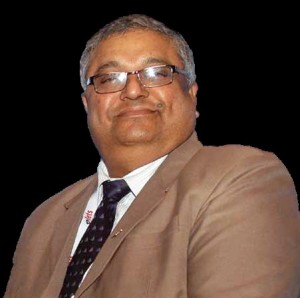 Major General (Dr) R Siva Kumar, CEO, NSDI & Head NRDMS
Information technology, as a cross cutting frontier of knowledge, has opened up several new vistas of applications of knowledge for meeting the daily needs of civil society. One of them is Geospatial/Geographical Information System (GIS) technology. GIS is rapidly becoming a catalyst for several transformational changes; mainly in natural resources management, planning, decision making, governance and citizen engagement. While e-Governance (e-Gov) is the current paradigm, the future is in embedding the GIS in governance and in establishing G (G signifying GIS-based)-Governance. G-Gov could emerge as the next frontier.
India is poised for developing GIS based solutions that will be the next paradigm in governance. India enjoys a good capability with topographic maps being made available on 1:50,000 scale for the entire country. India is also one of the few countries with an advanced national capacity in remote sensing and vast nationwide imagery data base at different spatial resolutions. India is also widely acknowledged for her capacity to design and develop solutions based on Information Technology (IT) tools for various applications and services. Such capabilities have powered effective utilisation of multi-layer thematic maps at national level in areas of land-use, ground water potential, urban, wastelands, forests, geology, etc. Significant efforts have been made by many agencies (viz. ISRO, DST, NIC etc and few state government agencies) in building multi-scale/multithematic structured data repositories and their dissemination to the user community.  Bringing in new technologies There exists an opportunity for the country to further build upon her existing mapping/ imaging and IT strengths and position a National GIS (NGIS) that will enable G-Gov and bring wide ranging benefits.
There is a strong motivation in the country for the realisation of NGIS as the next technology paradigm for effective Governance – thereby, enabling better planning process, delivery system, increasing transparency and efficiency in the national-level decision-making and reaching developmental benefits to the citizens in a unique manner. NGIS would serve the country in migration from e-Gov to G-Gov in the long term. It would also catalyse and transform the methods in which GIS is practiced in the country, the way maps/images as GIS-Ready data get organised and the way customised GIS applications products get created, value added, managed and deployed as unique NGIS services. These unique and innovative NGIS Applications would serve the needs of natural resources management, planning and decision support systems and help position transparent and participatory governance by focussing on GIS-based citizen-services. Philosophy enshrined in the proposed NGIS is to organise a NGIS Asset that would help create such innovative NGIS Data and Applications products conforming to the standards of ISO/OGC/NSDI/BIS for meeting the user needs.
Such a NGIS Asset would leverage on input maps, images and tabular datasets that are generated by public-funded agencies, also harvested data from initiatives like 'data.gov.in' and even warrant value-addition and generation of new/additional GIS-ready data that are required by the nation. The definition of NGIS Application products and services is being made through detailed consultations and need assessment with each ministry (and even states) and by taking into account the possible GIS data and applications needs of the ministries, State Governments, civil society and citizens. Establishing a NGIS Platform A special NGIS Platform/Services infrastructure is proposed to be established as a state-of-art NGIS Asset/Applications hosting environment and for enabling NGIS service provision (of both NGIS Data and NGIS Applications) to different user groups and citizens. Sophisticated NGIS Portal software would be developed, it would provide a single window gateway or interface, user management and authorisations, security and validation, any e-commerce utilities as needed, metadata and search and ultimately, data viewing/download/value addition and Applications access.
 If NGIS were to serve as a platform for G-Gov, it is necessary to take up activities leading to strengthening of both human and institutional capacities in the  gainful deployment of GIS capacity so that  government agencies and users are oriented and trained to use the NGIS in their day-to-day work flows. A large-scale NGIS Capacity-building initiative is also planned. Innovative new NGIS data and applications products should be integrated/augmented into the practices/processes of ministries/departments/ users so as to substantially increase efficiency of decisions, transparency in governance and citizen-participation in the overall
In the 12th Plan (2012-2017), the time-bound NGIS Mission is planned as a 5-year activity with phased deliverable that will position NGIS in 2 Versions, establish INGO as an organisation entity and bring in G-Gov practices. The deliverable of the Mission would include:
A Version 1.0 of NGIS (18 months) based on data of scale 1:50,000 that would  perationalise (a) National GIS Asset Version 1.0 from existing maps/images of input agencies, data available from "data.gov.in" and obtaining other GIS data  vailable/ sourced for Mission; (b) GIS DSS Applications for 5 key Ministries  – Urban   velopment, Rural Development, Water Resources, Environment and Forests, Mines and Planning Commission; (c) GIS DSS for Citizens as part of support to Public Information Infrastructure (PII); (d) concept of GIS DSS Applications of Enterprises will also be tried out in an experimental mode. Specific capacity-building activities would be taken up. Initial plan is to involve the states of Gujarat, Rajasthan, Karnataka, Andhra Pradesh and Odisha for this Ver 1.0.
A Version 2.0 of NGIS (42 months) based on higher resolution data that would (a) operationalise latest/ updated NGIS Asset for the whole nation as per NGIS Vision; (b) GIS DSS for ~25 central ministries and states (c) enhanced and full-scale GIS DSS for citizens access and (d) full-scale GIS DSS for Enterprises would be positioned. Large levels of capacity-building activities would be taken up.
Development of INGO as the operational agency to carry forward the mission-mode activities on a continuous basis.   process of nation-building. NGIS would also enable citizens and engage their participation by providing unique citizen-services. This, in a broad way, would meet the goals of increasing value of Governance for the nation – NGIS would play the means for such a process. Promoting the concept of G-Gov With this basic philosophy of the proposed NGIS to develop a PAN-India effort to generate, organise assimilate the data owned by public and other agencies into a NGIS Asset, create a NGIS data serving platform and  develop demand-driven NGIS Application products and services – thereby promoting the concept of G-Gov. NGIS Asset is a seamless nation-wide GIS-Ready database element owned by various departments/agencies enabling possibilities to generate NGIS Data Products as a GIS Data Service.
This should be based on supply side approach in which the existing map, image and ministry datasets are formatted/packaged and, if needed, further value-added through GIS- based processing and made available as GIS-Ready Data Products to users to carry out their own applications. This, in a sense, represents a "supply side push model" for nation-wide GIS data requirements or a service oriented architecture which will consume data-sets available from various data services and provide value added services to the user  community across the country. The details of the GIS-Ready Data Products based on a 41-layer content is already defined in the NGIS Vision document – and if required, other products can also be included, as needed. Secondly, value added and customized GIS Decision Support applications would be created in a "demand pull model" by NGIS for various users. For the creation of demand pull for GIS based Decision Support System (DSS), it is considered necessary to involve user ministries and State Governments as stake holders from the very beginning in designing the NGIS Applications Products – as these application products and services are for the users and should serve their specific requirements.
NGIS activity requires an intense "integrating organisation framework" that brings in expertise of not just traditional mapping/imaging but in-depth GIS database design/development and GIS Applications customisation capability. NGIS also requires intense system (hard-, soft-, and virtual-) design and GIS data integration capability, along with a high-level of service-orientation. Such cross-cutting and over-arching organisational characteristics are difficult to find within any single existing agency/ministry (which are presently sectorally organised). Such an organisational character needs to be ab-initio developed – it must be capable of rendering efficient. It also needs to capable of leveraging/ sourcing from private sector for large scale bulk human resource requirements. An enabling platform for G-Gov National GIS aims for enabling a platform for G-Gov and this would demand involvement/ enrollment of "share-holder agencies" – which includes data generating agencies and providing inputs to NGIS Asset and "stake-holders ministries/users" who will ultimately use the NGIS Data and App products for natural resources management, decision making, planning and governance as an enabling tool in their day-to-day functions. NGIS would also enable citizens and engage their participation by providing unique citizen .
A variable geometry among the four important arms of the NGIS at the initial stages needs to be reconciled without loss of efficiency. The four arms are:

• NGIS Asset Group – responsible for ensuring that NGIS Asset is organised/generated and positioned
• NGIS Platform/Services Group – responsible for ensuring infrastructure and operational NGIS services
• NGIS Applications/Portals Development Group – responsible for interfacing to user ministries and developing/positioning NGIS Applications required for each user ministry and operationalising the NGIS Portal
• NGIS Capacity-building team – responsible for addressing the large-scale capacity-building and orientation to NGIS and G-Gov systems.