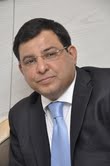 NEC India Head of Public Safety Business Bharat Khanna shares his insights on the growing new challenges in the areas of public safety and citizen services using technologies to safeguard lives and property in an interview with Rajeev R Mishra & JP Gupta
NEC is a global leader known for its innovative products. How have you been performing in India and what more is planned for future?
NEC India, established in August 2006, leverages on NEC's unique capabilities in integrating IT and networking technologies for a diverse customer base across governments, businesses, individuals and societies.
It develops, provides and customizes solutions for carrier network, unified communications, retail, security and surveillance systems, IT and multimedia products, to cater to the rapidly expanding market.
The public safety and identity solutions business in India has tremendous potential. In light of this, we foresee that integrated security solutions will play an important role in refining security and strengthening law enforcement. Security and Identification are buzzwords not only at a national and government level, but also commercial and corporate circle.
With a large number of states identifying security of people as a key area of interest, the focus is towards deploying sophisticated security solutions. We at NEC shall actively contribute and engage with central & state governments to drive e-Gov projects in India, participate in infrastructure security projects and take keen interest in national security initiatives.
NEC is a long time provider of these unified solutions and the company is poised to capitalize on its established strengths in the upcoming business era. Our main focus is to provide India-centric solutions and incorporate the best of global technologies for the Indian market.
What bottlenecks do you find in providing public safety and citizen services? Kindly suggest if you see some solutions.
As we all know, the ecosystem is evolving and we have to strive to evolve with it. Therefore, I don't see them as bottlenecks, but these are challenges essential for an organizations growth.
With new challenges arising in the areas of public safety and citizen services, as well as an expanding population, there is an urgent need to move away from conventional products towards integrated technology solutions.
To address this concern, our "We make Cities Safer" initiative is for building safe cities by bringing our best-of-breed and avant-garde security technologies that would help both the public and private institutions safeguard lives and property in the real and virtual world.
We are thriving to achieve an India-centric vision and therefore, it is very important that we focus more and more towards the end customer, by spending enough time to understand and gather their requirements. We are customizing our solutions and adopting the best practices around the world to better match with the needs of the local market.
Kindly explore more about NEC Group Vision 2017 in the Indian context
Our vision is to be "A leading global company leveraging the power of innovation to realize an information society friendly to humans and the earth, where information and communication technology help people as an integral part of their lives, and act in harmony with the global environment through innovation that unites the powers of intelligence, expertise and technology both inside and outside the NEC Group.
We believe in driving innovation through products, people and partnerships.

Our products conform to the highest standards of quality, durability and reliability. With an eye for detail, they are specially designed and customized to meet the smallest requirement of our customer, yet being eco- friendly.
Innovation is driven by the people in an organization, bringing in fresh thought, training and nurturing existing people are some of the ways in which we propel people to think differently and creatively.
Partnerships drive business growth and goodwill in the market place. We look forward to establishing strategic alliances with key players in the market who have the required expertise and are well entrenched to understand customer needs. Our partners are our extension and we believe that gaining depth and breadth in the country through partnerships will help us gain a wider footprint in the Indian market.
GOI has long been working on public safety, security and surveillance. How has NEC India been partnering with the government on providing the solutions?
Biometric recognition technology is increasingly being used to improve security and control access in both the government and private sector in India. Apart from contributing towards the project for providing Social Citizen Identity, some of the key measures taken by the organization are:
Providing solutions to the SCRB (State Crime Records Bureau) of three states and it is in talks with a couple more for the same. We provide these bureaus with AFIS or Automatic Fingerprint Identification System technology that helps the police collect, digitise and match criminal records faster.
Lots of states in India are currently doing fingerprint matching manually but we are now offering to automate the process. Matches or comparisons of images with digitized records can be done much faster and more effectively with our technology.
Deployment of our award winning automated FRS (Face Recognition Solutions) technology in some states.
IAC (INTER-AGENCY COLLABORATION): NEC's inter-agency collaboration (IAC) framework uses advanced technology tools to address the complex issues of collecting, analyzing and transmitting this phenomenal growth in data ("big data") among agencies and then enhancing its value, enabling cross-agency cooperation to bring order to chaos in unforeseen events.
How much different is Indian market compared with the other parts of the world when it comes to public safety?
Every country has its own dynamics. The sheer size of the country makes it different as the size of requirements is very high as compared to the requirements in other parts of the world.
The advanced technologies which are being introduced to Indian market takes time for adaptation due to diversity in needs of the customers and the awareness levels. Also, the gestation cycle of procurement of technologies ranges from almost 3 to 18 months.
However, the good part is that the customers realize the need for public safety and are pushing towards introduction of more and more initiatives in this space.
Where do you find NEC India in the next 5 years?
NEC is a well established player in India. In the next five years, we are looking at gaining a wider footprint in the Indian market by forming alliances with partners and engage in increased customer interaction. We are also looking at acquiring few companies to synergize with the existing solutions for its Indian portfolio of services especially in the Public Safety domain.
We are looking at targeting new verticals like Banking and Public Sector – Social Citizen Identity for Public Safety, F&B and Entertainment for Retail purposes, Healthcare for Unified Communication, and at the same time increasing our already established focus on Education, SME, Hospitality etc.
Apart from these sectors, Biometrics market in India is also consistently growing at a very fast pace and with adoption of security solutions across public and commercial sector, public safety market in India is set to become mainstream, therefore, we wish to target this sector aggressively.
Follow and connect with us on Facebook, Twitter, LinkedIn, Elets video