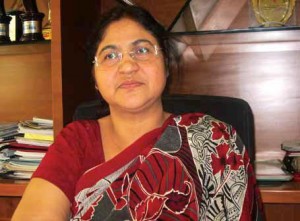 Indu Gupta, State Informatics Officer & Senior Technical Director, National Informatics Centre
Rural Connectivity (GPNIC) has been designed, developed and implemented in 10 Gram Panchayats in Srinagar Block of Ajmer District as a proof of concept (POC)
India is a vast country and traditionally an agrarian economy with varied degree of financial and food security. Government allows huge volume of funds to flow through various schemes to people in urban as well as rural areas. Panchayat is the ultimate nodal point for delivering the services and benefits generated out of these schemes. Continuous efforts over past many
years have strengthened the service delivery modal to rural citizens in India. Nevertheless much is to be done overpowering the limitations and shortfalls in services delivery, awareness, involvements of various servicing agencies and of course poor connectivity of Panchayats.
Connecting India
Rural Connectivity (GPNIC) has been designed, developed and implemented in 10 Gram Panchayats in Srinagar Block of Ajmer District as a proof of concept (POC). "It was taken up under guidance and direction of the high level team headed by Dr Sam Pitroda, Advisor to the Prime Minister on PIII in a very short span of time." The project services right at the grass root level i.e. Gram Panchayat which is within the comfortable reach of every rural citizen. It has been developed to facilitate Panchayat office by providing various online services. This project aims to reduce gap between urban and rural areas and shall help to reach the unreached through the electronic network.
It will also serve the served/under-served by building up the capacity of the Panchayat for prompt and responsive service delivery. Pilot Gram Panchayats have been strengthened by providing necessary equipments and manpower. Initially Education and Healthcare services have been taken on priority. Last mile  connectivity to schools is planned on wireless. Telemedicine services have been started with the District hospitals as experts.
Benefits to Citizens
Citizens are largely benefited by the copies of their land records. They are happy to get computerised copies of their Birth & Death certificates. These vital statistics also recorded for the various reporting purpose and usage of Panchayat. Telemedicine service is attracting rural people. They get consultation of specialized doctors via conference from Panchayat itself. Now student takes assistance of Internet in their studies, they view educational videos on YouTube and get results of their examinations. Youth take the help of Internet to search vacancies and applying online jobs with the help of IT-Manager deployed in the Panchayat.
Now residents of these Gram Panchayats are aware about the happenings in the world, they celebrate Obama victory, they register their grievances, they know about latest Mandi prices and the list goes on. Technology is going to change their lives.
Project Outcome
• High Speed Fiber Internet Connectivity to Gram Panchayat.
• Fiber connectivity extension to Schools through wireless technology.
• Delivery of e-services to citizen's.
• ICT enabled Panchayat Office.
• ICT enabled education in schools.
• Citizen's Health care through Telemedicine.
• Capacity Building.
• Monitoring up to grass root level.
• Establishment of IT infrastructure including Video Conferencing facility.
"GPNIC will bring people in rural India closer to the rest of the world. When we talk of global village in cyber space then actual village today is mostly excluded. GPNIC will open up huge opportunity to reach out to rural India"
Citizen e-Services available
Web based software, GPNIC (http://gpnic.raj.nic.in) developed by NIC to effectively deliver the e-services from Gram Panchayat to the rural citizens.
• Land Record Management – Land holders are being benefited by getting the copies of their Land Records from Panchayat  office.
• Birth and Death Registration – Panchayats are now issuing Computerised copies of Birth & Death certificate.
• Immunisation & Ante Natal Care (ANC) Schedule – Facility created for generating ANC & Immunisation schedule online.
• Online Public Grievances Registration – Facility has been provided to citizens for registering their complaint online and also track status of their complaint through state portal for removal of public grievances.
• Gram Panchayat's Websites– Web portal (http://panchayat.raj.nic.in) consisting of all 10 Pilot Gram Panchayat websites has been developed and useful information hosted.
• Counseling for Professional Courses, Results and online applications are useful for the students. They are also downloading/ filling online application forms and getting details of academic/competitive examinations like universities, Patwari, Banks, Gram Sewak, RAS examinations etc. Students are largely benefited by getting their school results easily from Panchayat office.
• Mandi Rates for Agriculture Produces– Farmers are getting updates of the latest rates of their agriculture produces in the nearby mandis with the help of AGMARKNET.
• Court Cases Status– Citizens are getting online cause list of high courts.
• Training & Capacity Building– Basic computer training is being imparted to students of the Government Schools and Citizens. Government servants posted at Panchayats like Gram Sewaks and Gram Rozgar Sahayak are also getting trained in computers and email usages.
• Individual Beneficiary Schemes– Details of various schemes, their application forms, eligibility criteria etc are made available to citizens. The audio mode is also enabled so that physically disabled and illiterate can also benefit with these details.
• Telemedicine Services– Telemedicine Services have been started successfully from Gram Panchayats with the assistance of ANM, to improve the healthcare services in rural areas. Satellite Hospital and Janana Hospital (gynecological consultation) of Ajmer acts as an expert hospitals to provide the specialised healthcare services. Necessary equipments like ECG, BP meter and Gulucometer provided to Panchayat.
• Online BPL/APL Status– Online BPL and APL lists are made available to citizens through the Gram Panchayat office.
• Status of MGNREGA– Information like Job Card status, caste wise registration, demand for work, families completed 100 days employment, work status etc. can now accessed from Gram Panchayat.
Locations Covered
 Pilot Gram Panchayats in Srinagar Block
 GP in Tehsil Ajmer
 Makadwali, Chachiawas, Aradka, Babaicha
 GP in Tehsil Nasirabad
 Badlia, Srinagar, Kanpura, Tihari, Ramsar, Sanod
 Expert Hospitals
 Janana Hospital, Ajmer & Satellite Hospital, Ajmer
 Pilot Schools
 20 Government Schools (2 Schools in each Panchayat)
Other Facilities
• E-mail accounts of Pilot Panchayats on NIC server being used for their day to day communication.
• NIC Desktop Video Conferencing facility at Pilot Gram Panchayats for monitoring purpose.
• Facility of Basic Phone & IP-TV on fiber provided to Gram Panchayats.
Follow and connect with us on Facebook, Twitter, LinkedIn, Elets video