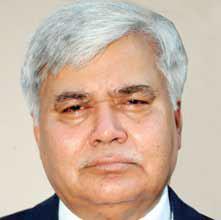 Over 22 crore enrolments, owner of the largest biometric database in the world… the past two years have been nothing but exciting for the Unique Identification Authority of India (UIDAI)
R S Sharma, Director General and Mission Director, UIDAI, Government of India
It was two years ago on September 29, 2010 that the first Aadhaar number was given to Ranjana Sonawane in the Tembhli village of Nandurbar district in Maharashtra. The foundation of this transformational and exciting journey was laid by the UPA Chairperson Smt. Sonia Gandhi and the Prime Minister of India Dr. Manmohan Singh. The mandate was clear – to make the delivery in public welfare programmes more efficient and effective by using a unique ID.
It helped that this programme was led by a person who had global recognition for bringing India to the world map as a leading IT solutions provider. Chairman Nandan Nilekani's appoint ment attracted professionals and domain experts, both from government and industry, to the mission of transforminga chaotic and sub-optimal public services framework, which is prone to leakages and diversions. The phase I of the programme had a pure focus on enrolment scale-up. UIDAI joined hands with its partners (the registrars and enrolment agencies) to set up enrolment centres in villages, towns and cities to enrol 200 million people, i.e. a sixth of the Indian population by March 2012. At peak, UIDAI technology infrastructure reached the ability to 'deduplicate' a million records against the entire database, and generate a million unique Aadhaar numbers every day.
Moving into Phase II
As UIDAI moves into phase II, UIDAI plans to enrol another 400 million residents by 2014. And with Registrar General of India (RGI) also enrolling Indian residents, it is expected that the entire Indian population will have a UID sooner than
later. Phase II will also witness setting up of permanent enrolment centres so that residents who missed out in the first phase can enrol. Data quality has been of paramount importance to UIDAI, and Phase II would also provide residents with avenues to update their data for any corrections, or changes in demographic information such as name change on marriage, address change on migration, changes in mobile number, etc.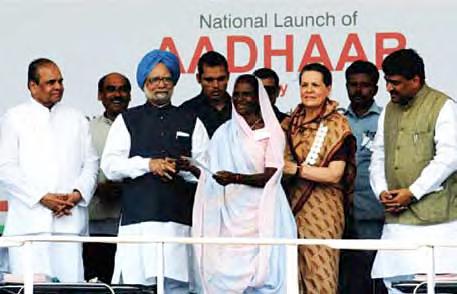 Another critical mandate for the UIDAI in Phase II is to prove how the unique identification number can be used in applications to make service India's first Aadhaar number (UID) given on September 29, 2010 delivery in India more efficient and effective with far reaching benefits for the Government and for residents – in areas ranging from Employment, Food & Nutrition, Education, Healthcare, Social Welfare, Taxation, Land Records, Subsidy Management, et al.
As of September 2012, UID is being used in pilot applications across the country. In December 2011, the first pilot started in Jharkhand where MGNREGS wages, Old Age Pensions and Student Scholarships were transferred directly into the Aadhaar-linked bank accounts of residents, without any middlemen handling the money. The beneficiaries could even access basic banking services such as cash withdrawal, deposit and balance enquiry using a micro- ATM. The micro-ATMs or the Aadhaar- Enabled-Payment-System (AEPS) are powered by Aadhaar biometric (fingerprint) authentication. The three banks participating in the pilot trained their business correspondents (BCs) to operate the devices. The objective of this pilot was to ensure that residents in rural areas who do not have access to ATMs and bank branches do not have to spend an entire day travelling to the nearest bank branch for getting their wages.
With the Jharkhand experiment meeting success, the Finance Minister announced in his budget speech that the pilot will be replicated in  50 districts of India.
Active collaborations
The contribution of the National Payments Corporation of India (NPCI) was instrumental in creating an Aadhaar Payments Bridge (APB), which ensured that money can be transferred directly into anyone's account by just knowing the payee's Aadhaar number. In the payments experiments that will follow, UIDAI has encouraged all Government agencies to transfer not just the benefits such as pensions and scholarships, but also salaries directly into the Aadhaar-enabled bank accounts. A collaborative and data-driven approach in benefits transfers would ensure that government functionaries do not draw benefits when not eligible to do so. For example, government-aided schools will not be able to fake student enrolment figures.
Down south in Mysore, Karnataka, another experiment was brewing. Between January
and February 2012, the three OMC's – IOCL, BPCL, and HPCL, in collaboration with the Ministry of Petroleum and Natural Gas, started using UID to plug the leakages in LPG cylinder delivery. An LPG cylinder is subsidized by the Government of India, and every household receives the same at around half the cost. This price difference in the actual cost of an LPG cylinder and the cost at which it operates makes the delivery and supply chain vulnerable. So the three OMC's started a pilot in which three distributorships (gas agencies) would deliver gas cylinders at households, but after Aadhaar biometric authentication of any of the family members. As this article is being written, 44000 LPG cylinders have been delivered using biometric authentication in the pilot locality.
Another neighbour in south was not to be left behind.The Food & Civil Supplies Department of Andhra Pradesh started a PDS pilot on 1st September 2012 in the East Godavari districts at 47 fair price shops. The beneficiaries who were indeed entitled for subsidized rice, pulses, sugar and palm oil underwent Aadhaar biometric authentication to get their rations. Around 1.25 lakh target beneficiaries would participate in and benefit from this pilot in Andhra Pradesh. The first 10 days of the  pilot saw 15000 automated PDS transactions.
Helping the common man
In an effort to help the common man, the Government subsidises many products, from petrol to food. According to some reports subsidies amounted to 14 percent of GDP while at the same time as much as 39 percent of subsidised kerosene is stolen. While subsidies are critical, it is important that they are utilised judiciously, so that they do not become a liability for the economy. The experiments in Karnataka and Andhra Pradesh have shown that there is a definite potential in bringing down the subsidy bill of the Indian Government, while also ensuring that all intended beneficiaries get the benefit. Meanwhile, at UIDAI, the technology stakeholders had a lot to cheer about from January to September. The accuracy of fingerprint authentication increased upto 96 percent in the field, closer to the lab expectations of 98-99 percent. With iris authentication PoC's, and an increased rate of mobile number collection, UIDAI will soon establish that no resident would be denied any service because of authentication failure, as multiple authentication modes will help all genuine residents to authenticate and avail of the service.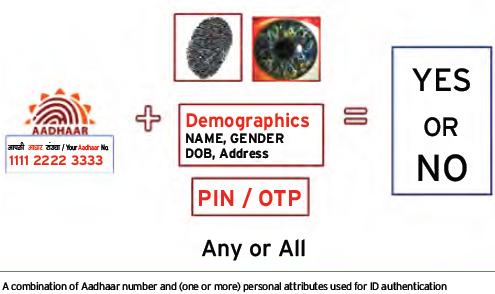 In Phase II, the Aadhaar application pilots will continue to utilise Aadhaar's platforms for authentication and payments in a variety of applications – including KYC (Know your customer) Applications to get a ration card, to open a bank account or to get a mobile connection without hassles; Data cleanup applications to weed out fake and duplicate records in the databases; Transaction Applications for direct money transfers and to resolve the problem of access to banking services; Presence/Access Control Applications, and application related to using Aadhaar as a unique ID for linkage, such as for medical records or in a credit bureau.
More departments and PSUs would declare Aadhaar as a valid Proof of Identity (PoI) and Proof of Address (PoA), like Department of Telecom, the Reserve Bank of India and Indian railways who did this in Phase I. And this will not just be for the paper based PoI/POA, but electronic as well. Think about a day when you get a bank account without having to carry a single piece of paper.
Usage of the Aadhaar number in these applications is about bringing a shift in the e-Governance paradigm. It's no more about static information portals and transaction websites. Surely, exciting times are upon us!
Follow and connect with us on Facebook, Twitter, LinkedIn, Elets video