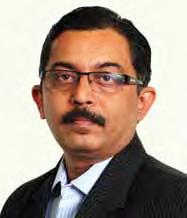 Bimal Raj
Managing Director/CEO
CONTACT
Company Name
Smartlink Network Systems Ltd
Head Office
Mumbai
Address: Smartlink House, Off CST Road, Bandra
Complex Road, Santacruz East, Mumbai 98
Website: www.smartlink.co.in
Tel: 022-30616666
Fax: 022-26528914
Email: helpdesk@smartlink.co.in
Sectors
Networking, e-Governance
Categories of Product
Hubs, Switches, Routers, Wireless Access Point, WLAN,
Wireless, Broadband, Security
About Us
Smartlink Network Systems Ltd was established in the year 1993 to prop the Indian market in the field of Networking Infrastructure. Known for its honesty, ethics and integrity, Smartlink is today regarded as the most experienced and respected IT company in India. Smartlink has pioneered IT Networking Products and Technology in India and has the distinction of being one of the first company to start manufacturing of IT Networking Products in India. Smartlink has over two decades of experience in Product Design, Development, Manufacturing, Marketing, Sales & Service with its own brand and brand building in the IT Industry and has a strong pan-India network of channel partners. The company addresses the needs of customers ranging from Enterprise to SME/SMB and SOHO to home users and from across the verticals – Government, BFSI, Education, Manufacturing, Hospitality, Healthcare, Retail, to name a few. Smartlink brand portfolio includes DIGILITE, DIGISOL & DIGICARE.
About DIGISOL
The DIGISOL range of active networking products offer end-to-end solutions with a comprehensive product portfolio spanning Ethernet switches, wireless and broadband networking, VoIP and surveillance, etc. Though most of the products were introduced under new brand DIGISOL in the last quarter of the last financial year, in a short period of time, the brand has gained immense popularity and is recognised as one of the fastest growing IT brand in India.


About DIGILITE
With more than three decades of experience in manufacturing motherboards, the company has introduced a new brand of motherboards under DIGILITE. The Company has a significant competitive edge due to its cost-effective manufacturing, its brand building expertise and strong distribution network. DIGILITE is one of the fastest selling motherboard brands in India. DIGILITE offers strong & localised supply chain of component products to ensure just in time for customers, dedicated tech support at BIOS & design level, follows robust INTEL & AMD roadmaps with latest
products available across point of sale.
About DIGICARE
DIGICARE, a service division of Smartlink Network Systems Ltd, offers after-sale-services. The first-rate integrated service and support from DIGICARE comes in the form of RMA centres, DIGICARE Technical Assistance Centre (DTAC) and Direct Service Department (DSD). DIGICARE has evolved most efficient, skilled and professional state of service infrastructure. It has 18 Direct RMA/Service centres and 46 Service Partners across the country. DIGICARE Technical Assistance Centre (DTAC) supports international and domestic customer support on voice, emails and chat with a wide range of technological skills including level 1, 2, 3 troubleshooting trouble shooting in LAN Adapters, Switches, Routers, Broadband, Wireless Security, VoIP, Surveillance, Storage, 3G products etc. For more details please visit  www.digicare.in
Achievements /Unique Selling Proposition (USP)
• Local Manufacturing
• Nationwide Service Network
• Nationwide Sales Network
• More than Two decade old Company
Follow and connect with us on Facebook, Twitter, LinkedIn, Elets video