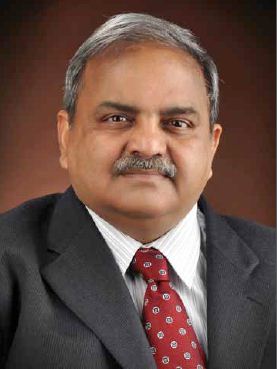 D C Garg
Chairman & Managing Director ,Western Coalfields Ltd.
"We will be meeting the target of 464 million tonnes of coal production during the financial year 2012-13, and this amounts to a growth of 30 million tonnes in a single year," says D C Garg, Chairman & Managing Director, Western Coalfields Ltd, in conversation with Nayana Singh.
Bulk of the nation's coal is being produced by Coal India Ltd of which Western Coalfields Ltd is a subsidiary. Please provide us with an overview of Western Coalfields Ltd's scale of operations.

Coal India Limited, a Maharatna PSU, with coal production of 435.84 million tonnes during FY 2011-12 has contributed 80.74 percent of Indian Coal Production (536.69 million tonnes). It thus met 70 percent coal demand in the country. Western Coalfields Limited, Miniratna Category-1 PSU, a Nagpur based subsidiary of Coal India Limited, is engaged in mining through 82 mines spread in its 10 areas located in Madhya Pradesh and Maharashtra. The coal is marketed to a strong customer base comprising of power, cement, steel, chemicals, fertilizers, paper and brick kilns in South, North and Central India. The company with a dedicated workforce of 56989 employees including 2620 executives, has produced 43.11 million tonnes of coal, has marketed a quantity of 41.97 million tonnes coal with an gross turnover of `8357.48 crores with a pre-tax profit of `440.50 crores in the financial year 2011-12.
What kind of technologies is Western Coalfields Limited using to bring efficiency to the coal production and distribution business?

As far as the technology is concerned, opencast mining contributes 80 percent of coal production and balance 20 percent comes from underground mining. The face equipment composition in opencast mines consists of shovel- dumper, whereas in underground it is LHD (Load Haul Dump) and SDL (Side Discharge Loaders). While the size of equipments has been enhanced to get incremental output from same number of HEMM in opencast mining, there have been initiatives to switch over to Mass Production technology by deploying Continuous Miners in underground mines namely Kumbharkhani UG and Tansi UG. Next in the line are Soaner UG, Mauri UG, Dhankasa UG and Jamunia UG. We aspire to develop Dhankasa UG as 1 million tonnes UG mine, the feat achieved by few mines in the country. We are also implementing Man Riding Systems in underground mines to enable the miners to travel with ease. The equipment is being ergonomically designed, and there is air conditioning in the operators cabins of HEMM. In addition, the enhanced use of ICT in the company has reduced the administrative systemic overloads.
Tell us about the technologies that you are adopting to bring e-Governance to the organisation.

ICT is the way forward to remove the overload of systemic administrative overloads. All of the 10 mining areas and 10 regional stores
have been facilitated with individual servers and client PCs to control, monitor and generate information related to business processes
like Human Resource, Attendance and Payroll, Sales and marketing, Materials Management, Financial Accounting and Asset Accounting, The technology that exists is client server two tier architecture with Oracle 9i database and Linux operating System. There are total 22 servers in this architecture. One server in HQ is of three tier architecture with Oracle 11g database. All the area offices and area stores including regional stores are connected through BSNL leased line of 64 kbps bandwidth. As per IT policy of CIL, centralisation and consolidation of data with modern hardware infrastructure is to be established in all subsidiaries of CIL. All hardware and software to be used in WCL are being featured with Ipv6 compliance.
Environmental delays have been an issue with WCL. How do you see the situation going forward?

I feel elated to state that all the 82 mines of WCL are being operated with valid environmental clearances from Ministry of Environment and Forest. Environmental clearances have not been denied to us. The issue is the delay in the process for which we are always following up. There have been delays in the approval of Forestry Clearances from the state governments. As on date the forestry clearance of 3144 hectare of land is pending with the State Governments of Madhya Pradesh and Maharashtra. This affects the potential of WCL to produce about 10 million tonnes of Coal. Since nationalisation, we have planted 178.88 lakh trees. During 2011-12, a total of 2.26 lakh saplings were planted in the mining and adjoining areas through expert forest agencies namely FDCM and MPRVVN and also by distribution of saplings to employees and villagers. The 10 major OCPs, which are being monitored every year through Satellite Imagery Survey, have proved this fact beyond doubt. After analysing the satellite data of the year 2010 vs 2011, it has transpired that the plantation works, carried out on back filled area, external OB Dumps as well as on plain land in all these mines of WCL, has increased from 25.35 square kilometres to 26.82 square kilometres. Ministry of Coal is taking up the issues with Ministry of Environment and I am sure there is light after the tunnel.
What is the current e-Procurement scenario in WCL?

e-Procurement process in WCL was started from September 2009 and first e-Tender was hosted on 11th September, 2009. Presently e-Tendering with e-Price bid option of e-tendering is being adopted. Presently almost all the cases of procurement of consumables and spares are finalised through e-Procurement Give us your outlook on the coal sector. In your opinion what could be the likely shortfall in the coal sector this year.As far as Coal India Limited and its subsidiaries are concerned, I am sure we will be meeting the target of 464 million tonnes of Coal production during the financial year 2012-13, thus enabling a growth of about 30 million tonnes in a single year. As far as outlook is concerned, the coal being the mainstay of energy security of India, it will always be in high demand. Augmenting supplies either by in land production or by imports will be a challenge. Nevertheless we will be thrusting upon all the energies to achieve the expectations of our country, which it has with us.
What is your opinion on policies that the government should come up with to improve the coal output in the country. Tell us about your expectations from the government.

You are aware that off late, Coal has been oftwritten topic in financial newspapers. I do not wish to add on the issue; however, in the long term scenario which entails coexistence of nationalised and private sector, the coal regulator would be, in fact one of the key reforms in coal mining as it would result in benchmarking of operational standards and speedy resolution. We look forward Western Coalfields Limited as a corporate well placed to achieve triple bottom line approach –the sustainability in all the three parameters – economic, social and environmental.
Main features of e-tendering in WCL

  Role based selective access to the portal.
  On-line opening of the techno-commercial bids Participated bidders can view the bids of all the bidders on-line.
 Techno-commercial C/S and price bid can be prepared by System.
  Only documents in respect of qualifying criteria and proveness criteria to be scrutinized manually
Price bid of techno-commercially acceptable bidders to be opened on-line.
E-price bid shall be kept in secured electronic locking system with time lock.
Bidders can view the price bid on-line.
  Safety features as per IT Act, 2000 and subsequent amendments/ guidelines.

Follow and connect with us on Facebook, Twitter, LinkedIn, Elets video