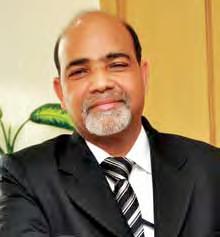 "We have made sincere efforts to adopt e-Governance solutions. During the beginning of this year, we started uploading all our NITs on Central Public Procurement Portal of Government of India, besides uploading them on our  website," says Jaiveer Srivastavaa, Chairman & Managing Director, Hindustan Prefab Ltd, in conversation with Nayana Singh
Please provide us with an overview of the aims and objectives of Hindustan Prefab Ltd.
Hindustan Prefab Limited, a consistently profit  making ISO 9001: 2008 certified company under the administrative control of the Ministry of Housing and Urban Poverty Alleviation, has had a glorious past. The creation of this company is the brain child of first visionary Prime Minister of India, Pt. Jawaharlal Nehru.  However, the company lost the competiveness of its products because of its obsolete plant and machinery and suspended the production. HPL is now providing turnkey project management solution in various areas of civil  construction under one roof. The vision of the company is "To be a premier organisation in the field of Civil Construction and Infrastructure Industry by embracing state-of-art and cost effective technology in Prefab / Precast, as well as conventional methods committed to total customer satisfaction."
What is Hindustan Prefab Ltd's contribution towards the railway sector over 50 years of operation?
In 50 years of its existence, HPL has built a wide spectrum of civil engineering structures using both conventional in-situ as well as prefab techniques and has also supplied components for the building industry and the national railways. The company has pioneered the production of pre-stressed concrete railway sleepers, which replaced wooden sleepers in Indian Railways. It also became the first company to produce precast pre stressed concrete railway bridge girders for making railway bridges in the country.
Are you adopting e-Governance solutions within the organisation to modernise operations?
We have made our sincere efforts to adopt e-Governance solutions. We are uploading all our Notice Inviting Tenders (NIT), Employment Notices on company's websites. During the beginning of this year, we started uploading all our NITs on Central Public Procurement Portal of Government of India besides uploading them on our website. It gives a single point access to the information on procurements to the bidders. Gradually we propose to shift to e-bidding by intending bidders so that the time is saved besides maintaining highest standards of transparency.
What are the landmark structures that Hindustan Prefab has built in the city of Delhi?
The organisation has produced many landmark structures in and around Delhi, which includes the Oberoi Hotel, Ashoka Hotel, Palam Airport (now demolished by GMR), East and West Block of R K Puram, Vikas Bhawan, DTC Headquarters at I P Estate, Real Estate at Jangpura Extn, etc. There was a time when most of the Footpaths, DTC Bus Stands, DMS Milk Booths, first foot concrete over bridge, Bahadurshah Zafar Marg were produced by the Hindustan Housing Factory (now HPL). The flagship hotel of the Oberoi Group was built on a precast concrete frame manufactured by HPL in its factory and experience has been extremely challenging.
What kind of techniques are you using for providing civil engineering structures over the years?
HPL was one of the first companies in India to produce aerated / cellular concrete, Precast Prestressed concrete railway sleepers, electric poles and box girder for railway bridges. HPL is in the process of setting up production units in strategic locations for hollow core concrete slabs for walls, roofs and floors for complete solution in building  construction and infrastructure development work while using some quantity of fly ash.
Your opinion on the policies that the Government of India should come up with to bring further growth to organisations like HPL?
Government should accord price preference to the Central PSUs over others so that CPSE can grow in a healthier manner. To expect Govt. to encourage introduction of new prefab concrete techniques by exempting the manufacturer from levy of excise duty. This will be an attraction to prefab manufacturer. There is no doubt that the future is prefab – within next five years at least 40 percent to 50 percent of construction projects in India are going to utilise prefab components. Government of India should provide land for development of such facilities near cities and towns to minimise cost of transportation.
Follow and connect with us on Facebook, Twitter, LinkedIn, Elets video