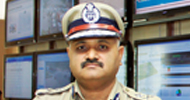 "The need of the hour is not just e-Governance, we also need connected governance," Praveen Sood, Additional Director General of Police, Police Computers Wing, and Commissioner for Traffic & Road Safety, Karnataka, in conversation with Nayana Singh
---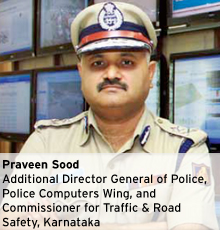 Bangalore is known as India's IT city, the city is also known for its traffic jams. Tell us about the experiences that you had as a police commissioner in Bangalore.

From 2008 to 2011, I was the Additional Commissioner of Police (Traffic). It is during this period that technology supported traffic management was adopted in Bangalore for the first time in the country. It has been a very valuable experience for me. Our achievements have been recognised all over India. More and more cities, namely Delhi, Chennai, Mumbai and Calcutta are trying to replicate our success story, in terms of setting up traffic management centres, connecting signals, setting up cameras. For the purpose of monitoring the traffic, we had installed more than 100 CCTV cameras at every junction. The cameras would capture the rule violators and would send the reports to our traffic management centre in real time. The tickets were created and sent the notices to people, who could pay their fines by visiting anyone of our centres. Through our work, we helped to integrate the whole system. All the 330 signals of the city and cameras placed in the various corners were connected to the traffic management centre. Thus, if our people present at the centres located any problem, they could intervene in real time and alter the signal timings accordingly for smoothening out traffic movement. With our efforts, we created a state-of-art traffic management system.
In your opinion what kind of features should an intelligent transportation system have?
Firstly, a good transportation system should have the capacity to get information in real time. By placing cameras at various parts of the city, the traffic management centres can get updated information in real time. Secondly, with such information, the system should have the capability of intervening in situations and making alterations if required. The third stage consists of dissemination of information. In case of unexpected situations such as accidents or processions, people have to be advised so as to avoid chaos. For this purpose, we have installed electronic boards called Variable Message Boards. Enforcement is a key feature of an ideal traffic enforcement system. A quick search on the internet will reveal that Bangalore is the only city in the country to have a paperless traffic enforcement system. The traffic cops in Bangalore city carry Blackberries instead of Chalan books. So once the offence is registered, the data base gets updated in real time and produces a Bluetooth generated printed receipt. The system proved to be highly  successful. It helped us to plug all the leakages in the system. Till 2007, `18 crore fine for traffic violation was collected from Bangalore city. In 2008, when Blackberry began to be used, the fine amount soared up to `29 Crores. In 2009, it became `39 crores and in 2010 it further went up to `49 crores. By 2011, the amount stood at whooping `55-60 Crore.
So you would consider this system worthy enough of being replicated in the whole of Karantaka.

The success of this system has inspired made us implement it in the entire state. As a result, we have been able to fix all the leakages in the traffic management system. There are no misappropriations, people are confident that the fines they are paying is reaching the government, and the data base is created and updated regularly. Therefore, in case we have to catch hold of repeat offenders, we can easily locate them. An important feature of our successful traffic management system consists of interfacing with the public. Keeping in mind the fact that traffic affects the life of everyone, we went on Facebook and created a vibrant website, which was updated 10 times in a day. We also created SMS services where people could enrol their mobile numbers and get real time SMS alerts free of cost. The efforts have enabled us to organise the system and also make it disciplined. Statistics reveal that the number of accidents met within the state has gone down steadily over the years. That serves our purpose. Our objective behind introducing technology in the traffic management service is not to collect more money as fines, but to make the roads safe for people.
Tell us about the responsibilities that you are shouldering at present.

At present I am the Additional Director General of Police, Computer wing, and also the Commissioner for Traffic and Road Safety for the whole state. In my present capacity, I am implementing many new initiatives in various towns and cities in Karnataka. We have extended surveillance cameras to six districts including Ballari, Gulbarga, Hubidarwarg, Mangalore, Shimoga and Belegaon. The use of Blackberry by traffic cops has been extended to the whole state. Right now, my mandate is to extend all the good practices to the semi urban areas so as to bring more discipline in the system. In the police computer wing, I am working on a mission mode project of the Govt. of India, Crime and Criminal Tracking Network System (CCTNS). I am also working on projects to ensure timely service delivery to citizens. As a police department, we have added twelve services and we will be adding more services in time to come. This will be possible only if all operations go digital.
In your opinion how important a role do modern ICT solutions play in traffic management in densely crowded urban areas?

Traffic is a complicated issuse. In India, the number of vehicles will keep increasing. Bangalore has four million vehicles for eight million people. Delhi has got six million vehicles for 12 million people. We cannot go on adding manpower indefinitely. Manpower requires investments on recurrent basis. So the solution is to migrate to technology. ICT is the real solution whether it is traffic management or it is delivery of services. However, technology is not a substitute for infrastructure. Technology can fix all the leakages in the system. But eradication of corruption requires honest people in the system. Standardisation of number plates can be a great method to cut down on corruption.
---
"use of technology in service delivery is the only way to eradicate corruption"
---
What kind of investment has been made in the traffic modernisation project?
Judging by our past experience, we have invested rupees four to five crore which has brought `50 crore profits to the government. Our work has taught us valuable lessons. We have learnt that technology pays for itself, technology brings objectivity and transparency, citizens get ready to pay fines if the services available are technology backed, the level of trust on policemen increases. In my opinion, the use of technology in service delivery is the only way to eradicate corruption. We are trying our best to create multiple online systems for interface between the police and public so that they can access services from home or office, and make payments at various service centres. Our next project will lead to further streamlining of the process by which police verification is conducted in case of issuing passports. We are involved in a very ambitious project with the Ministry of External Affairs. We are trying to cut down the delays in services. We have figured out that delays can be cut down by doing away with so many levels whitch exist in the system.
How do you look back on at the experience of serving as Additional Commissioner of Police, Traffic Bangalore City?
My message to people will be to establish the networks in the first place. Investing in equipments won't serve the purpose, if the networks are not in place. The need of the hour is not just e-Governance, we also need to establish connected governance. Our aim should be to connect prison on one side and courts on another side and if we can connect these two ends, the working of the department can improve in a great way. From my experience, I have learnt we must get the connectivity right, embark on pilot projects and then they can be easily replicated with the help of technology. Taking to projects with long gestation periods do not help as they do not contribute to any amount of learning and officers fail to complete the projects within their tenure of one, two, or three years. Implementing pilot projects are quite a difficult job. When we started, it took us one year to fix the first 40 cameras. The second 40 cameras were fixed in the next eight months and the next 80 cameras got fixed in three months.
Some cities in the world are going in for a centralised traffic management system, which use a dense network of CCTV cameras beaming video images directly to the central control room. Should Indian cities have similar systems?
We have done similar things in Bangalore. Instead of beams, we have used BSNL Leased lines. In future we can use 3G and 4G technologies. But at the moment these leased lines are the best solution.