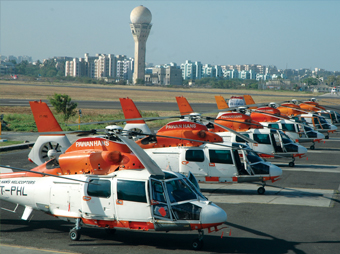 "Good governance is not possible without the incorporation of latest technology solutions for communication. At Pawan Hans Helicopters Ltd we are fully focused on implementing the latest ICT technologies," says Anil Srivastava, Chairman & Managing Director, Pawan Hans Helicopters Ltd; & Joint Secretary, Ministry of Civil Aviation
---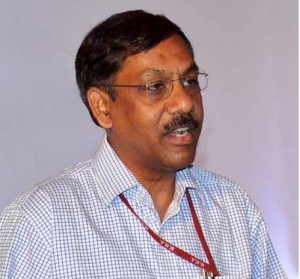 One of Asia's largest helicopter companies, Pawan Hans Helicopter Ltd offers a wide range of services to its clients through its fleet of 45 helicopters. The IT systems at Pawan Hans are fully geared to facilitate efficient and transparent operations. During the last few years, the organisation has implemented various applications like iISP (Integrated Information System), e-Tendering, e-ticking for passenger services, Video Conferencing, VoIP (Voice over internet Telephony), and much else. The state of the art technologies deployed at Pawan Hans have enabled employees to access mission critical information in efficient and seamless manner. The ICT environment facilitates easy and quick access to services, computing resources, online learning materials/ training manuals and other centralised applications. The techn logical systems that are in place also empower the employees to continuously upgrade their skills and bring about diverse improvements in their working environment.
iISP- Integrated Information System for Pawan Hans

An in-house ERP (Enterprise Resource planning) system, the iISP package is fully capable of streamlining and systemising the flow of information through the various departments at Pawan Hans. iISP leads to improvement in efficiency and it facilitates timely availability of information for better decision making at the level of different employees from top to the bottom.
Website & Intranet systems
There is a provision for online submission of forms, feedback, applications, and recent news about Pawan Hans. Tenders can be uploaded online and there is facility for auto deletion of expired tenders. The Intranet portal leads to uniform distribution of information among all the employees in the organisation, and it plays a crucial role in increasing the productivity of the enterprise.
e-Ticketing
Through e-ticketing, tickets can be booked online through the web. Customers don't have to run here and there for booking, or cancellation of their tickets. This system leads to cost saving, reduced manpower, and instant delivery.

IP surveillance system (CCTV)
At Pawan Hans we have deployed Internet protocol cameras, or IP cameras, which, unlike the analogue closed circuit television (CCTV) cameras, can send and receive data via a computer network and the Internet. This is a much better system for surveillance. Two kinds of IP cameras have been deployed. These are:
• Centralised IP cameras, which require a central Network Video Recorder (NVR) to handle the recording, video and alarm management.
• Decentralised IP cameras, which do not require a central Network Video Recorder (NVR), as the cameras have recording functionality built-in and can thus record directly to digital storage media, such as flash drives, hard disk drives or network attached storage.
Data Centre / Disaster management
The Data Centre provides a reliable and secure system for hosting and managing various integrated applications belonging to different departments. As a result of the data centre, services get delivered quickly and there is better management. The Data Centre is equipped with high-end Blade Servers, SAN storage, dedicated Internet Bandwidth, WAN connectivity in redundant mode, Unified Communication (IP-Telephony) with Complete Power Redundancy and Integrated Network Management System to Monitor the Data Centre health and connectivity.
Integrated LAN/WAN

Pawan Hans has designed a highly scalable and redundant LAN/WAN. The Network Architecture for Local Area Network consists of Fibre Backbone Connectivity with 1Gbps between the Core and the Distribution switches.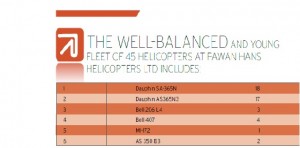 Unified Communication

The Unified communication system provides users with VOIP (Voice over Internet Telephony) phones which make use of various voice compression techniques to provide crystal clear voice signals. The unified communication gateway is also connected with voice mail boxes to collect the voice messages for users when they are not available at their desk. The voice messages can be replayed and stored. All the offices at Corporate and Regional and even Bases at National level are connected through IP telephony in Pawan Hans.
VHF communication
Pawan Hans uses VHF communication systems to enable seamless connectivity between ground and aircraft in remote areas, where mobile connectivity is not reliable.
Video conferencing

The usage of cutting edge video conferencing systems is facilitating easier and faster communication between employees and management teams located different locations in the country. Such systems lead to reduced operating costs, as employees do not have to travel in order to have face to face interactions.
* * *
I am pleased to add that on the whole Pawan Hans has constantly been on the forefront of taking new initiatives in Information Technology. The organisation is focussed on using Information Technology for improving efficiency and decision making ability at the level of different employees from top to bottom. Our efforts are majorly focussed on enhancing the level of communication within the organisation and also with customer in order to meet short and long term organisational objectives. Pawan Hans has computerised all its regional offices and bases/detachments across the nation on iISP (Integrated Information System). With this high level of computerisation the entire business of Pawan Hans is now getting routed through its Centralised iISP system. This is proving to be a highly efficient Decision Support Tool, as it enables respective departments of the organisation to discharge their duties and responsibilities in a seamlessly effective and transparent manner.