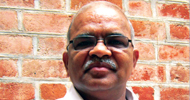 Prof Shivanand Swamy, Professor and Associate Director, Centre for Environmental Planning and Technology University (CEPT), Ahmedabad, talks about the highly successful BRTS (Bus Rapid Transit System) project that has been implemented in Ahmedabad
---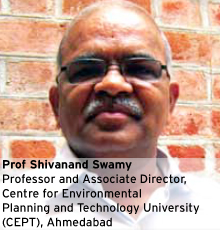 Tell us about your experience of designing the BRTS Ahmedabad.
It has been an amazing experience to design Ahmedabad BRTS project. The project was conceptualised with the objective of redesigning the city's structure and existing transport systems in order to make public transportation more accessible, efficient, environment friendly while reducing the length and duration of travel as well as people's dependence on automobiles and I guess Ahmedabad BRTS has been able to deliver all the above very efficiently. While being first of  its kind in India, there was absolute buy-in for the concept from administrative and political system within state and Ahmedabad Municipal Corporation (AMC). One of the major success factors is that the AMC took full ownership of the project and ensured that all the stakeholders were working for offering state-of-art transit system to the citizens in the city. Ahmedabad BRTS has helped in transforming urban landscape around BRTS corridor besides offering comfort and speed of travel.
Is the BRTS project going to be replicated in other parts of the state?

Ahmedabad BRTS design has been successfully operating for few years now and the design and management process has been well accepted and appreciated nationally and internationally. We are currently designing similar systems in Surat, Hubli-Dharwad, Indore and Vadodara. Transit system design is an ever evolving system and with every new system, we are bringing in better ways of design and management processes.
What kind of ICT solutions are being deployed to ensure better management of traffic in the BRTS corridor?

Janmarg has deployed state of art Intelligent Transit Management System. ITMS automates functions like electronic fare collection, automated vehicle location system, passenger information system, vehicle scheduling and despatch, incident management system and depot management system. Ahmedabad BRT is the first bus based transit system in India to have implemented off-board fare collection system. Janmarg has implemented level boarding system similar to what you experience in metro systems and we have installed the most innovative electronic docking system using RFID technique. The system offers fine granularity of applications for operations management and hence we are able to offer service assurance to our commuters in Ahmedabad. Janmarg operates at 2 minutes frequency in peak hours and 10 minutes frequency in off-peak hours. This has been made possible through fine blend of automation, which a result of implementation of ITMS.
In your view what will be the long term social and environmental impact of the BRTS systems?

The Ahmedabad BRTS has brought a range of social, economic and environmental benefits to the residents of the city. The system contributes extensively to reducing travel time, the cost of travel, and the need to use private vehicles for everyday commuting. This is evident in the consistent increase in ridership. It has resulted in enhanced revenue generation, quality of life, and improved economic opportunities for the people who can now easily travel to far-flung parts of the city. The fares are quite affordable. The Janmarg carries about 1.2 lakh passengers every day. For its contribution to the creation of an efficient and sustainable and environment friendly public transport system, the Ahmedabad BRTS was awarded the Best Sustainable Transport Award, 2010 and was adjudged the Best Mass Rapid Transit System by the Government of India, 2009.
What other innovations are you planning in the urban transportation space?

We are continuously working towards designing systems that are most suitable for meeting  the transportation related needs of any city or town. We are currently designing BRTS system for Surat and Hubli-dharwad and we have introduced a concept of express BRT, which will again be first of its kind in India. You can see several innovations in the design, one of them being the square-about, instead of the normal round-about. A square-about provides much higher vehicle holding capacity and it also reduces wait-time for the vehicles.