"With the objective of bringing about transparency and efficiency in its operational areas, DGCA is implementing a host of cutting edge solutions from ICT," says Anil Srivastava, Chairman & Managing Director, Pawan Hans Helicopters Ltd; & Joint Secretary, Ministry of Civil Aviation
---
Aregulatory body in the field of Civil Aviation, the Directorate General of Civil Aviation (DGCA) deals primarily with Air Safety issues. It is responsible for regulation of air transport services to/from/within India and also for enforcement of civil air regulations, air safety and airworthiness standards. It also interfaces with all the regulatory wings of diverse International Civil Aviation Organisations. The DGCA comes under the Ministry of Civil Aviation and it through its policies and guidelines it maintains control over stakeholders to ensure that there is compliance to safety standards and an efficient air travel is ensured in India. With the aim of enhancing its productivity, quality of service, and effectiveness, the DGCA is introducing automation across the enterprise.
eGCA: e-Governance for civil aviation

The eGCA project has been envisioned to empower DGCA with new technological solutions that lead to an improvement in its effectiveness as an organisation so that the following objectives are achieved:
• Enhanced service delivery: The idea is to provide seamless and efficient online and technology based services to various stakeholders with speed and certainty.
• Speedy back office processing: There has to be an automation of the processes such as application, verification, approval, issue, audit and support.
• Greater coordination through crossfunctional integration and cross-entity interfacing: This will lead to creation of a central and secure electronic repository of all records.
• Effective surveillance & enforcement: Generate MIS reports/historical track record and analysis.
• Single data entry/retrieval source: Integration of various directorate functions and the presence of a central repository will ensure that there is a single point of entry for data. Once data is created it will be a single view of various touch points trying to access that data.
• Ease of data access: With a digitised environment and an automated workflow it will be very easy to access data.
• Intra-Directorate functions the IT enablement and process re-engineering will speed up the execution of functions within the directorate.
• Automatic generation of Management Information System (MIS) reports: Critical statistics and data, which are necessary for the smooth functioning of the DGCA, will be available through an automated process.
• Interface with regional and subregional offices: The DGCA HQ at New Delhi will be connected with the regional and sub-regional offices and there will be seamless system for communication and sharing of information.
The functional scope of eGCA
The eGCA solution adheres to the relevant softe-Governance standards, as stipulated by the Department of Electronics and Information Technology (DeitY), Government of India (http://egovstandards.gov.in/). Wherever necessary, there is integration with other government solutions through a system of integration with National e-Governance Service Delivery Gateway (NSDG) and the State e-Governance Service Delivery Gateway (SSDG).
For mobile based service delivery there is integration with Mobile Service Delivery Gateway (MSDG). In cases where an integration with external agencies/third parties is required, the authentication is carried out in adherence to National e-Authentication Framework issued by DeitY, Government of India.
It has been estimated that the DGCA has close to 100 services, however, on closer analysis these 100 services can be grouped into four broad categories.
These four broad categories of services are:
• Establishment & Administration
• Licensing/Permits/Cancellation
• Audits/Surveillance
• Finance
The criterion used for coming up with this broad grouping of services relies mainly on the fact that services with similar administrative workflow can be grouped together. For instance, registration, certification, permits, approvals and licensing processes have a similar workflow and hence they can be grouped under a bucket of services called 'Licensing/Permits/Cancellation'. Similarly all the HR/Establishment related functions are being grouped under the 'Establishment & Administration' category, while the finance related tasks come under the 'Finance' category.
Solution for Infrastructure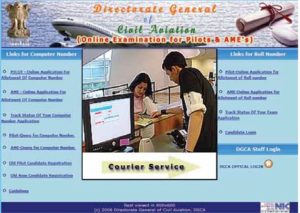 The core infrastructure consists of a Data Centre and Disaster Recovery (DR) site in a co-located model. The eGCA application softe-ware, portal and other components shall reside in the Data Centre with backup at the DR site and shall be connected with HQ in New Delhi, ROs, SROs, through an Multi-Protocol Label Switching (MPLS) technology based network. Internet access shall be provided to the DGCA and other external users through the Internet gateway at the hosting services provider.
Internet users at DGCA offices will be accessing Internet via the Data Centre. Also envisaged in the eGCA project is the setting up of end-user infrastructure, consisting of computers, printers, LAN and cabling, and other terminal equipment), which are to be installed in various DGCA offices across the country. A state of the art video conferencing facility is also coming up at the DGCA HQ and five RQs for enabling effective and timely communication. With the objective of providing the delivery of public services in a fast, effective, transparent and efficient manner, DGCA is making maximum usage of latest Information technology. The comprehensive coverage of eGCA across all the Directorate functions, Services, Regional/Sub-Regional Offices will ensure that all the critical functions of the DGCA are IT enabled.
---
Project UDAAN
It was way back in 1990s, that the examination system of DGCA was computerised by making use of the Sybase platform. In 2000-2001, the system was redesigned to enable it to work in local environment of Examination Office running on the Microsoft platform of Visual Basic 6.0 and SQL Server 2000. Finally in the year 2008-09, DGCA desired to switch over to web-based examination system of online application and online payment of fee and declaration of results. The NIC Team at DGCA undertook the development of new web application, which was in tune with on the requirements of DGCA.
The current application for examination system is based on Java and MS SQL SERVER 2005 and is hosted at http://udaan.nic.in in the National Data Centre at Hyderabad with Apache Tomcat as web server. This was implemented for the Pilot Exam conducted by DGCA in October 2011 session. The most important element of project UDAAN consists of an effective migration of data from old database to new one. The implementation of the system has improved the transparency of the whole process of conducting examinations. There is no manual intervention, right from application to declaration of results.
The three modules of UDAAN Application are as follows:
• Pre-exam processing (L1),
• The examination (OMR and Online)
• Post exam processing (L3) along with the data migration.
---
Follow and connect with us on Facebook, Twitter, LinkedIn, Elets video