Manjula Prasher, Secretary, Department of Posts, Ministry of Communications and IT, Govt of India, provides us with an overview of the new technological ideas that are being implemented by the department to ensure better services to the people

Manjula Prasher, Secretary, Department of Posts, Ministry of Communications and IT, Govt of India
Department of Posts caters to the public through Departmental and Gramin Dak Sevaks managed Post Offices. There are 154688 post offices in the country,  out of which 25154 are departmental post offices and 129416 Gramin Dak  Sevaks (GDS) managed post offices which are predominantly in the rural areas.  Around 89.8 percent of post offices are located in rural areas, rest are in urban  areas. Till the month of March 2012, 24969 departmental post offices had been computerised, out of these 19890 have been provided with network connectivity.
The software solutions deployed at the Post Offices include:
• Meghdoot for postal operations
• Sanchay Post for saving bank function
• Postal Life Insurance software for PLI work
Meghdoot and Sanchay Post are in Local Area Network (LAN), while the Postal Life Insurance software operates in the Wide Area Network (WAN) software.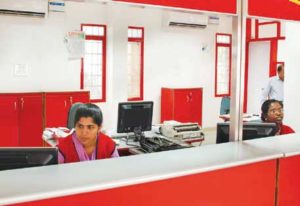 Electronic money transfer
The money remittances done through Post Offices by electronic means are:-
i) iMO: iMO is an instant web based money transfer service through Post Offices (iMO Centres) in India. You can transfer sums ranging between INR 1,000 to INR 50,000 from designated iMO Post Offices. The payee has to collect the payment from the Post Office Counter.
ii) eMO: eMOs are transmitted electronically from the Post Office of Booking   to the Post Office of delivery and the payment is made at the doorsteps of the payee. Therefore, the transmission time involved in manual MO is reduced considerably. The maximum limit of money remittance is Rs. 5000/-.
iii) Collaboration with Western Union and Moneygram: Remittances from abroad can be received instantaneously and the payment is made at the Post Office counter on production of security code and authorised identity proof. Remittances of up to Rs. 50,000/- is payable in cash.
iv) Remittances to other countries through Eurogiro (MO Videsh): Money Order Videsh, a new offering of India Post, facilitates remittances to foreign countries and receiving of remittances from foreign countries through the medium of Post Office. The service was launched in 2009.
Modernisation plans
The LAN based software limits the reach of the Post Offices and therefore, the department has taken up the implementation of IT Modernisation Project in 2012 under Plan scheme for which an outlay of RS.1877.2 crore has been made by the Government.
The project has the following components:-
• It will establish IT infrastructure of Data Centre and Disaster Recovery Centre and networking of all Post offices including Grameen Dak Sewaks (GDS) managed Post Offices in rural areas.
• The project envisages development of integrated modular scalable applications for mail, banking, postal life insurance, advanced financial services and ERP solutions for accounts and HR operations of the Department.
• The GDS managed Post Offices will be provided with rural ICT devices with required applications for performing postal, banking, insurance, retail operations.
• Provision for training, change management, capacity building of the  employees of the department along with setting up of the Project Management  Units at Department, Circle, Region and Division levels for smooth and timely  implementation of the project.
Deployment of new technology
The IT modernisation programme is being taken forward in such a way that it  leads to the creation of integrated scalable modular software for both  Departmental and Gramin Dak Sewak managed Post Offices. This plan scheme is  being implemented through 8 different RFPs which are now in different phases of implementation. The IT Project envisages implementing integrated,  scalable, modular software covering all areas of postal operations.
There is focus on setting up of infrastructure including Data Centre, Disaster  Recovery Centre, networking of all the departmental post offices and change  management to upgrade the employees' skills. Introduction of core banking in  networked post offices and setting up of 1000 ATMs is also part of this Project.  In addition, during the 12th Plan it has been proposed that the postal department should have 3000 ATMs.
In case of GDS managed post office, computer hardware having mobile  connectivity will be provided. This will ensure the availability of a platform in  which banking, money remittance and insurance related services can be provided and the rural populace can become a part of modernised IT network  of the Department of Posts.
The requirement of adequate and latest hardware i.e. computers, servers,  printers, label printers, barcode scanners, UPS, Gensets etc. in mail processing  Offices has been assessed and these components will be supplied under the IT Project.
---
Department of post projects go to Infosys, TCS , Sify, RC om
The Department of Posts (DoP) has been trying to induct technology in a bigway. In March 2012, letters of intent were issued by Department of Posts to Infosys, TCS, Sify and Reliance Communications Infrastructure for different technology advancement projects.
The Department of Posts has got approval of Rs 1,877.2 crore to be spent  across these projects over a period of two years. The Department will seek additional funds as and when the need arises.
Infosys has got Letters of Intent for two projects which are for Rural System and Financial Services Integration. Tata Consultancy Services has received Letters of Intent for Change Management, Sify for Network Integration and Reliance Communications Infrastructure for Data Centre.
Under the technology advancement programme, DoP will put all the necessary softwares in place along with procurement of requisite IT hardwares. The  Department has set for itself the agenda of computerising all its 1.55 lakh post  offices across the country by 2013.
---
Facilitating financial inclusion
The Rural ICT solution would enable GDS managed Post Offices in rural areas to  provide electronic delivery of postal services, money orders, MGNREGS,  postal banking, insurance etc. The Rural ICT Solution will be implemented in  phases. In pilot phase, selected GDS managed Post Offices in certain circles will have pilot projects for 3 months during which the solutions will be tested and their efficacy will be judged. Thereafter, the solution will be implemented in  GDS managed Post Offices in other rural areas of these Circles. After successful  implementation in pilot circles the rural ICT solution will be implemented in all the GDS managed Post Offices of the country by 2013-2014.
The Computerisation and networking of all the Post Offices in the Rural Area is sure to bring following benefits:
• The Post office will become the focal point of delivery of social security schemes of the State.
• This will enable paperless transactions for mail, postal banking and insurance
• All the accountable articles meant for delivery can be tracked and traced.
The Department of Posts is also aiming to promote financial inclusion in the  country by emerging as a one-stop shop for retail products and by offering a  single window facility for banking, money remittances and other financial  products and services including social and civic initiatives such as the NREGS  and National Old Age Pension Scheme.
Follow and connect with us on Facebook, Twitter, LinkedIn, Elets video