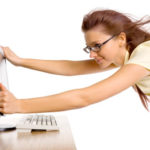 A start-up company has reportedly raised $200 million to deliver ultrahigh-speed Internet service in six communities surrounding research universities around the US.
The company, Gigabit Squared, will work with Gig.U, an alliance of public and private universities that want to build islands of superfast networks to foster economic development and to promote services like education, health care and scientific research in the communities.
The six communities have not been named yet. Gigabit Squared, based in Cleveland Heights, Ohio, is in negotiations with its first university and says it will make announcements about timing and participation later this year.
The United States was falling behind other nations that have moved aggressively to build high-speed Internet infrastructures. It ranked 13th in average connection speed in a survey last year by the network service provider Akamai; the world leader was South Korea, followed by Japan, Hong Kong, the Netherlands and Latvia.
Boston, with an average bandwidth of 8.4 megabits, was fastest in the United States but ranked just 51st on the Akamai list.
Last year Google selected Kansas City, Mo., to build a prototype for speeds of at least a gigabit — 1,000 megabits per second. The company originally said it would offer the service in the first half of this year, but the date has slipped. Google has already deployed a small demonstration network in homes next to the Stanford campus.
Gigabit Squared described the next generation of Internet service as two gigabits — about 2,000 megabits per second, roughly 71 times the speed of a standard cable modem.
Still, there is some debate about the value of ultrahigh-speed networking. Most Internet engineers agree that very few applications require such high speeds, except in specialized areas like scientific research and remote medical technology. But proponents argue that the same thing was true in the period between dial-up Internet service and today's higher-speed links.

Follow and connect with us on Facebook, Twitter, LinkedIn, Elets video