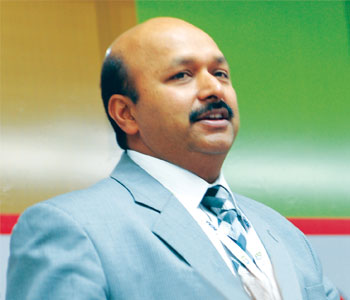 Manoj Agarwal
IGP, SCRB, Government of Gujarat
Gujarat IG of Police Manoj Agarwal heads the State Crime Records Bureau (SCRB). He has an important role in the implementation of the Home Department Integrated IT Solution that would bring about far-reaching changes to the functioning of the state's Home Department, including the police. In a discussion with Anand Agarwal and Sunil Kumar, he talks of the vision behind HDIITS, its current implementation status and how it is broader in scope than the CCTNS of the Union Home Ministry
How was the HDIITS conceptualised, and what benefits are sought to be derived from it?
The Home Department Integrated IT Solution or HDIITS was conceptualized when it was realized that a lot of initiatives are taken down the line at the district level or block level. It was realized that we should be thinking about the whole process holistically. It should be centrally tackled and each and every function should be covered and this led to HDIITS being planned.
HDIITS would build a centralised repository of crime and criminal information database, which will be shared across various law enforcement agencies in the state. This will help in effective crime investigation and quicker turnout times for cases solving. The system also has a citizen website interface, which will help the police to deliver quality services to citizens and hence will promote a strong and cordial relationship between police and citizens in the state. It will also increase transparency and openness.
So the entire paperwork-based system is going to be transformed into an electronic system…
Yes, more or less. The concept is that we would move maximum record keeping to electronic mode. It would not be entirely paperless police station, as a number of documents are legally required. For example, the FIR requires signature of the complainant etc., so some paperwork would still be there, but yes, we will be deploying electronic record keeping to a large extent.
And what is the implementation status of the system?
We are at a very advanced stage. The software is more or less ready and a lot of user acceptance tests have been conducted. Data digitisation has also been completed for a number of years and we have conducted many training sessions as well. The only thing is that the hardware has not yet been purchased.  The tender has been awarded recently. Once the hardware comes in, it will be more or less online for everyone. Already we have very good connectivity in Gujarat, so that would not be a problem.
We finalised the hardware contract just a while back, and expect around 90 working days for the entire system to be operational. However, I would be a little more conservative, and think that by the middle of 2012, we should have the system in place.
The Ministry of Home Affairs has proposed a similar system – the CCTNS. What are the points of divergence between your project and the central one?
I would not call it divergence. The Crime and Criminal Tracking Network & Systems (CCTNS) project is a successor to the CIPA project – Common Integrated Police Application. At the time CIPA was planned, we had very politely told them that we would not be taking up CIPA and since we already had connected police stations through the Gujarat State Wide Area Network (GSWAN), we decided not to go for a standalone type of system that was envisaged under CIPA. We decided to go ahead with HDIITS.
The centre has now realised the importance of interconnected police stations and the CCTNS is now talking of connecting police stations. Even the CCTNS is covering only the core applications that are limited to investigation and police complaints. HDIITS is covering a much broader range of applications, including investigations, administration, prisons, home guards etc. So the HDIITS is much broader in scope than CCTNS which is covering uniform aspects of police work across states, and make records available nationwide.
Going forward, do you see a situation where every state would have to develop systems similar to HDIITS for the aspects not covered by the CCTNS?
That is already happening. They are now asking the system integrators in the states to take up other parts of police functioning of the state not covered by the CCTNS. So while the CCTNS would provide a common nationwide system for the investigative and crime-related work, other areas would be covered by state-specific systems. We are well on the way to implementing this through the HDIITS which is an integrated system that would cover around 70,000 police personnel, 30,000 honorary staff and 5,000 administrative staff in over 1000 offices across the state.