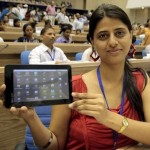 Kapil Sibal, the Union Minister for Human Resource and Development, has stated that Datawind 'is very much here' and the company is 'eligible' to bid for the Aakash 2 tender for procuring 50 lakh Aakash tablets. The tender is expected to be out in two months.
"Existing vendor Datawind will have to supply the rest of the 100,000 tablets in its present contract. It can also bid for the next tender," he added, putting rest to speculation that the Aakash vendor was evicted.
The Aakash 2 tablet comes with a faster processor of about 700 MHz and a capacitive touchscreen. However, the procurement price of the Aakash 2 tablets is being capped at Rs 2276, the same at which government procured the earlier version of Aakash tablets.
The new tender for the procurement of about 50 lakh tablets, for distribution in colleges will be handled by C-DoT and ITI. So far only about 500 Aakash tablets have been distributed so far, since the launch of the tablet last year. There are problems with battery life and there are also a few other technical issues.