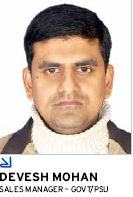 Company name
Novell India Pvt Ltd
Head office
'Laurel', Block 'D', 65/2, Bagmane Tech Park, C. V. Raman Nagar, Byrasandra Post, Bangalore-560093
Major Regional Offices
Chennai, Kolkata, Mumbai, New Delhi
Contact Person
Devesh Mohan, Sales Manager – Govt/PSU, indiamarketing@novell.com, +91-9871496127 North – Sandeep  alani, SBalani@novell.com, +91-8800932555 West – Anurag Manocha, nurag@novell.com,+91-9820630378 East – Rajarshi Bhattacharyya,  RBhattacharyya@novell. com, +91-9836792679 South – Murali Sathya, SMurali@novell.com, +91-9845543955
Website
www.novell.com
Customer Support/helpline number
+91-80-400-22990
Company Profile
Novell India now includes four brands united under a single holding company

named "The Attachmate Group" and is one of the largest, privately-held  enterprise software holding companies in the market today. The principal  holdings include Attachmate, NetIQ, Novell and SUSE, and the market will  continue to know them by these four brands only. The newly composed  organisation is designed to meet all complex IT requirements.
Some of the key  partners of the compnay are Wipro, TCS, HCL, IBM, HP.Dell, MASS, Connectix, CMS Info Systems, Vakrangee Software Solutions, Avnet Technologies, Softcell  Technologies Pvt td, SS Techknow Pvt Ltd, Sonata Information Technology Ltd,  accel Frontline.
Products and Services
Complementary solutions that range across asset and business service management; open source; end user computing and collaboration; host  connectivity and legacy modernization; security, identity and compliance  management; virtualization and cloud computing; and more. In India the primary focus of the company would be around Enterprise Linux, Identity &  Access management solutions and disaster recovery portfolio.
Targeted Verticals
• Government/Public Sector (Linux, IDAM, Mailing & Collaboration)
• BFSI (IDAM, End point management & SUSE Linux),
• Manufacturing (Open Source/Linux & Platespin)
• Education (Collaboration, Mailing, SUSE Linux & Platespin)
• IT/ITES (SUSE Linux, IDAM, End point management)
Achievements and USP
• The Identity & Access management solutions under the NetIQ brand are featured in the Gartner magic quadrant for their performance excellence
• SUSE Linux (Open Source based) helps to run various mission critical applications in over 13,000 Enterprises across the world. SUSE Linux has also  over 7000 ISV applications certified on it
• Mailing solution GroupWise is the 3rd largest enterprise mailing platform & combined with End point management & collaboration solutions under the Novell umbrella present a compelling solution stack.
• Key customers in India include ELCOT, Café Coffee Day, HPCL, IOCL, Mahindra & Mahindra, L&T