Knowledge Share Centers
Implementing Agency: Central Research Institute for Dryland Agriculture
www.naipsrl.org/ikisan
The Knowledge Share Centers have succeeded in delivering the location

specific  timely, need based advisory and diagnostic services to the farmers of  51 villages within a geographical area of 17,297 ha covering 4754 households in 8 districts of Andhra Pradesh. The project provides instant access to the best management practices of selected crops relevant to locality, daily market information for chosen commodities by the farmers pertinent to cluster  villages, weather based agro advisory services, pest diagnostic and  management services which enables the farmer to have better yield of quality  produce fetching better price.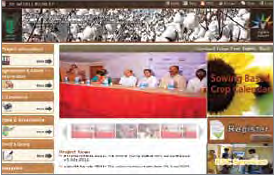 The KSCs provide user-friendly information  through touch screen kiosks (TSK). TSKs allow users to navigate for information  on crop cultivation and package of practices, crop diagnostic  services, etc, with a finger touch facilitating userfriendly interaction like ATMs.
The queries are addressed through interactive voice response system (IVRS)  which hosts the content in Telugu, the local language which is therefore accessible to one and all. Pre recorded voice files with different options on various information services on thirteen crops is available in the IVRS guide through which the caller can avail the requisite information
The awareness  about various technologies is created through Display Announcement Package  (DAP). It is a communication media in the KSC through which knowledge is disseminated by screening films and CDs, which can serve the needs of farmers  on knowing about improved technologies
The website, available in both English  and Telugu, is designed for building the online platform between different stakeholders
m-Powering Farmers
Implementing Agency: IFFCO Kisan Sanchar Limited
www.ikslindia.in
IFFCO Kisan Sanchar Limited (IKSL) intends to empower small and marginal  farmers of India by facilitating their informed decision making through access

  to timely, latest and scientifically validated information to the farmers. A joint  venture between Indian Farmers Fertilisers Cooperative Limited (IFFCO),  Bharti Airtel and Star Global the activities are spread across 18 States of India  covering about 1 million farmers at present. Timely, latest and pertinent  advisories are believed to help farmers to reduce cost through optimal  utilisation of inputs, increasing yield, improving quality, take informed  decisions in other spheres of life impacting his/her family.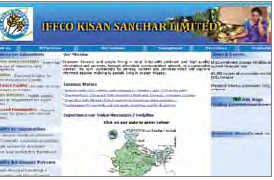 IKSL provides a  voice based message service to rural farmers. The special service to farmers  includes 5 free Voice messages daily in 10 Indian languages on areas as crop  advisories, weather related, market prices, animal husbandry etc. The services  include a facility to re-listen the day's messages, a farmers' help-line, phone-in  programmes, quizzes. Voice messages sent also include subjects related to  women issues, health, employment and schemes.The project faces the  challenge of ensuring that the information provided is contextual and timely for  the local population. Another challenge has been to ensure that appropriate experts are available when a query is received on helpline which has been  overcome by networking experts through conference calls.
Follow and connect with us on Facebook, Twitter, LinkedIn, Elets video