National Portal of India
Implementing Agency: Data Centre & Web Services Division of NIC


The National Portal of India (NPI) is a single window access to over 7000 websites  and portals associated with almost every Government constituent, be it  Central Government Ministries/ Departments; State/UT Governments, Districts,  Panchayats etc. NPI hosts over 1900 services from various  states/ministries/ departments which are all packaged under the 'How Do I' section of the portal. It is  also a central repository for Government forms, documents, acts, rules, schemes and policies.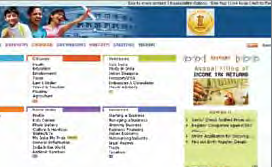 The mammoth information available on this portal has been classified on the  basis of sectors, target audience, life-cycle and geographical location. The  information on the Portal has also been interlinked at relevant places to  provide the visitor a holistic view with a clearly defined Information  Architecture.
The portal has turned out to be an effective medium for the participation of common citizens in the process of governance since they are  encouraged to voice their opinion through various feedback options on the  NPI.
The National Portal of India has as of now approximately over 78,000 registered users availing regular services provided therein with an increase of  around 10 per cent per year. With over 13 lakh visitor per month, the portal  receives around 24 lakh hits per day.
NPI has been first government website designed to be accessible to all users irrespective of device in use, technology or ability. The portal is standards  compliant and follows principles of usability and universal design.
Making Institutional arrangement for uninterrupted content flow right from the  source was the key challenge, as was to enforce syncing of all the content posted simultaneously in Hindi.
Standardisation of District Portals with web CMS
Implementing Agency: NIC Orissa
Currently the district websites are designed, developed, and maintained by the

  respective District Informatics Officers of NIC. This practice has resulted in use  of different types of technology, design layouts, and navigation architecture etc. At times, citizens need to visit multiple websites for a single service. Thus,  there is a need to standardise the websites to bring uniformity in availability of  information to common citizens. NIC Orissa implemented a standardised  district portal framework which comprises of the following: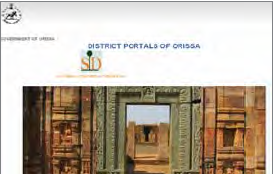 1. Citizen View District Portal (http://ordistricts.nic.in):
The District Portal has been built from the users' perspective. The contents and  formats include; profile, geography, administrative setup, directory, peoples'  representatives and many more. Citizen services such as acts and rules,  e-forms, policies, enquiries, guidelines to get caste and domicile certificate,  registration of documents, ration card, Right to Information.
2) Web CMS (http://ordistportalcontent.nic.in):
A comprehensive web-based  Content Management System (CMS) is designed based on the content  architecture of the National Portal of India (india.gov.in).
3) Moderation Portal (http://ordistsupadmin.nic.in):
The Web CMS follows a  workflow management whereby a Content Creator or Content Service Provider  (CSP) can submit a story, but is not published until the moderator cleans it up and the publisher approves it. The role of the  moderator is to accept or reject  the content. The publisher thereby approves the content to be displayed on the  citizen view portal.
Follow and connect with us on Facebook, Twitter, LinkedIn, Elets video