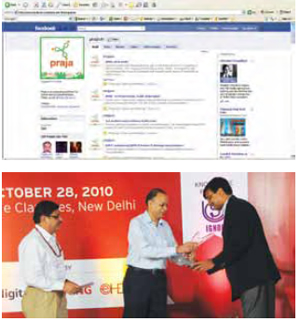 Praja.in
Praja aims to be a bridge between those who serve us and those amongst us who care and want to participate through its online initiative Praja.in that also has an active discussion forum. It also has a Facebook page and Twitter account to share information.
Set up as an online initiative to serve as a bridge between the government and the citizens it captures voices and opinions from the ground. The organisation uses web based tools—blogs, discussion forums and social media tools to connect with all stakeholders as well as for collaboration and coordination amongst its members spread across different geographic regions.
Praja's only medium of interaction is through its website Praja.in–all the project co-ordination, ideation and implementation is done through the site. This way the members do not have to meet-up regularly.
The praja model of online existence has been very effective to a large audience, with very minimal capital investments.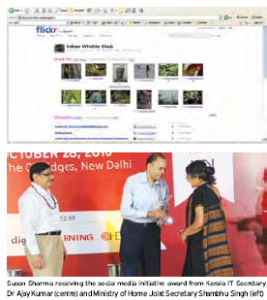 IndianWildlifeclub.com
IndianWildlifeclub.com is an online 'community of practice' of nature lovers created by harnessing the power of the Internet and social media to bring together nature lovers in a manner that makes it easy and interesting for each individual to contribute to, as well as learn from the diverse experience of others. It has a mission to bring together the environmentalist and the nature enthusiasts, in order to broadbase the dialogue on, as well as concern for environmental sustainability.
Promoting the site with Facebook is time saving and cost saving. While Facebook allows direct promotion, other social media services help spread the word. The "like" tab on Facebook is a good way to promote content to friends. Social networking and Web 2.0 technologies have given the community the opportunity to easily connect to people who share similar interests. Blogs on Google blogspot by members of IndianWildlifeclub. com help in attracting more audience and also encourages users to register on the site and showcase their blogs.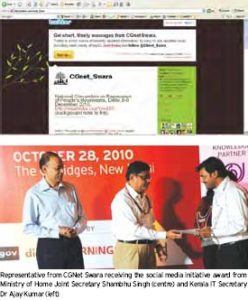 CGNet Swara

This voice-based community news channel was developed as a research project to create an alternate mode of information dissemination in remote areas allowing citizens to report and listen to stories of local interest. Reported stories are moderated by journalists who make them available for playback over the phone. It also uses other social media tools to meet its users' needs.
CGNet Swara is a voice-based citizen news portal, freely accessible via mobile phone, that allows anyone in tribal communities to report and listen to stories of local interest. Reported stories are moderated by journalists who make them available for playback over the phone.
Previously, the CGNet organisation delivered reports about tribal issues only via the Internet. Most of those reports were developed by people outside the tribal areas. CGNet Swara makes it possible for the tribals to provide information themselves by adding an audio interface over mobile phones, since mobile phones are increasingly prevalent amongst the target users.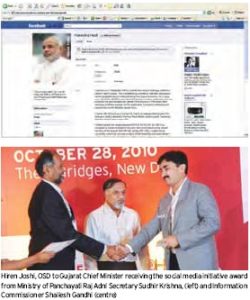 Narendra Modi

Gujarat Chief Minister Narendra Modi uses a mix of online initiatives, blog, twitter, Facebook—to reach out to the citizens. The initiatives are aimed at giving people opportunity to share their views, suggestions and faster dissemination of public messages. Users can post comments on these ideas and make them more refined and feasible.
Social media networking enables the CM to feel the public pulse. Here is an example to cite. In April 2010, Sultan Alimuddin, a student from Pandit Deendayal Petroleum University (PDPU) in Gandhinagar, used the social networking site Twitter to express his desire to meet the CM and discuss issues concerning Gujarat. Modi granted his wish and asked officials to arrange for a meeting with him. The student was largely impressed by the pro-activeness of Modi's social media networking.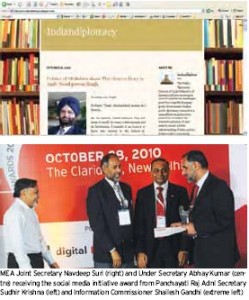 Public diplomacy division

Set up in year 2006, Public Diplomacy Division of India's Ministry of External Affairs, has the mandate to put in place a system to help India engage its citizens and global audiences more effectively on issues related to foreign policy.

The organisation was set up to address the challenges posed by a rapidly changing global environment. It has been using a slew of social media tools to project a effective and positive image of India.
Public Diplomacy Division uses Twitter channel to provide authoritative information on foreign policy related issues. It also uses the YouTube channel to share information about documentary films and events organised by the Indian diplomatic missions. Division's Facebook page has started to provide first hand accounts and information about some of its activities. Blogspot page provides a space for more substantive discussion on foreign policy issues, linking the foreign policy lectures with this page.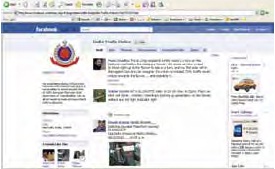 Delhi Traffic Police

The Delhi Traffic Police has taken up the online initiative through it portal that provides all important information to the citizens and vehicle owners. The DTP initiative on Facebook has enabled it to get information on traffic violation and traffic situation. DTP has a huge responsibility of managing the traffic of the Indian city that has the highest number of vehicles and an equally higher number of pedestrians.
The Facebook page is also used as a medium for gathering evidence against any traffic violation through community participation. Based on these evidences, subsequent challans are issued to violators. The 'Facebook effect' has added public good will to DTP, which is often slammed as one of the corrupt department, across states. Being widely noted for the prevalent corruption at lower levels of the department, DTP's top management has got another tool to keep a check on the law enforcement activities of the field staff. As of now, DTP has more than 39,800 followers on Facebook.
Follow and connect with us on Facebook, Twitter, LinkedIn, Elets video