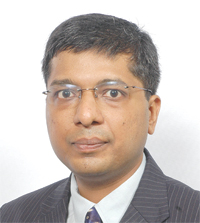 Anand Ramakrishnan
General Manager
Cloud Computing Services
Wipro Infotech
Security is a critical aspect of the cloud model. The cloud must support an environment that provides very high levels of security, since any security breach or loss of data can have a crippling effect on an organisation.
What is Wipro's vision of Cloud Computing? How are your IT infrastructure offerings being extended to embrace the Cloud?

Wipro has been in the forefront of IT services innovation and has been helping enterprises drive business transformation by harnessing the power of technology. Wipro's vision is to continue on this journey of innovation through Cloud Computing, which accentuates our commitment to help customers address the exacting demands of today's unpredictable environment.
Wipro Infotech's Cloud Computing Services offer IT solutions to address customer requirements on a pay-per-use model, with dynamic infrastructure provisioning capabilities. Wipro's Cloud Computing services are provided from Wipro's Tier 3 Data Centres which are state of the art Data Centres with high availability IT infrastructure that have been commissioned for Cloud Computing. The entire infrastructure is managed and monitored round-the-clock by Wipro's remote delivery centre, GSMC, which is a world class delivery centre with high levels of automation. Both, the Data Centre as well as GSMC have the highest levels of relevant industry standard certifications.
Wipro Infotech has spun off a new division to address Cloud Computing business. Tell us about the 'pay-per-use' model adopted by your company in this regard.
Wipro's Cloud Computing Services portfolio includes Infrastructure as a Service (IaaS) and Software as a Service (SaaS).
IaaS allows organisations to control their investments with a flexible pay-per-use pricing by choosing an Service Level Agreement (SLA)-driven virtualized IT infrastructure to match their business requirements without having to own it. The infrastructure is dynamically scalable based on the demands of the business, thereby ensuring lower Total Cost of Ownership (TCO). The IaaS offerings are:
Managed Compute

Managed Storage

Managed Backup

Managed Security

Managed DR
All the above have a granular pricing model. For example, Managed Storage is provided on a "per GB" of storage that is required by the customer.
SaaS provides organisations with a flexible pay-per-use pricing for business applications hosted in Wipro's Enterprise Data Centres. This SLA-driven offering ensures that customers can significantly bring down their TCO while focusing on their core business competency. The SaaS o­fferings are:
Core Banking Solution

Dealer Management

CRM and ERP

Supplier Portal

Document Management

Collaboration and Communication

Hospital Information Management Solutions
These applications have various pricing models that are based on the business needs of the Client. For example, The Core Banking Solution is priced on a "per Branch per Month" basis or on a "per Account" basis. The new division focuses on offering such solutions to various Industry segments in the Indian market.
What are the chief advantages of Cloud Computing? How suitable is it for deployment by the public sector?
The key advantages of Cloud Computing are:
Faster provisioning and higher availability of IT resources

Conversion of Capex to Opex, which is elastic and can be scaled on the basis of requirements

Eliminates technology obsolescence risk for the Customer

Eliminates IT management issues, since Cloud Computing delivers IT as a Service
The above advantages can be derived by any organisation, including Public Sector organisations.
Public sector enterprises run their applications on a diverse set of platform/middleware software. In this scenario, how can the cloud platforms be made viable?
Cloud Computing services gives various options of platforms and technologies, which can be leveraged effectively by Public Sector Enterprises. More importantly, Clouds also enable organisations to run a mix of platforms, which would prove to be expensive if an organisation does this on its own.
What is the response of government in India for Cloud Computing deployment? Are you catering to any government client currently? If yes, tell us briefly about the project.

Various Government Departments and Agencies are currently evaluating the feasibility of adopting SaaS and IaaS as well as Hybrid Clouds to leverage their existing investments as well. Wipro is involved in some of these discussions.
What are the security issues pertaining to the use of Cloud Computing? How serious are the security threats? How can these threats be resolved?
Security is a critical aspect of the cloud model. The cloud must support an environment that provides very high levels of security, since any security breach or loss of data can have a crippling effect on an organisation.
These issues need to be addressed through the architecture of the Cloud Service Provider. Security should cover both Physical as well as Logical aspects. Cloud Service Providers should ensure that they do not compromise on security infrastructure for lowering costs.
What are the business opportunities for Cloud Computing in India? How are Wipro's cloud offerings different from cloud-based solutions provided by other market players in this domain?
Cloud Computing has evinced interest across all customer segments, such as Large Enterprises as well as Small and Medium Businesses (SMBs) across industry verticals and hence this provides a large opportunity for Service Providers like Wipro.
Wipro's approach to both these market segments is to provide a business-centric solution, rather than a 'one-size-fits-all' solution. We leverage the domain expertise and the years of experience of having implemented IT solutions for various domains such as Banking, Telecom, Manufacturing, Healthcare, etc. For example, Wipro has an ERP solution specifically designed for the Auto Industry, a Core Banking Solution for the Cooperative Banks and Micro Finance Institutions and so on.
What are Wipro's plans for the Indian Cloud Computing market?

As mentioned above, Wipro will offer its customers pay-per-use model which will be customized to their specific needs at affordable prices. Wipro offers on-demand services for both infrastructure as well as applications. In addition to large organisations, Wipro has identified six clusters which includes, textiles, hospitals, auto ancillaries, urban co-operative banks, gems and jewellery and toys as target markets. The new division that has been formed for Cloud Computing will focus on these markets and segments.
"Exciting news! Elets eGov is now on WhatsApp Channels 🚀 Subscribe today by clicking the link and stay updated with the latest insights!"
Click here!