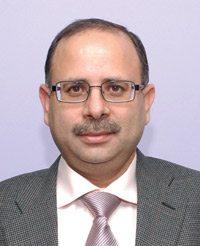 Sandeep Raina
Senior Vice President, North region, Cisco India & SAARC
How do you see the homeland security market in India?
According to a report by International Fire and Security Exhibition and Conference (IFSEC), the Indian physical security market is likely to grow to USD 3.5 billion market in India; this is expected to grow up to 30% year on year. Frost & Sullivan pegs the market for security and surveillance equipment in India at Rs 1,800 crore and the video surveillance market at Rs 866 crore, both of which have a compounded annual growth rate of 25-30 per cent.
India still has a lot of legacy analog based closed circuit television (CCTV) systems which provide for immense potential for conversion to IP based systems. Growth can be seen coming from various sectors such as urban security, public transport, hospitality sector, airport security, BFSI and Education. The Government remains the biggest spender on physical security or surveillance solutions. Customers are now looking to adopting a more holistic and integrated approach to physical security.
What is your approach towards homeland security?
Cisco's approach to physical security and safety is to bring together the industry leaders to integrate the most effective  designs, products and services to comprehensively deliver solutions that meet customer needs.
As customers converge their physical security infrastructure and operations, and begin using the IP network as the platform, they can gain significant value through rapid access to relevant information and interoperability between other IP-centric systems. This creates a higher level of situational awareness and allows intelligent decisions to be made more quickly.
Cisco's integrated and collaborative physical safety and security offering includes components such as securing networks, preventing disasters, responding to threats, communicating across channels, sectors and boundaries. Organisations must realise that network security and physical security are converging.
Cisco aims to bring to life the network's role as the platform to integrate command and control with sensing and actuation, citizen to authority interaction and incidence response in enabling right information to right people at right time.
Cisco physical security solutions are customised to meet the requirements of key verticals such as urban security, transport security, secure hospitality and airport security among others. These solutions enable customers to use the IP network as an open platform to build more collaborative and integrated physical security systems while preserving their existing investments in analog-based technology.
Can you elaborate on Cisco's Smart + Connected Communities framework?
Cisco's Smart + Connected Communities is an Urban Services Platform which aims to help cities around the world use the network as the fourth utility for integrated city management. It pursues solutions along seven tracks: Real Estate, Utilities, Transportation, Safety & Security, Learning, Health, and Government.
Under Cisco's Smart + Connected Communities framework, Cisco has announced pilot projects and announcements with the Government of Karnataka, Gujarat International Finance Tec-City's (GIFT) and Lavasa Township, which includes deployments of physical security solutions. At present Cisco is also discussing projects with various bodies, to offer consultancy services for deployment of security system such as cities, refineries, resorts and hotels, power generation plants, education institutes etc.
Please elaborate on the implementation challenges.

The Indian security market is largely analog. First-generation physical security systems, especially video surveillance systems (closed-circuit television systems) were controlled and video was transmitted in an analog format. These video streams are aggregated, switched, and dispersed to monitoring displays using analog matrix switching technology. While these analog devices provided basic monitoring and recording capabilities, they had several operational drawbacks such as lack of remote accessibility & storage, scalability, collaborations, etc.
The new approach to security is about bringing all the security systems on a common platform where they can exchange information and communicate to each other that aids in quicker identification of incidents, faster responding to threats and communicating across channels, sectors and boundaries.
The main challenge is to convert the already existing installations onto an IP network. In order for physical security to become a mission-critical application that operates on the IP network, both physical security and IT groups must work together for maximum benefit.
egov Team