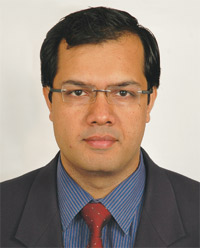 Jaijit Bhattacharya
Director, Government Affairs,HP India
What are your views on e-Government implementation in Urban Local Body (ULB)?

Urban Local Bodies (ULBs) are one of the two institutional structures for local governance, the other being Panchayati Raj Institutions (PRIs). After the 73rd and 74th amendments to the constitution, it has become imperative that local governance structures leverage Information and Communication Technology (ICT) to provide better governance, justifying the greater authority that they have now. In addition, the judicial order to ULBs to adopt double entry mercantile accounting system has further necessitated the adoption of IT for ULB governance since without IT, it would be near impossible to manage the complex mercantile accounting system.
Local governance is an important part of good governance as most citizens are normally affected more by local governance than by the other layers of governance. If we have to improve our quality and effectiveness of governance, it is extremely important to quickly implement e-Government in ULBs. This is also important from the national economic perspective since cities and metros generate a significant portion of the GDP and improving governance service in these areas would definitely improve the economic performance of the country. The larger ULBs such as  Municipal Corporation of Delhi (MCD), New Delhi Municipal Corporation (NDMC), Kalyan Domvile Municipal Corporation (KDMC), Municipal Corporations of Ahmedabad, Mumbai, Hyderabad, Kolkata, Bangalore and Chennai have all had major e-Government initiatives. However, many of the 2nd tier municipalities have yet to adopt any e-Government initiative. It is important that all municipalities start adopting e-Government. It would definitely help in standardising applications for municipalities which are created centrally and possibly delivered through a cloud solution. This will reduce the cost of implementation and speed up the delivery.
What are your company's offerings in the ULB segment?

HP has implemented several municipality solutions globally and in India. It  has deep expertise in conceptualising, developing and delivering municipality solutions. HP also specialises in setting up the entire computing infrastructure for municipalities, including the network, the Data Center and the internal cloud. In addition, HP has numerous software offerings for municipalities that can help in managing the e-Government infrastructure.
What are your views on the recent move of Ministry of Urban Development (MoUD) for state level software across ULBs in a state?
We think that is a very progressive policy. This policy will save considerable expenditure of the government and would help speed up the roll-out of e-Government in ULBs. It would also create standardised softwares and interfaces that would considerably reduce the cost of maintenance. It would be even more beneficial if the applications can be standardised at a national level. However, we do understand the procedural challenges for such a policy. The policy can be further strengthened if the ULB applications at the state level are delivered from a state level cloud.
What challenges did you face while implementing e-Governance in ULB?
The usual challenges that are faced during ULB implementation are related to data, people and processes.
The quality of data is extremely poor and in some cases non-existent. Given the Utilisation Certificate (UC) based funds disbursal, the accounting records are not robust, thus forcing another layer of initiatives for cleaning up the data and the accounts and in some cases to forcefully close accounting periods that have not been closed for years, if not decades. This also means putting guesswork data in the system. Then obviously, there is the challenge of the people who are disturbed by the new systems. Change management and training become a significant activity. Since the staff are also busy with their daily work, it becomes all the more challenging to get their time and attention for the change management initiatives.
Finally, there are major process changes that are required for a proper implementation. Given the resistance, the process changes are compromised leading to a system that has short shelf life. This leads to a national waste.
Having mentioned the above issues, we are confident that ULBs in general have reached the maturity level to rapidly start implementing e-Governance.
Gayatri Maheshwary
Follow and connect with us on Facebook, Twitter, LinkedIn, Elets video