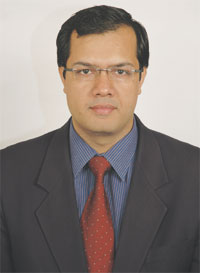 Jaijit Bhattacharya
Director Government Affairs, HP India
Today's Data Centre and IT infrastructures face unprecedented challenges. What are your views on this? How well equipped are your Data Centre to face the challenges?

Data Centres have today evolved to become very complex in nature. The growth of server and storage virtualisation have contributed to signifi cant sprawls within the Data Centre. In India, we're hearing customers running of Data Centres space, power and cooling, which poses a huge challenge in managing growth. We are also seeing a large number of customers evaluate strategic business continuity planning of their Data Centres.More critically, if  India has to move to a digital society, supported by traditional Data Centres, it would imply a power consumption of about 1 million GW with an assumption of 10% penetration of  Internet and 100 W of electricity consumption per person for
Internet usage. This is clearly not a sustainable option as it would require 2 million nuclear power plants to be setup to support this kind of IT usage.
HP's Data Centre Transformation portfolio is designed to turn organisations' top Data Centre issues – energy effi ciency, automation, virtualisation, consolidation and business continuity – into opportunities for competitive
advantage.
To address this, HP recently announced a breakthrough strategy to transform the Data Centre with the Converged Infrastructure architecture. The HP Converged Infrastructure integrates existing silos of compute, storage, network and facility resources with unifi ed management to deliver a virtualised, highly automated technology environment. With pools of shared services that can be leveraged on the fl y, organisations can increase the fl exibility of their environments and create elastic technology environments that will allow them to scale up and down as needed.
We believe the Converged Infrastructure is the architecture of the future that will allow organisations to unleash the full potential of virtualisation, private and public clouds.
How can HP help in the optimisation and the consolidation of the regional/local Data Centre?
HP Data Centres Transformation initiative permeates everything we do. We take a comprehensive view of the Data Centre to help agencies transform their infrastructure environments to next-generation Data Centre they need to be successful.
HP is the ideal partner to help government agencies with IT Transformation. HP provides government agencies a uniquely "full story" on IT transformation; an integrated portfolio of software, hardware and services, backed by experienced, professional staff and a wide-reaching partner network (including SAP, Microsoft, Oracle and among others). Only with this comprehensive  approach, can the potential of Data Centre Transformation be fully achieved, and the sought-after effi ciencies, "business outcomes", security and  environmental benefi ts attained. We are also using our own massive Data  Centre consolidation experience as a success story, where we have consolidation 85 internal IT Data Centre into just six Data Centres worldwide. We also have fi rst-hand experience with creating an optimised, cost-effective,
secure network for our employees worldwide.
What are the government clients that HP is currently serving?
HP India has a portfolio of solutions, people, processes and technologies that can help government agencies serve their citizens better. These are based on best practices learned from around the world. Some of our key customers in India include
Government of Karnataka, where HP has built the fi rst of kind e-Procurement solution that is based on a pay per use model.
Life Insurance Corporation, where HP has built an Enterprise Document Management system (DMS) solution. The solution includes digitisation ofall policy holder documents enabling  LIC to extend 24/7 online services.
Himachal Pradesh, the fi rst State Wide Area Network (SWAN) deployed in the country
Maharashtra, HP (India) in collaboration with Amrita Technologies has enabled the Medical Education and Drugs Department (MEDD), Government of Maharashtra, to build a comprehensive healthcare and educational informatics network connecting all the important functionaries of MEDD, Maharashtra.The  project involved connecting 14 government medical colleges and 19 affi liated  colleges through Information Technology. The project would be implemented  on a 'build, own, operate and refresh' (BOOR) basis.
Tell us in detail about HP's virtualisation solutions.
Virtualisation has moved from being a technique used to solve technical problems to a core element of Data Centre strategy. It's about making virtualisation technology a seamless part of the way IT delivers services, helping drive out costs and complexities throughout the computing  environment. It's about reducing energy and operating costs while  simultaneously increasing availability, security, and compliance.
At HP, we  believe that convergence is the catalyst to unleash the full potential of virtualisation, private and public clouds. HP Converged Infrastructure calls for an end-to-end virtualisation of resources in the Data Centre and unifi cation under common management. The new HP Converged Infrastructure Architecture delivers a number of technology innovations. With HP Virtual Resource Pools, modular standardsbased technology assets can be quickly assigned or repurposed to support any workload or application needed from enterprise, to cloud and high performance computing applications.
HP's FlexFabric integrates thousands of servers and storage resources into a single virtualised, high-performance and low-latency network fabric. Built on industry standards, FlexFabric is highly scalable and can consolidate multiple protocols. For the fi rst time, network connections and capacity can be fully virtualised from the edge to the core. HP Insight Dynamics VSE is the world's fi rst software integrated by design to let technology professionals analyse and  optimise virtual and physical environments in the same way to consolidate  servers and reduce energy use.
HP Data Centre Smart Grid creates an intelligent, energy-aware environment across IT to reduce energy use.

What are some of the other emerging trends and latest technologies in Data Centre?*
We are increasingly seeing customers and governments in India look at ways in  which they can reduce power and cooling within the Data Centres. With  constraints on the availability of both these resources, customers are looking at ways in which they reduce their footprint and be eco-friendly too.
HP has been simplifying environmental effi ciency for its customers by unifying  energy monitoring systems, management tools and facilities services into a  seamless architecture that tracks facilities' capacity and activity to report back  to IT. With real time monitoring and usage reports, the HP Data Centre Smart  Grid is "the brains" behind helping customers reduce energy consumption. The  HP Data Centre Smart Grid represents the next evolution of HP's energy effi  ciency portfolio, building on innovations that include HP Data Centre Environmental Edge as well as HP Thermal Logic and the HP Performance Optimised Data Centre (POD).
HP also recently launched its Carbon Emissions  Management Service (CEMS) in the Indian market. The service will help  government organisations and enterprises accurately calculate energy consumption and greenhouse gas emissions emanating from information technology assets, at the same time improving energy effi ciency.
State Data Centres are being set up in India to consolidate services,    applications and infrastructure to provide effi cient electronic   delivery of G2G, G2C and G2B services. How is this move opening up of the opportunity for the private sector?
For government agencies, technology innovations provide opportunities to improve services, increase operational effi ciency and accomplish agency missions more effectively than ever.
The State Data Centres will play a crucial part in transforming a patchwork of  interconnected technology systems to create a technology infrastructure that  is streamlined, fl exible and secure. In transforming this, agencies also seek to  show environmental leadership and choose solutions that reduce waste, save energy and conserve natural resources.
At HP, we do not just want to provide Government with technology; we want to partner with agencies to make a positive difference in their world so that they  might then make a positive difference in ours. HP can help the government  lower the overall cost to build, maintain or expand the Data Centre – resulting  in reduced carbon footprint – by providing energy effi cient server and storage solutions, power and cooling software, and critical facilities services.
A recent study by Springboard Research suggests that overall IT spending by  India's Public Sector is estimated to grow at a Compounded Annual Growth  Rate (CAGR) of nearly 19% between 2007-2011. The private sector can play a  key role here by providing the technology, services, support, innovation and  skills that local, state and national governments are looking forward to.