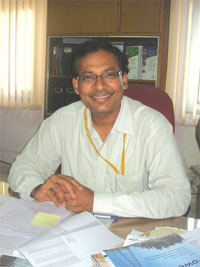 Kapil Mohan
Director (Distribution), Ministry of Power, Govt of India
---
"The Restructured Accelerated Power Development & Reforms Programme (APDRP) is a path-breaking scheme focusing on improving financial viability of state utilities and sustained reduction in losses."
"ICT occupies an important position in the power sector, particularly the distribution sphere."
---
What role can ICT play in improving the power sector services in the country?

ICT occupies an important position in the power sector, particularly the distribution sphere. I am emphasising on distribution as it is an important aspect of power and ensures that the electricity finally reaches the consumers, thereby generating revenue for the whole sector. Here ICT has primarily two roles to play – to carry out electricity audit and accounting linked with GIS to track electricity fl ow to the distribution grid, and secondly to improve the consumer experience.
Electricity audit and accounting is useful to determine the electricity losses which account for  one-third of our power generation. Where does this power go? It is either wasted due to bad  technology and bad state of the distribution grid or most of it is stolen. Electricity audit and  accounting helps us determine where the unaccounted power is going. Data collected through  the metering and billing module which oversees the electricity and cash fl ow, can determine the amount of unaccounted electricity. As far as services for our consumers are concerned,  ICT has enabled host of citizencentric services like knowing the status of their applications,  online payment of bills, checking their power consumption, etc.
In what ways does the Restructured APDRP seek to bring reforms in the power sector?
The Restructured Accelerated Power Development & Reforms Programme (APDRP) is a  path-breaking scheme focusing on improving fi nancial viability of state utilities and  sustained reduction in losses. Under the R-APDRP, schemes would be undertaken for  renovation and modernisation of substations, transmission lines and distribution transformers, augmentation of feeders and transformers, feeder and consumer meters, high  voltage distribution system (HVDS), consumer indexing, SCADA, computerised billing, etc.
The INR 52,000 crore project will be implemented through a team of empanelled IT  consultants and IT implementing agencies. We sincerely hope that the scheme will bring about a substantive generational change in the power sector in the country and also lay down  the foundation for a Smart Grid. For the fi rst time we are implementing the Supervisory  Control and Data Acquisition/ Distribution Management System (SCADA/ DMS) solution for  real time monitoring and control of the distribution system. With this we will be able to do  remote infrastructure management of the grid, sitting in a substation.
What has been the response from states to the programme?
After the initial reluctance, the response from the states have been very good. We have  already sanctioned INR 3561 crore worth initial loan amount for projects in 1021 towns in 15  states in the last fi ve months. As I mentioned earlier, Andhra Pradesh and Rajasthan have  already fl oated tenders. We have been vigorously pushing the project emphasising that it is  in the interest of the states to curb power losses.

Lot of emphasis has been given on the use of ICT in the power sector and major   budgetary allocations have also been made in this area. When will the customers get to see its benefi ts?
With major emphasis on the use of ICT in various programmes like R-APDRP, Rajiv Gandhi  Grameen Vidyutikaran Yojana (RGGVY), our consumers might start seeing lot of  improvement in our services. Power wastage in transmission and distribution and power  thefts are also bound to come down in the coming years. Since these projects involve major  infrastructure, we can't give any fi xed timelines for results. But I can positively say that in  the coming three to seven years the results will be there for all to see.
What challenges have you faced in the implementation of ICT in the power sector?
When we were chalking out the RAPDRP, we held extensive consultations with NASSCOM and  10-12 major IT industry leaders, Central Power Research Institute, other academic institutes,  including distribution utilities regarding the ICT component.
One of the real time challenges is capacity building for distribution utilities so that they are  able to operate the systems once launched. For this we have fi xed a clause that the company involved in the system integration would also have to maintain it for a period of three years.  We plan to use this interim period for training our manpower so that they are able to realise  its full potential.
What mechanisms have been adopted for progress monitoring?
The APDRP web portal has features for online project monitoring, fund releasing, quality  control, and reporting mechnism. The access to all these features is password protected. So we  directly monitor project progress through the portal. We are also in the process of hiring third  party evaluation agencies who will also monitor the progress independently. These agencies  will report directly to the Ministry of Power. So we have a strong monitoring component built in our system. However, to be fair, we have not reached a stage where we can assess the  project by its performance parameters and claim that we have achieved our objective.

The progress based monitoring mechanism piloted in RGGVY was your brainchild. Can you share with us some of your experiences in the project?
If you try to implant any feature midway in a project, the results are not bound to be  favourable. But even then we went ahead with what is known as 'milestone based monitoring'  system. So 286 districts undergoing electrifi cation under the scheme are being  monitored online on the basis of milestones achieved. The information for this is picked  directly from the project sites. Hopefully this system is expected to stabilise withing the next  3-4 months.
Few years back, Power ministry was working on a Broadband over Power Line (BPL) technology. What has been the progress on this front?
Carrying broadband over power lines requires uninterrupted lines. In the present scenario  where our distribution lines are in such dilapidated state, BPL seems impossible, atleast in the  coming three years. The BPL project is being handled by the Power Grid Corporation,  although my department would have loved to do it since our reach is defi nitely better.
Follow and connect with us on Facebook, Twitter, LinkedIn, Elets video