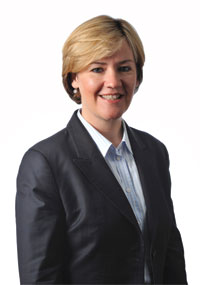 As Vice President of the Public Services group for SAP's Asia Pacific Division, Adaire Fox-Martin oversees the strategic direction and activities in the area of public services in the health, education and defence sectors across the region and executive relationships with customers and partners. Ms. Fox-Martin is a key member of the SAP leadership team and plays a lead role in delivering SAP's offering to public secto­r customers. A respected thought leader, Ms. Fox-Martin continues to be invited at seminars and conferences by the media and analysts to address public services issues ranging from e-Government transformation and reengineering of Government processes to public service policies. She is regularly featured and quoted in numerous publications throughout Asia and Australia. Ms. Fox-Martin has over 20 years of experience in the field of information technology and management.
Effective e-Governance can take information technology (IT) to the common man, while helping Governments to regulate their services in line with the changing needs of both citizens and stakeholders, as well as develop the economy. Recognizing the growing importance of e-Governance we bring you a much needed, regular, interactive platform, where your questions on a pre-defined theme are answered by Adaire Fox-Martin, Vice President, Public Services, SAP Asia Pacific and Japan.
While information needs and availability have assumed significant proportions across the board, its easy, accurate and relevant availability in government, and for governance, poses unique challenges relating to its multiplicity of sources, lack of integration, unstructured nature, non-availability of tools for extracting and exhibiting, etc. Right to Information Act (RTI) has further accentuated this situation. This edition addresses a few questions on how contemporary IT can assist in meeting and overcoming these challenges and thereby improve decision making and governance.
Is the information need any different in government? What are the key challenges?

Government requires far more good quality and accurate information than any other. Uniqueness of information needs in government is on various counts such as need for macro information and not just micro; number of factors and constraints for planning; joined-up government information needs; different levels of confidentiality; extensive sensitivity analysis of information; unique models of analysis and the like. While these unique nesses pose extensive information challenges, there are several other challenges that arise due to factors like manual, non-integrated, unstructured, and multiple sources of data. Incidentally, information management is no more just a desired situation but also a mandatory requirement with the Right to Information (RTI).
Is there any recommended method or an IT path to deal with information challenges in government?

Any such recommendation is based on certain tenets (characteristics) and its gradual implementation. Some of the key tenets that are recommended based on various implementations globally are as follows:
Data cleansing and de-duplication to achieve "single" version of truth

Syndication across multiple sources (existing and new)

Analysis of text and unstructured information to achieve "complete" version of truth

Adoption of integrated applications for transaction processing

Document, Content and Knowledge Management capabilities

Availability of Portals, Dashboards and Information Explorers for analytical processing

Methods and policies for archiving
A solution which comprehensively meets the above criteria would qualify to be a recommended solution for managing information lifecycle in government.
Could you provide a few scenarios and examples of how IT has been used in government for information management?

Consider RTI on a Portal along with active redressal of queries which can be answered only by sifting through a bunch of Emails, Word files, Excel Sheets and PowerPoints. What about a dashboard wherein a citizen could visualize and simulate his health risks, life insurance costs and mortality probability based on the nature of his diet and other habits like smoking and drinking? Talking about public security and using IT to decipher information passed over the mobile, internet, blogs, twitters etc., consider a tool for comprehensive text analysis in multiple languages. Consider a tax agency improving its effectiveness in identifying incidence of tax avoidance based on a set of parameters that can run through millions of tax returns. The above are just a few of the scenarios that have been implemented by agencies like the US Health, Naval Intelligence Service in Thailand, several Police organizations in Europe and Asian countries, US Internal Revenue Service, Ministry of Finance in France, Revenue & Customs in UK etc.
Are there specific tools and applications available for handling information challenges in government?

There are readily available and easily deployable software solutions available from world's leading software vendors. For example, Business Objects portfolio of solutions from SAP provides comprehensive information management on a single platform and includes features like query and reporting, master data management, text analysis, ad-hoc reporting, predictive analytics, dashboards and visualizations, mobile intelligence etc. Interestingly, a large base of users of such solutions is government. These solutions could help the E-Governance programs and other ICT implementations in government in a big way. The unique ID (UID) project itself could be one of the greatest beneficiary of such solutions wherein it is desired to get a "single" and "complete" version of truth (citizen in this case)!