MCH building, Banjara Hills, Hyderabad. It is the place where the pilot of one of the most renounced electronic public service delivery points, eSeva, took off and shortly got replicated, with the establishment of 52 centres, all over the Twin cities and Ranga Reddy district of Andhra Pradesh. Later, these centres were not only opened all over the state numbering  almost 300, but was also adopted in some or the other form by states like Tamil Nadu and Gujarat, which are pioneers in ICT driven administration in India, besides the Telugu heartland.

eSeva is one of the modes of service delivery of the state which has otherwise different set of  Electronic Service Delivery (ESD) mechanisms like Rural Service Delivery Points (RSDP)- eKiosks functioning at Mandal head quarters / village headquarters, Rajiv Internet Village Centres- a single window mechanism for providing government services and computer education and solutions like tele-education and tele-medicine for people living in villages and rural areas and AP Online Centres- a TCS initiative with five percent stake from state government.
Engaged in a BOOT model for five years with CMS Computers, now state government is looking after over all operations of eSeva centers, excluding maintenance and manpower, which has been outsourced to Spanco Telesystems and Solutions Ltd. For connectivity, eSeva centres are banking on BSNL leased line network. To ensure uptime, Service Level Agreement (SLA) has been put in place since the very beginning. However, the uptime of network has not been constant. In current times, the EDS department is planning to migrate to an MPLS architecture, which may enable redefining of SLA with service providers.
Also Read: eSeva: Andhra shows the way : P.M. Kuriakose, Commissioner, eSeva
Impact
As Yedukondalu Kumpati, project manager, EDS, AP puts, "With electronic service delivery the collection process (of government bills) has simplified with less consumption of time and resources of the governments and administrators. Subsequently, the bureaucracy now has enough time to focus on the core businesses of the government."
eSeva is one of the modes of service delivery of the state which has otherwise different set of  Electronic Service Delivery (ESD) mechanisms which includes Rural Service Delivery Points (RSDP)- eKiosks functioning at Mandal head quarters / village headquarters

With all IT deployments, the state is now able to generate substantial amount of revenue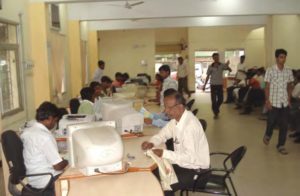 within deadlines. The number of transactions per day has gone to a level of 1.2 lakh, which furnishes nearly INR 20 Crore a day. In terms of sustainability, the manager said that as of now the eSeva mechanism has managed on its own and now there is rarely any thing taken out of government's pocket for re-vitalising these centers, as the case used to be in the initial times when government spent heavily on these service delivery points.
Citizens visiting eSeva kendras look calm, satisfied with the pace and quality of the service delivery, unlike earlier when people used to stand in queues for hours. "Earlier I had to go to different government offices for different utility bills and had to stand for hours at each of the places. Now having a single window service delivery at a center proximate to my place, I can drop in any time between 8 AM to 8 PM and pay my bills with in span of 20 to 30 minutes," Mr Kirloskar, a medical researcher, said at one of eSeva Centre in Hyderabad.
Kurpa, trade officer for a finance company, submitting his bill at a centre said, "I am coming to pay my bills to eSeva centres for past three years, but rarely have I confronted any issue, and particularly bribery, while my visits here." The transaction cost for availing services at these centers can vary from Rs 2 (usually for utility bill payments) to Rs 60 (for passports). With proper sitting arrangements and air coolers and conditioners, the eSeva centre has an electronic queue system where token numbers are given to every citizen, who hardly after waiting for 15 minutes gets his/her turn and is assisted with accordingly.  Every counter makes up to INR 50K to 2-3 lakh in a day, which oscillates between peak and non-peak timings of the month. On an average, a centre as a whole makes up to INR 10 lakh to 30 lakh.
The operators
The operators, according to their shifts, work from 8 in morning to 8 in the night at these centres and their number vary between nine to twelve at any point of time between the given time span. An operator is paid Rs 3600 for an eight-hour shift. For some operators, the amount is too low to compensate for the time and energy the job takes and for some it is 'something better than nothing'.
Security Concerns
With the good amount of money that is collected every day in these centers the chances of it being vulnerable to criminal attacks increases. In the past years, there have been half a dozen instances of daylight robbery and dacoity at eSeva centres in Hyderabad. Nevertheless, till now there has been no precautionary initiatives taken by the state government.  This was a common concern across centres in Cyberabad, a name attributed to the city, which has made great strides in IT since 1999, 2000.
Follow and connect with us on Facebook, Twitter, LinkedIn, Elets video