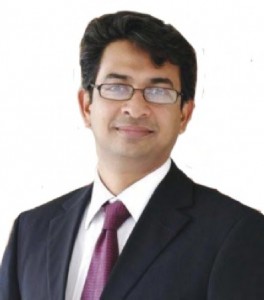 Rajan Anandan
MD, Microsoft India
We expect to spend almost 60% of our investments towards promoting innovations in India while the remainder will be focused towards our special programs for digital inclusion and towards expansion
---
Give us an overview of Microsoft India's participation in making India e-Governed country.
Microsoft has been working in partnership with the Government of India to provide  Innovative egovernance solutions that takes IT to the grass root level. As leaders in the Indian  e-governance space for over 17 years, Microsoft has been engaging closely with various  departments of the Central and State Governments, and Public Sector organizations and has  developed more than 300 applications. Microsoft believes that technology ensures high quality cost effective services, especially when there are budgetary constraints.
Today the government aims to develop a common infrastructure which would result in a  series of benefi ts. It is also looking to create a vibrant economy through effective business  friendly policies and services, as well as infrastructure support.
This empowers case workers,  back offi ce staff and executive management to concentrate on their professional roles even as  Microsoft software automates the information fl ows; and provides the infrastructure to allow  work to be carried out wherever the service is required.

What are the emerging segments for Microsoft India?

India is essentially a growing economy, though the current economic situation has impacted  the pace of growth. In order to increase the pace of economic growth [of India], it is imperative  to come up with innovative business models and products. Some of the unique  segments emerging here are SMB market, online and mobile computing.
What role can Microsoft play in developing applications for urban local bodies?
Microsoft along with its partners addresses the specifi c requirements of the urban local bodies (ULBs) in the gamut of property tax, birth & death certifi cation, licensing, works  management, building plans, rent & lease, tender management, citizen grievances etc. The  solutions address three key challenges of the ULBs, viz. citizen facilitation, revenue  maximization and enhancing effi ciency of internal processes of the ULBs. The solutions have  already been deployed in couple of States and Microsoft is spearheading the percolation of  these solutions to all the States in the country with the help of its partners.

What are the challenges in working with the government?
Through its ambitious e-government plans, the Government of India over the years has  undertaken various projects that meticulously work towards uplifting the local IT ecosystem; and Microsoft will continue to collaborate with the government in the technological progress of the country.
However, some of the challenges that we experience are during implementation. For instance,  certain mandated operational systems can sometimes pose a technical barrier. As is  the case across all business enterprises, limited transactional experience with buying of  enhanced external ICT services, procurement process, sales cycles and price sensitivities are some of the other key concerns.
In addition, highly skilled IT workers are inclined to work with IT software and services  companies, which pose the challenge of having the right ICT talent pool at all times. What's  heartening to know is that there are plans to build ICT capacity for government agencies as  part of the NeGP. The government in the long run plans to address the skills shortage in its 11th five-year plan, with focus on greater investment in establishing and putting together  IT-related courses. The government is also working steadily at developing stable modern  transportation systems, enhanced power supply and reliable telecom and Internet networks  across the country, which will benefit the industries across board.
How has the slowdown affected IT market in India?
Economic slowdown is a reality that has brought numerous challenges. However, the current situation should also be viewed as an opportunity to initiate a meaningful dialogue with customers vis-a-vis optimal use of IT and how we can help them manage their costs efficiently.
With increased focus on cost control, companies today are investing in solutions and processes  that enhance productivity, thereby ensuring cost effectiveness. Companies today have reduced travel costs, communication costs, electricity costs etc. Microsoft with its unique IT  solutions is helping its customers sail through these testing times. Rather than viewing the  glass as half empty, it is essential to view it otherwise. The key to transform challenges to opportunities is to invest heavily in innovation, which will in turn ensure consistent growth.

What is your take on the recession affecting costs i.e. do you think companies will be able to do cost cutting?
Economic slowdown is a fact and reality that has been established, but things are definitely bound to change, though the time period is uncertain. It is this uncertainty that is urging organisations to control/cut unnecessary costs.
We are seeing this translate into companies investing in solutions and processes that enable  them to deliver immediate productivity and drive cost efficiencies. For instance: Reduced travel and communication costs, cutting back on plane trips and hotel stays is one of the most  obvious ways for companies to save money, but that must be balanced against the value of person-to-person interaction. Today, video conferencing and new collaboration tools are  making virtual meetings much more like face-to-face interaction and companies are finding that in many cases, information sharing and collaboration can be accomplished more  efficiently and for much less cost when done virtually. A prime example of this would be  Raymond Limited which has reduced costs by 30% using Microsoft UC solutions.

The key to transform challenges to opportunities is to invest heavily in innovation,  which, in turn, will ensure consistent growth"
What are the plans/goals in the near and long term for Microsoft India?
Our long-term business and citizenship commitment is to bring forth the benefits of technology to those who are yet to experience it. A vast majority of the global population  (estimated five billion), live in countries with a developing economy. These countries are they  key markets for Microsoft. We will continue to innovate our products and business  models to ensure that benefits of technology are enjoyed by everyone, and not limit it to the  developed economies.
There are other opportunities as well: the domestic IT uptake in India is low and therefore the  environment is far more ready and open to change. Likewise, poor IT infrastructure means an  opportunity to further unleash the IT potential. For example, we believe that the three  screen strategy- Mobile, TV, PC (in chronological order) will work very well. In the next phase  of our growth, we will expand our reach across the country and work with system integrators, ISV partners and the developer community to develop solutions and services which will  enable growth of the Indian IT market. Our recently launched initiatives like DreamSpark  and BizSpark have been introduced to encourage the spirit of entrepreneurship in the country  by providing a range of software to students and startups at no  charge.
Further, we expect to spend almost 60 % of our investments towards promoting innovations in  India while the remainder will be focused towards our special programs for digital inclusion and towards expansion of our sales and marketing business.