Data centres are the chief contributors to the degrading environmental conditions of our times and there is an absolute need for adopting the 'go green' philosophy.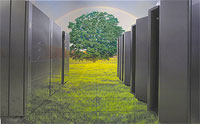 Climate change and global warming has posed us with one of the biggest challenges of our time – reducing our ecological footprints. 'Going Green' mantra is echoing in every corner and corridor of every enterprise. There are multiple contributors to the degrading environmental conditions of our times and no one in particular can be held entirely guilty for it. One of the chief contributors is definitely – Information and Communication Technology (ICT) which has considerably contributed to the global carbon emissions and data centres tops the list in this respect. Data centres which replaced our paper file racks are the repositories of huge amounts of digital data for any organisation– big or small. Data centres   enabled us to become paperless. However, everything comes with a price. And data centres are no exception. They are considered to be one of the predominant ICT  components that is taking a toll on the environment. A lot of ink has already fl own in    this regard and still we have a long way to go in making our data centres green. The question is therefore to create and manage data centres that would be a lesser burden on our planet-earth.

ENERGY CONSUMPTION
One of the key issues surrounded with green data centres is combating the amount of energy consumed by a data centre. According to a research done by Emerson Network Power, due to increased data centre energy consumption, there has been an increase in the global electricity  prices by 56 percent between 2002 and 2006. The components that comprises the data centre eco-system are computing, network and distribution. Each of them is of  paramount importance. Speaking to egov Pratik Chube, Country General Manager-Product  Management and Marketing Emerson Network Power, India said "We propagate the use of low  power consuming processors which will have an cascading effect on the supply side thus  reducing power consumption and making data centres energy effi cient" He further added  that, "If one can reduce 1 watt of energy consumption at the compute side, there can be a  three fold impact on the supply side". Therefore, it is important to say that power  management involves monitoring of power right from the work fl ow. This essentially means  monitoring  of power at the entry level to the Power Distribution Units (PDUs).
If one tries to analyse world's most used search engine, Google, it would be surprising to know  that, one single Google search query consumes 2 to 8 watt-hours of energy. If we average this out to 4.5 watt hours per query, and consider Google is easily handling 400 million queries a  day, then we can see 1,800,000,000 (1.8 billion) watt-hours of energy being used daily just  for basic search queries. It is almost like Google Complex itself uses the same amount of power as 3,333 California homes.
Speaking to egov about energy issues of data centres, Karthik Ramarao, Director- Technology,  Systems Practice Sun Microsystems India said, "Data centres typically have large numbers of  servers located closely together, emitting large amounts of heat that need to be cooled with  special equipment, thus requiring even more energy consumption". The energy consumed in  data centre is roughly categorised into server power supplies, storage and communications,  processors, computing, lighting, cooling, UPS and distribution. An ideal green data centres is  one which is energy effi cient, uses lesser fl oor space and provides better cooling procedures  and makes the optimum usage of the servers. A typical data centre has some inherent needs  for power consumption in one way or the other. Therefore, power management becomes an  integral part of making data centres green.
VIRTUALISATION
Virtualisation is a technology that allows the operation of several operating systems on one  server. It requires lesser usage of the number of servers and allows its optimum utilisation. Therefore, virtualisation claims to be a true enabler of green IT in general and green data  centres in particular! When we posed this question to various stakeholders they agreed with us. Rajat Mehta, Country Category Manager – remote client colutions personal systems  group, HP India Sales commented, "True, one of the primary goals of almost all forms of
If one can reduce 1 watt of energy consumption at the compute side, there can be a  three fold impact on the supply side".
Pratik Chube, Country GM-Product Management and Mkt. Emerson Network Power
virtualisation is making the most effi cient use of available system resources". Therefore it  would not be wrong to say that virtualisation aims at consolidating and  utilising the hardware in an effective way, thus making optimum utilisation of the system resources.  Virtualisation tool is spread across servers, storage, networking framework and software stacks, thus providing a robust and comprehensive span of technologies to the customers to  adapt to their own requirements.

SCENARIO IN INDIA
In India, a typical large data centre requires an additional watt of power for overhead,  including losses in power distribution, cooling and lighting for every watt of power consumed  by IT equipment. This is referred to as the "burden factor" which may range from 1.8 to 2.5  times more power. "Currently, data centres have only 20 percent utilisation with 7 percent  effi ciency and some servers do not get used at all" said Ramarao. In such a scenario, visualisation proves to be the ultimate remedy for those who are faced with growth  challenges, compute power and data centre utilisation issues. Ramarao further says, "Today,  the emerging trend is x86 server virtualisation, which most companies are focusing on now". It is envisaged that India is gradually embarking on the path of virtualisation and therefore towards a greener future.
FUTURE TRENDS
Talking about the future of data centres, Ramarao further adds, "Worldwide, the total power  consumption of data centres is expected to double between 2005 and 2010". This is refl ective  on the current scenario which Ramarao throws light upon, "today most large data centres consume 10-100 times more energy per square foot than a typical offi ce building and most of  the data centres have become chillers (over cooled), which again eats into power to cool". It becomes important to look at the best practices of power management and cooling for energy  effi cient data centres. If we look at some of the emerging trends that will occur in the sphere of  green data centres – one can ascertain that there will be a lot of work on strategic designing  for energy optimisation and control. Talking about some of these future trends of  data centres Faisal Paul, Head ESS – Marketing & Growth Initiatives, HP India told egov that,  "IT environmental lifecycle management and asset lifecycle planning will be some of the chief  trends helping global customers to move towards faster green business technology and  with lesser risk".
We have a promising future in India with such technologies and vision in place for the green  data centre drive. Attitudinal changes would also go a long way in making ICTs for enabling a greener India. Also, with the economic slowdown, India Inc as well as the government  departments should look at green data centres as an effective cost cutting tool, rather than  shying away from their ecological footprint.
DOS AND DON'TS OF MAKING DATA CENTRES GREEN
Identify and report to the operations team about the servers which are no longer in use.
Incorporate blade servers as they use 10 per cent lesser power compared to typical ones.
Incorporate best cooling practices such as hot aisle / cold aisle rack arrangement and sealing fl oor gaps etc.
Reduction in the number of servers will ensure less usage of energy.
Make suer that each server is used to the optimum.
Do not over-cool your data centres. Keep the cooling at the right temperature required.
Try innovative ways to use the heat generated from a data centre for other activities.