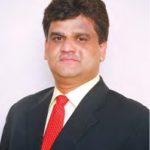 Prakash Rane
Managing Director, ABM Knowledgeware Ltd.

"Proper implementation of our  Property Tax software has capability to fund the entire e-Government budgets of that
ULB, including long duration hand holding support"
What is the core competence of ABM Knowledgeware in the space of e-Government ?

e-Government is truly visible in the form of time-bound service delivery to citizens in a more efficient and transparent  manner. ABM has been operating in this  niche area of Information and Communication Technology (ICT) enabling  citizen and consumer services for over a decade. ABM has provided these solutions necessarily by blending government Process Re-engineering and ICT. As on date  we have over 150 Citizen/consumer Facilitation Centres (CFCs)- A single window for citizen services running  in India. These CFCs are delivering end to end G2C and G2B service covering almost 150 different citizen services (G2C) touching day to day lives of the citizens. Approximately, 65 lakh  citizen services were delivered through our e-Governance solutions last year.
Can you tell us about your  e-Government project carried out a Municipal Corporation of Greater Mumbai (MCGM)?
ABM in Consortium with SAP has implemented e-Government solution for MCGM which covers almost 70 percent of the functions of MCGM. The solution is a combination of SAP and software solutions designed/developed by ABM for Property Tax and Water Billing.
MCGM has over 3500 IT users and 200 locations connected on a state-of-the art data centre. After successful implementation, ABM is now responsible for managing the entire software system of MCGM for the next 3 years. ABM manages the software setup which handles more than INR 22,000 crore worth financial transactions per year in addition to all the citizen services in MCGM. This project stands out as an exemplary e-Governance project not only in India but in the Asia Pacific region as well.
Can you tell us about your  e-Government project carried out at Kalyan Dombivali Municipal Corporation (KDMC) as well as about 'Setu' in Maharashtra?

The e-Government solution designed and developed by ABM for Kalyan Dombivali Municipal Corporation (KDMC) has a distinction of winning all the possible awards at different levels like Industry Associations, State Government, Central Government, International bodies for innovation.
ABM's KDMC solution is a perfect tool for creating e-Governed municipal corporation. It is recently  adopted by Government of Maharashtra for roll out in all 200+ Urban Local Bodies (ULBs) in Maharashtra. It provides around 100 citizen services, G2C and G2B, across the counter by carrying our integrated computerisation of vital departments. like Double Entry Accounting, Property/Water Tax, Licence, Birth/Death registrations and Town Planning.
This solution also has the distinction of being  one of the 3 short listed e-Government solutions by Ministry of Urban Development (MoUD), Government of India for empanelment under Jawaharlal Nehru National Urban Renewal Mission (JNNURM).
The KDMC solution has already been adopted by several ULBs so far. This solution provides a cost effective and proven option  for computerisation of a municipal corporation by meeting the JNNURM guidelines laid down by MoUD GoI for e-Government. Our project like 'Setu' in Thane Collectorate was a pioneering initiative of citizen centric e-Government which was subsequently rolled out by state government across the state. It is important to note that most of our implementations have resulted into concrete tangible as well as intangible benefits to our customers for improved  revenue and citizen services
How have your solutions helped in bridging the digital divide that exists in India?

I had the opportunity to study e-Governance implementations in different parts of the world. Most of these implementations have the fundamental objective 'removing intermediaries' between government and citizens. The e-Government framework is used to replace the intermediaries. It is achieved by delivering service on the web by avoiding the visits of the citizens to government offices.
But India cannot follow this model of Dis-Intermediation due to the digital divide prevailing in the country. India needs to make e-Governance more 'inclusive'. Most of the citizens in India do not have the access or ability to use Personal Computers (PC) or Personal Digital Assistants (PDA) to access the e-Government framework. On the contrary there is a need to 'Re-intermediate' in Indian e-Government framework. It is necessary to introduce a layer in the e-Government framework which makes it possible for citizens without IT literacy to access the government services. Hence, ABM decided to introduce the Citizen Facilitation Centres as mentioned above where the citizens can walk– in and take end to end service using the friendly staff deputed on CFCs to assist citizens. They do not have to possess the PCs or ability to access computerised citizen services .
Due to process re-engineering the touch points for the availing citizen services within ULBs  have been reduced substantially for each of the service. In many cases it is reduced to single touch point at the CFC.
As a result of the combination of walk-in CFCs, reduced touch points and government process re-engineering our e-Governance solutions provide the benefi ts of "inclusive" interaction of the citizenry with govt bodies. This will surely percolate into the system, ultimately resulting  into participation of citizens into governance when appropriate use/analysis of the data is carried out.

What are the challenges in expediting the e-Government initiative in India?
There are several challenges in achieving expeditious roll out of e-Government projects in an inclusive manner. The sheer size of government machinery which needs to undergo mindset
change, extremely wide geographical coverage required to reach the masses, some uniformity  of outcome based e-Government initiative in states covering their subjects, easy and inexpensive access for delivering and seeking government services, effective Internet  policy, security of government data and transactions, privacy of personal data, viability of maintenance and upgradation and so on. Government also has the challenge to choose any of  the two between 'scalability, security and functionality' of e-Government framework, as it is  diffi cult to have all the three at a time.
One of relatively underplayed challenge is that of availability of proven software solutions which provide expeditious e-Government services without compromising on the credibility of the government services. There are some examples in India where the over emphasis on the fast delivery of services have proved to be counter productive to the very purpose of governance.
The 1 lakh kiosks scheme of Government of India may face the challenge of providing end to end e-government services due to scarce availability of proven e-Government solutions. In the  ULB perspective proper implementation of our Property Tax software has capability to  fund the entire e-Government budgets of that ULB, including long duration hand holding  support.
Indian IT industry has seen very few private sector companies like ABM, which are working exclusively in the area of providing e-Government solutions. Can you briefl y tell us about your growth?
ABM has grown over 600 percent in terms of revenues and human assets in the last 5 years.  We are the winner of the prestigious 'Deloitte Technology Fast 50 India 2008' and 'Deloitte  Technology Fast 500 Asia Pacifi c 2008'. This acknowledges our speed of growth as a  technology company not only in India but also in Asia Pacifi c region. Our solutions for ULB  have won international recognitions in addition to acceptance at state and central government level. ABM was adjudged as the 'Best Technical e-Government Organisation' by a  committee consisting of Indian Institute of Technology (IIT), Delhi and Ministry of Information and Communication Technology (MoICT) in 2006.
We have the unique accomplishment of having several sustained e-Government projects even after change of champions which are delivering value year after year to our patrons.
Our own solutions in the areas of ULBs, utilities have been standardised by progressive states  in India. We have added a new practice of providing change management support to government customers after implementation of SAP which we feel would be one of the  important niche areas for us which is unmatched by any competitors. Today, ABM is placed  as the most competent e-Government solution provider for any size of Municipal Corporation  in India with enviable track record.
Follow and connect with us on Facebook, Twitter, LinkedIn, Elets video