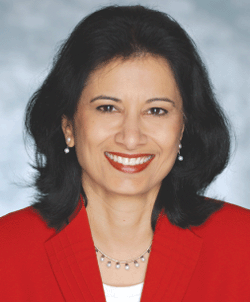 In an interview with Digital Learning, Dr Renu Khator talks about her first 100 days on the academic post as the President of the University of Houston and Chancellor of the UH system
India born Dr. Renu Khator created history as she stepped in as the President of the University of Houston, USA, and Chancellor, UH System earlier this year. She is the first foreign-born to take charge as the president of one of North America's largest educational institution and only the second woman to hold this prestigious seat in its history.
The story of Dr Khator is an inspiration for millions of foreign students who land up on the shores of America every year to pursue their dreams. Hailing from Farrukhabad, Uttar Pradesh, she came to the US after marriage to Suresh Khator, doctoral student at Purdue University.
After earning a doctorate in Political Science, she started teaching and was also involved in the university administration. In 2004, she was named provost of the USF, making her the second most powerful administrator there.

Dr Khator held the job for close to four years, during which she helped raise millions for research.
Her success made her a hot property in academic circles. In 2007, she received the offer from Houston University, which she ended up taking.
In her capacity as chancellor, Dr Khator oversees a system with an annual operating budget that exceeds US$1 billion and serves more than 57,000 students. The second most ethnically diverse urban research university in the country, Houston offers more than 300 undergraduate and graduate programs and awards 7,000 degrees each year.
In 2007, she and her husband were awarded the prestigious Hind Rattan (Jewel of India), given to non-resident Indians for their outstanding contributions in their field. The United States Citizenship and Immigration Services included her among its 2006 Outstanding Americans by Choice awardees. Dr Khator has also received the Distinguished Alumnus Award from Purdue University's College of Liberal Arts and the Outstanding Educator Award from the American Foundation for Greek Language and Culture for Enhancing Hellenic studies.
Tell us about your first hundred days as the President of the University of Houston and Chancellor of the UH system. What are your goals for the future?

The first 100 days have been absolutely fantastic. Houston as a city has been very open, welcoming and embracing. The University of Houston has been more than what I had imagined it to be in terms of its potential and opportunities. Even before I joined the university, I had some idea of what lies ahead of the University of Houston, but I did not want to be pretentious; therefore, I invited the community to share their views about what should be the goal for the University of Houston. I received 12,000 suggestions, leading to two major themes: (1) the University of Houston should become a top-tier research university; and (2) it should remain true to its mission of providing access and success to its students. These two are consistent with what I had thought of and these will become our primary goals.
How does the India Desk, that you have launched, intend to reach out to the Indian students on the campus?
India's biggest challenge is lack of talented and qualified faculty. A total shift in paradigm – from regulatory approach to academic freedom approach – may be necessary to create a more conducive environment for talented people to go into the academia
We want Indian students to feel welcomed. Moreover, we want to make sure that they can cut through the bureaucratic red tape and get answers quickly and seamlessly. Hopefully, by next year, the India Desk will be working fully.
Teaching and Research

Professor of Government & International Affairs, University of South Florida (1995-1997)
Associate Professor of Government & International Affairs, University of South Florida (1991-1995)
Visiting Fellow in the Department of Public and Social Administration, City Polytechnic of Hong Kong (August 1989-June 1990)
Assistant Professor of Political Science at the University of South Florida (1987-1991)
Visiting Assistant Professor of Political Science at the University of South Florida (1985-1987)
According to the Congress-authored 2002 National Assessment of Educational Progress, only 10% of American college students are prepared to compete in the global economy. What are your views on it?

I tend to agree. The US Congress is aware of it and wants to expose 1 million students to other countries' cultures by sending them to study abroad. There are other initiatives as well. We will be focusing on preparing students for the global economy at the University of Houston.
What major differences do you find between the American higher education system and the Indian system?

Both have their own strengths. The Indian system is theory-rich and more specialised while the American system is application-oriented and more comprehensive (every science and engineering student also has to take two years of liberal arts). I was fortunate to have been trained under both the systems and I appreciate them both.
Please tell us your views on privatisation of higher education system in India. Is Public-Private Partnership a better option?

I believe that public-private partnership is the most desirable option. If the private sector (which is the primary beneficiary of graduates) joins help with the public sector, it creates a synergy that is necessary in today's competitive environment.
What is India's place in the global higher education scenario? What keeps India back from becoming a popular destination for higher education?

India has an enormous pent-up demand for higher education from its own population. The latest Five Year Plan, I believe, calls for 1,500 additional universities and colleges. Its biggest challenge is lack of talented and qualified faculty. A total shift in paradigm