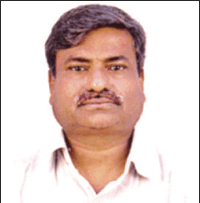 Although the Ekal Vidyalaya Foundation of India (EVFI) was registered as charitable trust in 1999, the concept has been in practice for over a decade. Inspired by the philosophy of Swami Vivekananda, a group of young educationists  began work among the primitive tribes in Jharkhand in 1986. They refined the concept of the 'one-teacher-one school' amongst the tribes of Gumla (125 km away from Ranchi, Jharkhand), Two years later, similar schools were set-up in 60 villages near Dhanbad.
By 1995-1996, there were 1200 schools being run in Jharkhand. Jharkhand's experiment with this non-formal education concept was extraordinary. Overall literacy rates, including youth literacy, in Jharkand doubled. Furthermore, during the same time, health workers noticed a sharp decline in diseases caused by non-hygienic practices, witchcraft, and alcoholism.
Inspired by the success of the Jharkand experiment, organisations from all over the country have joined the Ekal Vidyalaya movement in the last decade. The EVFI now serves as the umbrella organisation for various ngos that run the one-teacher schools in their respective areas.
Ajay Singh, Secretary General of EVFI,  speaks to Digital Learning on the novel concept of Ekal Vidyalaya and challenges strewn in the path of educating tribal and rural India.
Please describe the concept of Ekal Vidyalaya.

Ekal Vidyalaya was started in 1986 in tribal areas of what is now known as Jharkhand by a group of educationists, in the backdrop of high illiteracy in the country and a huge demand for capital and infrastructure to address the need for education.
As an answer to these twin-challenges, the group came up with world's lowest cost model school system, based on the concept of 'One teacher, One school, One village'. The Ekal Vidyalaya movement seeks the participation of village folk in all its processes – creation of the school, selection of teacher, and adaptation of the curriculum and schedule. It also recruits local people to coordinate training and other project-related issues at the levels of subcluster (10 school unit), cluster (30 school unit), subarea (90 school unit) and area (270 school unit). The involvement of local people at every level is based on a commitment to education and an eagerness to help advance their own community.
This non-formal school concept also goes beyond the traditional image of a school and tackles structural limitations. The main element in a school is learning and teaching and not a building and its infrastructure. Its important to have adequate infrastructural support, but the lack of it doesn't have to impose constraints on the learning element.
In the last decade, Ekal Vidyalaya concept has grown from 1200 schools in Jharkhand to a nation-wide movement of over 24,006 teachers, approximately 5,000 voluntary workers, 20 field organisations (scattered in 20 states), and eight support agencies.
How does the Ekal Vidyalaya system address the needs of a village population?

The village plays a significant role in the Ekal Vidyalaya process. A survey of the village is first undertaken to gauge its interest and subsequently a committee is formed in the village to oversee  the school. The committee nominates two potential teachers and also helps the Ekal Vidyalaya team with other logistics. It is also responsible for addressing any issues that may arise during the school year.
The Ekal system has an element of flexibility unlike a traditional school. For villagers, the first priority is livelihood. So a farmer's son, who has to graze the cattle, should be allowed to do so and then attend classes. Similarly if there is a festival or a wedding celebration dress in the village, people attend that and then come for the classes. This goes a long way in preventing conflict between education and work and introduces an element of balance.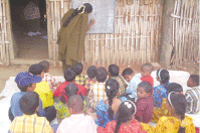 We also impart professional training in agriculture, vermiculture, etc. Our focus area is on basic education, health education, economic development education, and empowerment education that includes empowering rural people to take care of themselves and their district and make them aware of their rights.
What criteria is followed while recruiting teachers?

For being eligible for the post of teacher, the person should have atleast studied till class 10 and belong to the same village or the neighbouring one. This is to ensure that overhead costs are minimised. When we start forming Ekal schools, we conduct a survey of at least 10 villages and form a group of ten teachers. These teachers are then given training  for a week on various issues on education and schooling. We train them about the curriculum they have to teach and the methodology to be followed. The curriculum is also assessed regularly.
What are the salient features of the syllabus?

The syllabus comprises three Rs, that is reading, writing and arithmetic. Moreover, the importance of local languages is stressed upon. We also include topics like environment awareness, our civic duties, country's ethos, etc. We also give a lot of stress to the local content.
What is the government's role in this venture?

We don't take any assistance from the government as the process is time consuming. Most of our funding comes from industrialists and individuals. We have a chapter in the United States with 2,500 donors. In Hong Kong, we have about 1,000 donors.
Are there any standards being adhered to in terms of certification, assessment, courses, etc?

Our education is informal and students are taught till class 3. There are no standards that apply at this basic level of education. Our aim is to prepare these children for regular school. This is like a period of transition which allows the students to familiarise themselves with the process of schooling and then join regular schools like Sarva Shiksha Abhiyan.
At times, regular schools are far off from villages, and children are too young to travel alone. By the time they are capable of travelling on their own, they have missed out on many years of initial learning.
Therefore our concept of one school, one village, one teacher solves that problem and prepares the children for regular schooling.
How does EVFI ensure accountability?

Our website is extremely comprehensive and explanatory.
The exact location of Ekal schools all over the country are given in a map on the website. Other information like number of students, teachers, etc are also available on the website. So our donor in the US just needs to log in for whatever information is required. This system helps ensure accountability as all the information is available on the website.
Another special feature of our organisation is that we use only about 5-6% of our funding in administrative expenses. Thus more than 90% of our funding goes into the actual cause of imparting education. Our senior level officials don't depend on the organisation, even for their official expenditure. Moreover, in our organisation, we practice what we preach. You will see our officials out on the field before asking others to do so.
Have you been approached for sharing of knowledge and experience?

The government-led National Rural Health Mission (NRHM) had approached us for imparting training to women on good healthcare practices and awareness. So we developed a women -centric programme called 'Asha' for the NRHM. EVFI believes education is important, but should be accompanied by health and sanitation. We want to educate the people on preventive care and protect themselves from diseases.
What are the future plans of EVFI?

We plan to open schools in 20 states that will stress on vocational studies as well as have formal education from classes 5 to 8. The certification will be given by the National Institute of Open Schooling. Those who pursue further studies will get a certification of class 10 and 12 and will also receive IT training. There is a need to promote opportunities at the local level so that people living in villages and small towns get jobs locally and do not have to go migrate. Moreover, the conflict that urbanisation brings will also be reduced in this manner.
Where does ICT figure in EVFI's scheme of things?

ICT is very much on our agenda and we plan to incorporate it in a gradual manner. We have talked to the Universal Village which connects villages via a mobile bus equipped with a laptop that is connected to other laptops. So basically data is collected en route and archived. This also keeps us in the know-how regarding the status of the schools. We have also devised a hand-held device that can be used for surveying health facilities. But the problem is that many villages do not have sufficient infrastructure to support these service.
Follow and connect with us on Facebook, Twitter, LinkedIn, Elets video