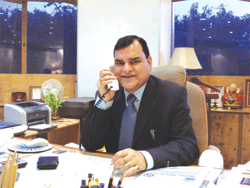 "We were predominantly a wire line company when we initially started, now we have successfully diversified ourselves into the wireless space. We are also actively thinking in terms of joint ventures." tells R.K. Upadhyay, Chairman and Managing Director, Telecommunication Consultants India Limited (TCIL) (A Government of India Enterprise), to egov magazine
What are the public and private sector areas where TCIL is working?

TCIL was incorporated in 1978, and the objective at that time was to share the Indian telecom expertise with other countries on a commercial basis. Since then, TCIL has worked in about sixty countries, covering the whole of Africa, Middle East, Europe, United States, Far East and the SAARC countries.

We have been working on all kinds of telecommunication projects, from concept to completion. We have done consultancy projects and helped various organisations in India, as well as abroad, to develop a business plan in the telecom sector. We are also involved in Information Technology and IT enabled services. We have recently diversified ourselves into civil infrastructure sector, primarily to take advantage of this booming sector, utilising our existing work force, which was deployed, hitherto in the field of copper access network for creating cable ducts etc.
Talking about public sector undertakings overseas, we have worked with almost all the government telecom operators, because the telecom sector has only recently been opened up to the private players, but traditionally, telecom sector was primarily government held.

These are the basic areas that we are working in. Apart from this, we are consultants (as I mentioned) in the telecom industry. We also provide consultancy to various organisations overseas, which are making efforts to create cyber cities and cyber parks. Based on our consultancy, when they come to the construction stage, we also take up the responsibility of project management and construction supervision of cyber cities and cyber parks, in coutries like Algeria, Sudan and Mauritius. In Mauritius, we worked for the development of the cyber park created by STPI (Software Technology Parks of India), and we were involved in the communication cabling infrastructure development.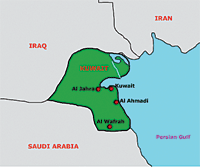 Coming specifically to the public sector, in India, we are working for BSNL (earlier we were working for Department of Telecommunication, Government of India) in their efforts for creating copper cable networks and optical fibre networks and other projects. The most prestigious of them is the National Internet Backbone Project (NIB- Phase II, Project III). This project involves creation of Data Centres, at Mumbai, Bangalore and Noida. These are three regional State Data Centres, with disaster recovery centre at Pune. Quite a large amount of services have already been commissioned, one or two are remaining which are in the final phases of commissioning.

Talking about public sector undertakings overseas, we have worked with almost all the government telecom operators, because the telecom sector has only recently been opened up to the private players, but traditionally, telecom sector was primarily government held. Like in India as well, we opened up to the private sector, somewhere in 1995-96 for mobile services and later on for the basic services, so in the same fashion, we have worked with almost all the state owned public telecom corporations or ministries of communications in Gulf countries and in African countries.
TCIL has undertaken various telecommunications projects in different countries. Could you tell us more about TCIL's work in one such project- The Rehabilitation of Telecom Systems in Kuwait after the Gulf war?

This company was incorporated on 10 March 1978 and commenced business in August the same year. Incidentally, TCIL's first project, after its incorporation was this project in Kuwait. That was in the prewar scenario. As you know, Kuwait has still not opened up with the telecom sector and is one of the countries where the Ministry of Communications is the telecom operator. We got our first project there, which was again a copper cable access network project and meanwhile the war broke. Inspite of the war, we are proud to say that the Indian Embassy and TCIL worked closely to evacuate a lot many Indians who were working in Kuwait at that point of time in addition to our employees. However a few employees of TCIL still remained in Kuwait as it was very critical to maintain their telephone exchanges etc. So even during the peak of the war TCIL remained present there in a skeleton manner. After the war was over, the first foreign company was TCIL, to go back on the request of MoC (Ministry of Communication, Government of Kuwait), and we were given the job of rehabilitation of their telecommunication network which was extensively damaged during the war, and we did that very successfully.

As a result of that, TCIL is still present in Kuwait. We have been getting projects from the Ministry of Communications, Kuwait, in areas of network operation and maintenance. There was a time when TCIL and its subsidiary company ICSIL (Intelligent Communications Systems India Ltd.) had network operation and maintenance contracts from MoC, Kuwait for all six governorates in Kuwait. Today also, TCIL has contracts for three governorates out of six. Thus, our effort during the war period speaks for itself. We rehabilitated the Kuwait network, and there after we expanded it, depending upon the need of the new telephone connections and
other services.

The first ever Fibre To The Home project (FTTH) system, is being done (in the whole of Gulf) by the Ministry of Communications, Kuwait and TCIL has been awarded the project. We are executing the INR 70 crore worth FTTH project for the MoC in Kuwait, covering 15000 households, and these households are being provided with a fibre to the home service, by which they will be able to get integrated voice, data and video services. We are executing this project at present . So that speaks for TCIL's quality of work and the satisfaction that MoC, Kuwait derived from TCIL's workmanship and timely delivery of its projects.
In India, TCIL has been instrumental in the field of mobility and e-Governance. Can you elaborate on the e-District Project under the Department of Information Technology, Government of India.

The objective of the e-District project is to automate the activities of the District Collectorate and other key departments in order to provide 'on-demand citizen services' at government offices/counters, on Internet, through kiosks, Common Service Centres and other possible ways.

The project also involves analysis of the existing departmental processes, re-engineering of the outdated processes and integration of various departments.

The project shall automate various key functions to provide online services such as public grievance, RTI requests, registration and issuance of birth and death certificates, domicile certificates, electronic payment and collection of bills or government dues, automation of land records, health programmes, Rural Employment Guarantee Scheme etc.

TCIL is one of the short-listed vendors of the Department of IT, Government of India, for the preparation of a Detailed Project Report, Business Process Re-engineering and Project Management part of the project.
Please tell us about the work been undertaken by TCIL for the e-Payment system for the Department of Telecommunication, Government of India.?

The Department of Telecommunication collects payments such as license fees, spectrum charges, royalty, WPC and other revenue receipts like processing fees, entry fees etc. Presently, these charges can be paid in the form of demand drafts only.

TCIL is developing a system for DoT, so that the customers can make these payments using the Internet.

The e-Payment System, once implemented, will enable the licensees, subscribers and other customers to fill an e-Chalan online, for each type of payment and make electronic payment either online, using the SBI (State Bank of India) Internet Banking System, credit card (Visa or Mastercard) by using SBI Visa/Mastercard Payment Gateway or offline, using electronic funds transfer facilities like RTGS (Real Time Gross Settlement), NEFT (National Electronic Fund Transfer), SBI Core Banking etc. The e-Payment system will handle automatic reconciliation of the receipt transactions to be received electronically from SBI on a daily basis and provide the necessary revenue receipt related information online to the users of various sections of the DoT.
The first ever SWAN project in the country was GSWAN (Gujarat State Wide Area Network). We are privileged to say that we got this project. We did the consultancy for GSWAN, from concept to completion. Even now, as the work has been completed, we have been appointed as the third party monitoring agency.

We have prepared a Systems Requirement Statement (SRS) which is the basic document for creating any software package, based on the basic requirements given to us by DoT. Thus, on the basis of the SRS prepared by us, once it is approved, we prepare the software.
TCIL has undertaken projects in the North-Eastern part of India, such as Agartala City Area Network (ACAN) for the Government of Tripura. Can you highlight the achievements of this project.

We were awarded this Agartala city area network project, which is like any other SWAN. It is a wide area network, the only difference being, that the SWANS are state wide and this was only for Agartala city. It involved connecting several government ministries by state-of-art IT and communication network, it involved laying of fibre through the city and connecting buildings, providing high end routers and switches and configuring them to their satisfaction. We have successfully completed the project and we are happy with it.
Under the National e-Governance Plan, TCIL is undertaking consultancy contracts for SWAN projects in several states in India. Please tell us about the status of implementation of such projects. Which states have successfully implemented them?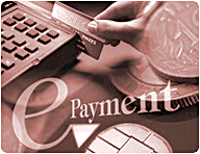 The first ever SWAN project in the country was GSWAN (Gujarat State Wide Area Network). We are privileged to say that we got this project. We did the consultancy for GSWAN, from concept to completion. Even now, as the work has been completed, we have been appointed as the third party monitoring agency. Thus, our presence in the GSWAN is still there. This particular experience, paved the way for many other State Wide Area Network projects in Jharkhand, Uttrakhand, Orissa, Uttar Pradesh and Andhra Pradesh.

As these SWANS (that we have given consultancy for) are put in place, then some agency is required to monitor there quality of services and other aspects, for that too, we hope to get some share.
We have also done similar projects for the Jharkhand police. It was a police modernisation network, which the Government of Jharkhand awarded to TCIL for consultancy. We designed the whole network, and it is at the very last stages of implementation. As consultants, we are not only to provide consultancy, prepare the report but also see it through.

We are also exploring the possibility of getting similar projects in foreign countries, as lot of the countries are now embarking upon the scheme of e-Governance and for e-Governance the basic necessity is that they must have a wide area network and a good Internet backbone. So TCIL is exploring possibilities in these directions as well.
Please tell our readers about the Pan African e-Network Project, being undertaken by TCIL.

It is a very prestigious project of the Government of India. Its value is USD 116 million, (Rs.542 crores). This project has been awarded to TCIL by the Government of India, through the Ministry of External Affairs. The project entails TCIL's involvement right from concept to completion of a Pan African e-Network to provide tele-medicine, tele-education and VVIP connectivity facility in all the 53 countries which are members of the African Union. This project involves setting up of a satellite hub station in one of the African countries, which has been chosen by the African union as Senegal. In Dakar (the capital of Senegal) we have already constructed the hub station buildings and the equipment is under installation. It is nearing completion and by the end of this month this satellite hub station for the Pan African e-Network Project will be ready. In total, 29 countries have so far signed an agreement with TCIL, based on the umbrella agreement that was signed between the African Union and the Government of India. TCIL was to sign individual contracts with different countries, defining their own areas of responsibilities and that agreement has been signed with 29 countries out of which 16 countries have made their sites ready and their equipment has been dispatched. The moment this satellite hub station comes up, we will progressively commission them. The remaining countries are also in the process of making their sites ready and some countries are in the process of signing the agreement.

As a precursor to this project, there was a pilot project, which was done in Ethiopia. Care hospital in Hydrabad and Indira Gandhi National Open University in Delhi have been linked with Ethiopia. Two universities and one hospital in Ethiopia are already online providing tele-education and tele-medicine facilities respectively. The MBA programme of the tele-education facility was commissioned by TCIL in October/November 2006, it was formally inaugurated by our External Affair's Minister in July 2007. However, the MBA programme from the Indira Gandhi National Open University is already running and on the successful completion of the course all the students enrolled will get MBA degrees, without them having to leave their country of residence. This proves to be extremely cost effective. This is what is envisaged in the Pan African e-Network Project- the benefit of the African countries is that 10,000 people will be able to take graduate degrees using this particular educational network and thousands of patients will be treated.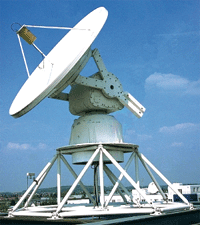 There is another important component of this project called CME (Continuing Medical Education), under which, using the network, expert doctors from twelve super specialty hospitals in India and seven universities are going to be linked through this project. Apart from this, there are some regional universities of eminence in Africa itself, and some good hospitals in Africa (depending upon the African Union's choice) that will be connected regionally within the continent. So that students can not only take up programmes from the Indian university but also have the choice of taking up programmes for universities within the continent, that are included in the project. Similarly, if some disease can be comfortably be treated by a hospital in the African subcontinent, then that would be possible under the project as well. This project is totally funded by the Government of India. The installation and commissioning period is eighteen months and thereafter five months of operation and maintenance is totally free for the African countries. We are very privileged to be a part of this project, and we are the only implementing agency.
Public-Private Partnership (PPP) model is catching up in the telecom industry in India. Please highlight the major advantages and disadvantages of this model.

The Public Private Partnership model has created healthy competition in the telecom sector and has eliminated state-owned monopolies. It has resulted in the quick expansion of the telecom network, speedy growth in the subscriber base and delivery of high quality public services.

The Indian telecom market has both public and private sector companies. India has a telecom policy that aims at encouraging private and foreign investments. India has an independent regulator- The Telecom Regulatory Authority of India (TRAI). There is a revenue-share model for licenses issued by the Government for telecom services in India. Unified access licenses are available for providing telecom services on a Pan-India basis.

The major advantages of PPP model in the telecom sector can be: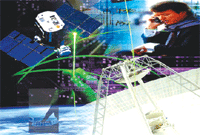 PPP aims at fastening cooperation between various sectors and enhance the role of the private sector in the economic and social activities of the country.

PPP model highlights the corporate responsibilities of private sector companies and define their role in increasing the overall competitiveness of their operations through bold institutions.

Participating institutes and companies benefit from the experience and expertise of the participants. They share best practices and enhance their networking opportunities.

PPP model promotes infrastructures that governments or the private sector individually may take years to develop as PPP creates an environment to attract increased international investments.
Besides these advantages, under a PPP model, the telecom service providers need to ensure that the networks are monitored properly so that there is no risk to the country's security. Also, public private partnership needs to extend to telecom research and development (R &D) and manufacturing as well.
What has been your experience working with TCIL? What are the major challenges faced by an organisation like yours in this sector?

It is a privilege. I am through and through a telecom man as I joined the Department of Telecommunication, through Indian Telecom Services in 1975 batch. Since then, I have been working in this sector. So telecom has become my second nature. Being the chairman of this company, which is an extended arm of the Department of Telecommunication, Government of India, is a real privilege. It is very challenging too as in the telecom sector there is fierce competition.

Almost every country is now thinking of liberalisation and privatisation in the telecom sector and most of the countries have already done that. There are only a handful of countries like Kuwait etc. who have not done that yet. However, it has done wonders for the customers as customer services have really improved and the prices have come down but for contracting companies like TCIL there is another side of the story too. If service providers themselves get less revenue per user, then we are the ones who provide infrastructure for providing telecom services, so obviously our margins are under threat.

Thus, the greatest challenge for a company like TCIL today is to see how the bottom line improves. There is enough work in the market and the top line is really no issue. It depends upon one's own capacity to work and on how much work one can execute but the margins are really thinning out. The real challenge is how to improve one's method of working, how to improve the execution of projects, so that there is no time over run, no cost over run and moreover one is able to work more efficiently. That means productivity per employee has to be drastically improved so that one is able to maintain or atleast protect your margins. That is the biggest challenge. We are moving in that direction and as mentioned earlier, we are diversifying in different areas.

We were predominantly a wire line company when we initially started, now we have successfully diversified ourselves into the wireless space. We are also actively thinking in terms of joint ventures. We already have joint 7 ventures like Bharti Hexacom, which operates the GSM services in Rajasthan, UTL Nepal, Telecom Limited, Nepal, which operates under license from the Nepal Government, providing CDMA (Code Division Multiple Access) based basic services in the whole of Nepal. We have a manufacturing unit in Chennai, called Tamil Nadu Telecommunication Limited, which manufactures optical fibre cable, our partners are TIDCO and Fujitsu of Japan. We are in the process of forming a joint venture company in Oman. Our purpose of forming joint ventures is to deploy surplus funds for income balancing purposes as when your are a purely a contracting company, your work graph is prone to variations, so these type of ventures help us to even out those type of variations. Another important reason being that many countries are now preferring local companies. Thus, at times it becomes essential for you, in a particular country to have a local outfit, to be able to participate in those projects which are only open to local companies. To this end, we have a joint venture in Saudi Arabia, we also had a joint venture in Nigeria and the next in line now is Oman.

These are some ways of over coming the various challenges. As I said, this sector is very challenging but we should be able to grab the opportunities and work more efficiently, which is very important in any field, but more so in the telecom sector. We need to make sure that the project delivery is in time and we have to constantly look for very efficient methods of execution of our work.