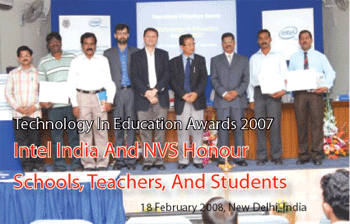 Navodaya Vidyalaya Samiti (NVS) with support from Intel,  conducted a state level joint competition and received 277 entries from schools, teachers and students across the country. As a part of the award ceremony, where the winning teachers and students were recognized for their successful and innovative integration of technology in classrooms, the winners showcased their projects and shared their experiences with the audience.
An elite panel of judges evaluated the entries and after three stages of screening, selected 15 winners  across four categories. Intel Teach Program and Navodaya Vidyalaya Samiti jointly organise contest for  'Best Integration of Technology in Education' every year. The joint contest aspires to acknowledge the  best practices of technology integration in classrooms. The awards are presented to the teachers, students and schools who have enhanced learning by effectively and innovatively  integrating technology supported project-based learning into the curriculum, and thereby  promoting inquiry-based and collaborative learning.
Intel India works with teachers of Jawahar Navodaya Vidyalayas to help them integrate technology in their lessons to captivate, inspire and empower students with 21st century learning skills. In an effort to motivate teachers and students, and acknowledge many novel attempts made to integrate technology in education. The event was attended by A.K. Rath, Secretary, Department of School Education & Literacy, Ministry of HRD, Government of India, O.N. Singh, Commissioner, NVS, senior officials from various regions of NVS, representatives from NCERT and NUEPA, principals, teachers and students from JNVs, eminent educationists and the Intel team.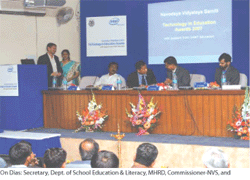 The event began with the showcasing of the projects by the winning students and teachers. The winners shared an overview about their project, highlighted the measures taken by them to tackle the stated problem and the innovative use of technology in making the project successful. Principals from winning schools also shared the strategies and innovative ideas adapted to effectively integrate ICT in their institutions.
The welcome address was made by TCS Naidu, Dy. Commissioner, Academics, NVS. He made special mention of the JNV students winning accolades at Intel Science and Education Fair and also at MHRD, Computer Literacy Awards. According to Rahul Bedi, Director, Corporate Affairs, Intel (South Asia), who also addressed the gathering, "Under our World Ahead Program, we are working to improve education by preparing teachers and students for success in 21st century. Navodaya Vidyalaya Samiti shares our vision and has been a valuable and enthusiastic partner. Through our nine years of partnership, we have tried to find new ways to use technology to address critical learning issues so that students in India are geared for a better future." He also highlighted the need for the 21st century skills in today's knowledge-based economy and released an audio-visual on Intel and  NVS partnership.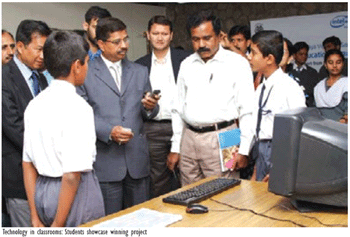 ON Singh, Commissioner NVS congratulated the winners and shared that it was indeed a proud moment for NVS. Speaking of the long and fruitful partnership between NVS and Intel, he said, "Our partnership with Intel has been very successful as we have helped students and teachers to incorporate technology in classrooms and open new avenues of education for them. We hope to work together in the future, to take this initiative to greater heights." He also stressed on the fact that teachers are need to be proficient in technology and mentioned that the JNVs bagged the maximum awards at the 4th Computer Literacy Excellence awards 2005 among the Government Schools category- one more feather in the cap. Further, he presented the Pace Setting Report to the Chief Guest, A K Rath. The reports highlights the efforts made through Intel Learn Programme to develope technology skills, critical thinking and collaboration skills in children from rural communities with little or no access to technology.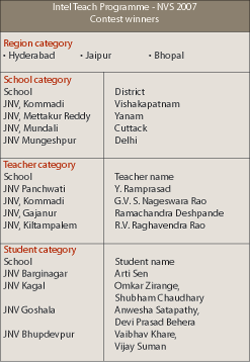 The winners of the Annual Contest 2007 were felicitated by the Mr Rath who addressed the gathering after the awards were given, "NVS schools are like beacon in rural areas. Nobody would have thought of these kind of schools 20 to 30 years back." He also added that under the 11th five year plan, the number of JNVS across the country would  be doubled and the allocation of funds to the Universalisation of Education would also be increased. He also said, "In the pyramid of education we find our base to be very weak.
There is a need for good Science and Maths teachers  and also the need of one secondary school within a radius  of seven km."
He also congratulated the successful partnership of Intel and NVS and said, "I compliment Intel, specially their CSR division for their very bold initiatives of integrating  ICT in Education. They are not only providing quality training but also promoting science and mathematics in a big way thus paving way for knowledge based economy." The programme culminated with Anshul Sonak, thanking  NVS for their belief in Intel. He also mentioned about the representation of the JNV students in IRIS which gave Intel a lot of confidence.
Follow and connect with us on Facebook, Twitter, LinkedIn, Elets video